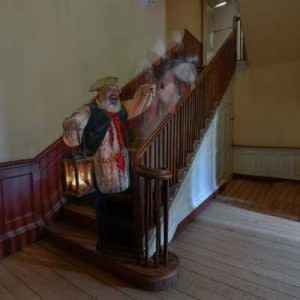 Even though I know it'll scare me, one of my favorite things to do on a brisk October evening is to be part of a haunted, candle-lit ghost tour through Annapolis. I've never been disappointed by the well-versed guides leading our small group through the historic downtown district directly into Annapolis's dark, troubled history.
During our first family-oriented tour, my girls and I got the jeepers scared out of us; therefore, my husband and I decided to try a haunted pub tour. (We thought it might be better to imbibe during and while facing spooky spirits in dark haunted places.)
Both types of tours are filled with fascinating stories of resident ghosts, spooky taverns, and restless spirits. The overall tone is good-humored with a scary edge. The guides don't try to scare you; they feel the stories, all well-researched, are terrifying enough.
Even though I know it's coming, I have never failed to get the heeby jeebies just walking by the big Brice House, which is at the corner of Prince George and East Street. (And now, the house is open for patrons on the Annapolis Tours by Watermark's ghost tour.) However, spirit seekers, beware: That dark Brice House is rumored to be the most haunted place in all of Annapolis. One guide stated that there have been at least 15 ghost sightings.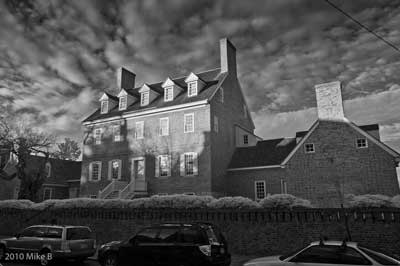 William Paca House and Garden
In the late 1760s, the Brice House was inhabited by the prominent James Brice, a Colonel in the Maryland Militia, Annapolis mayor, and short-term Governor of Maryland. His ghost has frequently been seen in the house as far back as shortly after his death (by his wife). His son, Thomas, bludgeoned to death in that house, also reportedly haunts the house. The most frightening and most well-known noises, however, are the woeful sobs of the "Crying Girl." Locals believe she is the ghost of a girl found dead behind the false wall in the basement more than a century ago.
Other spots on the tour include places where you might sight a spirit. In St. Anne's Churchyard, the ghost of Joe Simmons (Joe Morgue) is frequently seen, sometimes during the tours. And, at the Historic Annapolis Foundation's William Paca House, you could experience slamming doors and moving objects, perhaps moved by Paca's young niece, Henrietta, who died in the sickroom.
If you like a good ghost story—and aren't too afraid to wander around Annapolis at night—check out Annapolis Tours by Watermark and Annapolis Ghost Tours & Crawls. Both offer evening outings, some of which are appropriate for children as young as 8. For more information, visit http://annapolistours.com/ and http://www.toursandcrawls.com/.