Take the water taxi, walk over from Eastport, drive from downtown Annapolis or out of town, but you will want to put a visit to the Chart House on your upcoming agenda. If you have been there before, you will be reminded why every visit there feels like a special occasion. If it's your first time, you are sure to become a fan.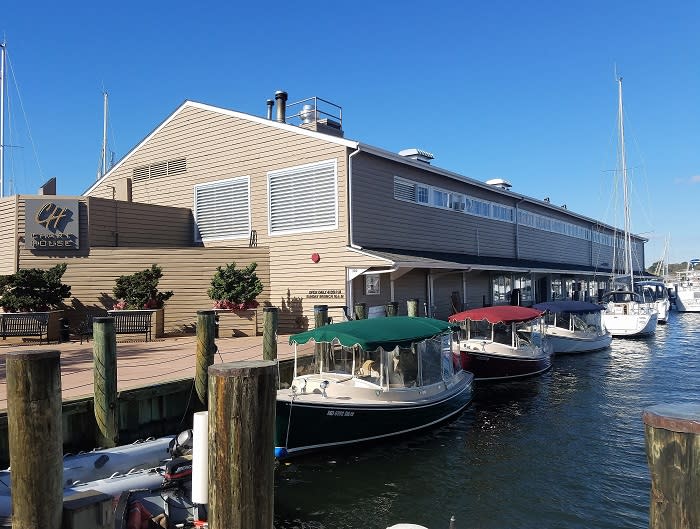 According to the Annapolis Chart House Website, in 2012, Open Table released a list of the 100 restaurants with the most scenic views. Chart House led the list, with 10 of their restaurants making the list. The Annapolis location lives up to the Chart House principals of excellent food and beautiful vistas with its spectacular view of Spa Creek, the Naval Academy, and historic downtown Annapolis thanks to three sides of floor to ceiling windows providing an expansive view.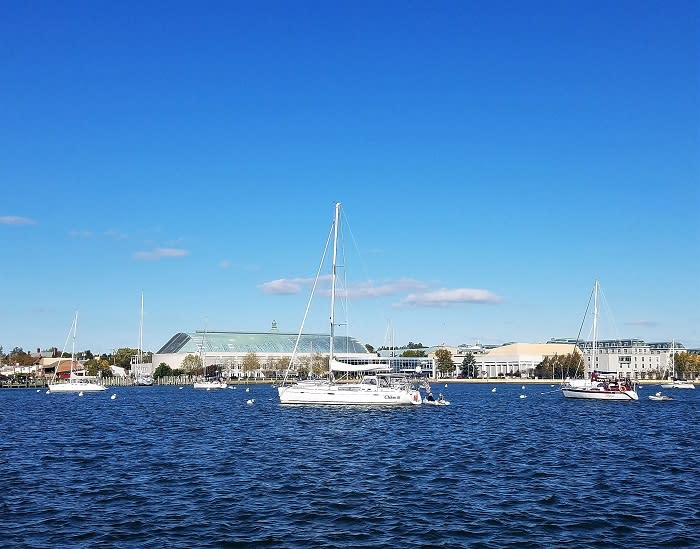 Views from The Chart House
Although I loved the lounge area being on the water, I understand why the recent million-dollar renovation moved the restaurant area to the front for diners to have access to this view. It is a stunning and impressive place to take out of town dinner guests. This change however, leaves a considerably smaller bar area which fills up for happy hours Sunday through Friday from 4:30 to 7:00. The bar offers some great happy hour specials including selections of draft beer for $3.25, $4.00 well drinks, five varieties of wine at $6.00 per glass, and a selection of cocktails. There is also a specialty drink menu that is not included in happy hour pricing. These unique and colorful cocktails are works of art and extremely enticing...in fact, so enticing that I returned two more times for this blog to try several!
From the Happy Hour menu on my first visit, I chose a Monarch Margarita. Although I didn't get my salt lick fix since I forgot to order a salted rim, this was a refreshing, not too sweet, and almost too-pretty-to-drink cocktail.
[gallery columns="2" size="large" ids="4248,4249"]
After sharing a few appetizers, I turned to that beautiful specialty menu to order the Mole, Mole, and Mole. As with all of the drinks from this menu, it is created by, and unique to, the Chart House. You will find this particular drink under the "Nuanced" section. Made of Elijah Craig Small Batch Bourbon, Dark Crème de Cacao, Real Black Cherry Puree, Bittermens Xocolatl Mole Bitters and Fee Brothers Orange Bitters, it was smooth, clean and a full mix of flavors.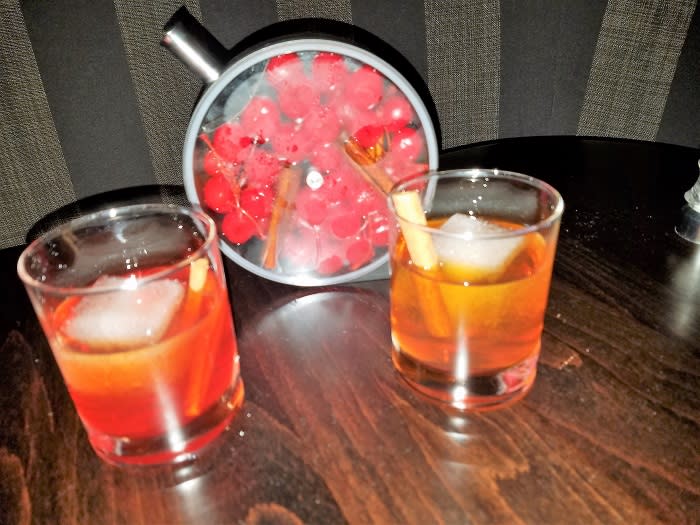 Port of Manhattan
From this menu, the "Drinks for Two" had caught my eye, especially intriguing pictures of infused drinks. On a follow up visit, I arrived before my fellow bourbon fan and placed an order for the "Port of Manhattan." A drink such as this is where the "special occasion" feeling really comes into play. This beautiful drink comes in a round see-through container that is the size and shape of a "canteen." It is packed with maraschino cherries and cinnamon sticks floating in Bullet Bourbon and Carpano Antica Sweet Vermouth. Seeing I was alone, the bartender made sure I knew that this was a drink intended for two and I assured him it would be so. It arrived with two glasses garnished with cinnamon sticks. I have been a maraschino cherry fan since childhood when my brothers and I were allowed to order "Shirley Temples" when we went out to dinner with my parents. The infused cherry flavor was clearly evident, making the Port of Manhattan a drink to savor, which we absolutely did. Our bartender, John, was friendly, attentive and seemed to be handling a crowded bar and dining room with ease. I am always amazed how a good bartender remembers the drinks and garnishes, especially in a place that has so many fancy concoctions.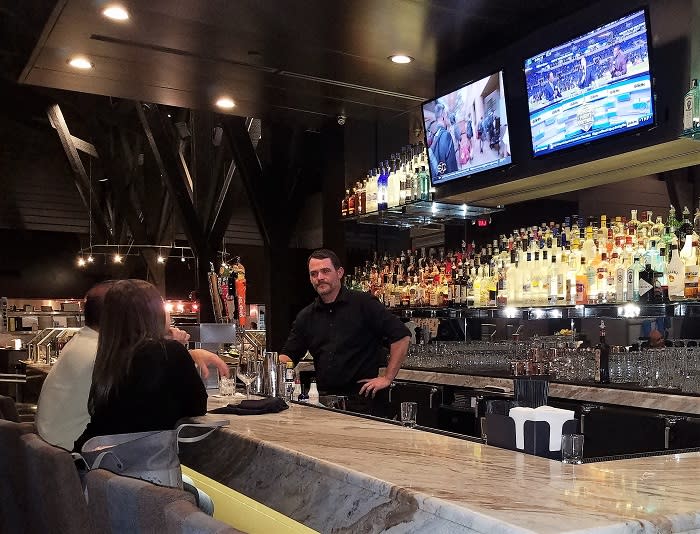 Jon tending the bar
Thanks to the artistic presentation of the drink photos, I wanted to try one more before writing this entry, so returned for a third visit to order a specialty cocktail named "Chocolate and Bourbon." That just sounds decadent. Served with a ball of chocolate and maraschino cherry on a swizzle stick, this drink of Four Roses Small Batch Bourbon, Carpano Antica Sweet Vermouth, Tiramisu Italian Liqueur, and Fee Brothers Aztec Chocolate Bitters would be a perfect after meal drink in lieu of dessert, a special holiday drink, or a lovely night cap. I will have to try to recreate this at home for the latter purposes.
The Chart House chefs create many original and attractive appetizers. The Happy Hour appetizer menu offerings range from $4.00 to $7.00. In my opinion, these are a couple of notches above most happy hour fare. Trying to stay a bit on the healthier side, we ordered the $4.00 Mediterranean Hummus Tasting, $5.00 Lettuce Wraps, and $6.00 Salt and Pepper Chicken on the first visit for this blog. The hummus plate was a colorful selection of avocado, roasted red pepper, and Kalamata olive hummus served with pita triangles and plantain chips. The plantain chips were light, tasty, and moist, making a nice pairing with the humus.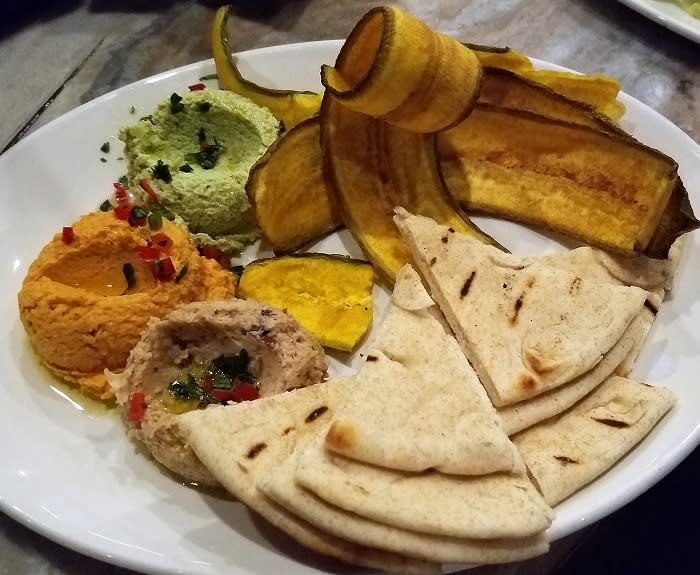 Mediterranean Hummus
The wok seared chicken, cucumbers, carrots, mushrooms and sweet soy glaze in our lettuce wraps were lovely, fresh and crunchy. Note: though delicious, these cannot be eaten gracefully.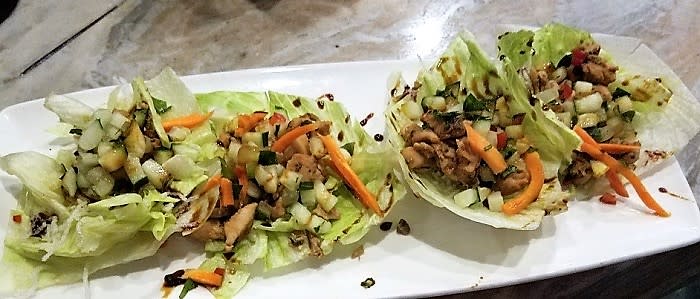 Lettuce Wraps
A signature Chart House appetizer from the regular dinner menu is the Shrimp, Crab, Avocado and Mango Stack with a remoulade sauce. This made to share dish brings out the "ooohs and ahhhs" and is another reason a trip to the Chart House can easily become a special occasion.
Shrimp, Crab, Avocado and Mango Stack
The holiday season is coming, the weather is cooling, and outside dining will soon be a memory. Why not meet up with some friends to enjoy a spectacular water view, and those creative drink and menu creations from inside the Chart House? You can enjoy a nice fire and turn any gathering into something a little more special.
Located at 300 2nd Street in Annapolis, it can be a little tricky to find. You must look for the sign on another building and drive between two buildings toward the water to reach the parking lot…or take the Water Taxi.
For more information, check out the website at: http://www.chart-house.com/locations/annapolis/.
Photos courtesy of Natalie Spong