Tastings Gourmet Market at Clock Tower Place is in the Spotlight!
Have you ever been to a cheese shop and felt overwhelmed by the choices, shapes, colors, even places of origin? If yes, look for the cheese monger. They are friendly people who love cheese, are informative and eager to let you experiment by offering samples. However, they are not mind readers so if your ultimate goal is a mind blowing cheese tasting experience, read on and let the demystification begin. Cheese tasting should be fun each time and never intimidating.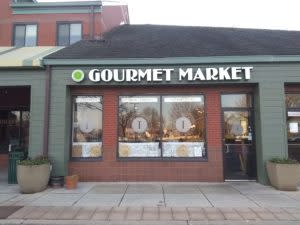 Tastings Gourmet Market photo courtesy of author
According to Kathleen, Sylvia and Angie from the Market, they all agree that it helps them help you if you Know Before You Go: 1. Number of people whom will be eating it? 2. What Occasion - casual wine and cheese gathering or a cheese course for a fancy meal?
When to serve is also an important consideration. Very often, people like to serve cheese before dinner as a cocktails accompaniment and it's a crowd-pleaser. However, some foodies say that cheese closes the appetite and only serve cheese after the main course and before dessert. It's your journey so do what you like!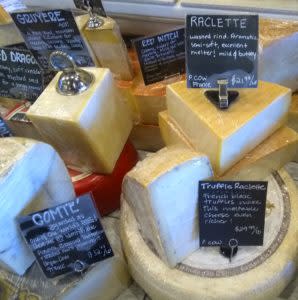 Photo courtesy of author
In nautical terms, unlocking the mystery of choosing cheese with the cheese monger is simple when you realize that you are the captain of this adventure and set the course. This happens once you've navigated the perfect answer to the Cheese Monger's initial question - ... "What do you like?" Prior to my research, this is where I would blow it! I would answer Mozzarella because I really really do like it but that answer just led me down a path to comparables. I'd buy some good cheese but then leave the shop with an anti-climactic experience.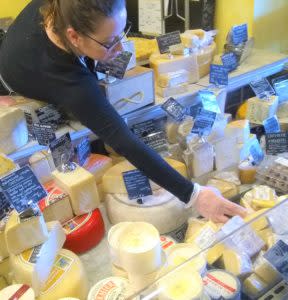 Photo courtesy of the author
My answer, I've learned what works best for me is to tell the cheese monger that I would like to try a cheese sampling for a cheese plate that I will be assembling with an assortment of three to five cheeses. Now, the monger has a direction to take me in and can offer the most interesting choices along the way that I couldn't ordinarily find myself just by reading descriptions.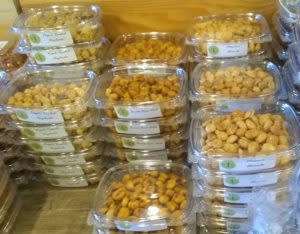 Photo courtesy of the author
This is my script: I want to start the tasting as I will assemble the cheese order on a plate, from mild to strong; and I am open to your suggestions. I'd like to begin with a goat cheese because its an acidic type cheese that cleanses the palette and makes way for more good tastings. Next, I request something creamy like a Camembert. Third, I want to go for a hard cheese. The type of milk or country makes no matter but I do enjoy a Swiss Gruyere. Nothing wrong in sharing your likes with the monger and it maintains continuity. Just don't come across as bossy or a know it all. Plus, it's unattractive. You want to assure the monger that you are following along their course. Next, I like to ask for a bloomy rind cheese. This refers to edible white rinded (and sometimes a little fuzzy) type of cheese. Lastly, to end with a blue. Again, I offer that I love an English Stilton because I really really do but I continue to follow my captain's lead, accordingly.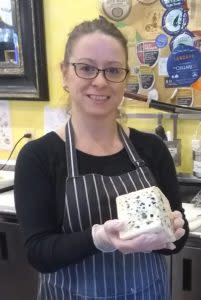 Photo courtesy of author
The magical mystery tour has come to a close and my hope is that it was helpful. All that remains is to pick up a few items to serve with the cheese that double as decoration. To eat, I prefer my cheese alone or on warmed crusty bread that is spread with a little European butter. It's nice to also have on hand crackers, fresh fruits like pears, apricots or apples, dried fruits, nuts, and chutneys but not necessary to have all.
Have a lovely Cheese Tasting!
Photos taken with permission at Tastings Gourmet Market Clock Tower Place 1410 Forest Drive Annapolis, MD 21403
Store Hours Mon-Fri 9am-7pm Sat 9am-6pm Sun 11am-5pm