Instead of doing the usual American Halloween rituals this year – walking a haunted trail or watching horror movies – I opted to join Watermark's Historic Ghost Walk in downtown Annapolis. I'm not one to actively search for a way to scare myself in celebration of All Hallow's Eve, but I do love history, so I figured I'd hop on the tour and learn a little about Annapolis. Seeing that the city's history spans over 350 years, it comes as no surprise that many believe the brick-laden streets, tight alleyways, and centuries-old buildings are occupied by more than merely the souls of the living.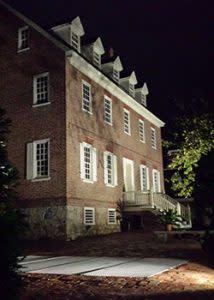 William Paca House
With an open mind (I'm not completely convinced ghosts and their haunted houses exist) I joined the tour led by "Squire" Richard Hillman – dressed to the nines in his 18th-century attire and carrying a candle lantern. Our tour group of about ten set out to explore Downtown Annapolis in search of ghosts, stopping at the City Dock, the Brice House, the William Paca House, the Harwood-Hammond House, the Maryland State House, the Governor's Mansion, St. Anne's Church, and a few other historic buildings along the way.
Squire Hillman laid out the history of each site as well as the historical descriptions of the streets on which they were located. Brimming with a wealth of esoteric knowledge concerning Annapolis' history and spirits, he explained each episode that led to the sites' being deemed "haunted." From incidents that occurred in the 1700s to ghoulish encounters as recent as 2006, our fearless, expert Squire described each enigmatic episode in full detail. We listened to stories of drowned watermen, ghosts of servants, haunting mistresses, and colonial homeowners whose souls apparently never left their houses.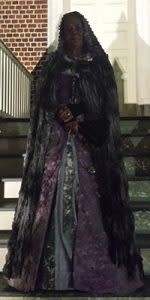 Ghost
I kept a watchful eye on the windows of the buildings, hoping to catch a glimpse of some shadowy figure looking down on our group with wicked intentions. It never happened. We were led through the Paca House – the only site we entered – as I did my best to conjure a ghost showing his/herself; waiting for a cold, invisible hand to brush my shoulder or an apparition to float across a hallway. That never happened either.
Though Squire Hillman didn't solidify my belief in ghosts or haunted houses, his knowledge of Annapolis and his ability to tell a story were fantastic. I've been on a few tours of Annapolis' historic buildings but this one was easily the most informative and interesting. During the ninety-minute tour, Squire Hillman covered the historical importance of Annapolis' first residents, the significance of the city's colonial architecture and, of course, the mysterious accounts of ghosts within the walls of some of Annapolis' oldest structures.
This was a different and interesting way to get into the Halloween spirit, and I'd recommend Watermark's Ghost Walk to ghost-chasers and history buffs of all ages. Only $22 for adults and $14 for children ages 3-11, it's a great, spooky tour for the whole family.
Photos courtesy of Watermark