Thirty-five happy years ago I met my husband. We worked together at a Maryland real estate firm where, early on, I noticed a framed snapshot in his office. In the amateur photo, my youthful future spouse posed in sporty 1980s attire beside his little BMW sedan on East Street in Historic Annapolis. Behind him loomed the imposing all-brick eighteenth century James Brice House. In my twenty-something naiveté, I truly believed that he lived in that huge colonial mansion. I was sold. As it turned out, my husband-to-be resided elsewhere in a tiny house in Annapolis – and the James Brice House belonged to others.
James Brice House
James Brice was a lawyer and a planter. He served publicly as a local and county officeholder, a longtime member of Maryland's Executive Council, and the State's acting Governor in 1792. He commenced construction of his commanding Georgian-style mansion in 1767, having received the site, plans, and foundation from his dying father, Judge John Brice, Jr.
Young James Brice kept meticulous accounts of the construction process, which began with a cornerstone marked "The Beginning." (This year is actually the 250th anniversary of the laying of the cornerstone at Brice House). Engaging enslaved labor, indentured servants, and free local craftsmen, the construction process took seven years and used 326,000 bricks and 90,800 cypress shingles. At the center of the five-part Brice House is a massive central block with a steeply-pitched gable roof and soaring brick chimneys at both ends. The central hall includes a magnificent mahogany staircase. The ornately decorated drawing room features a complex plaster cornice and paneling, a carved mantel and overmantel, and interior wooden window seats and shutters.
Brice expended an extravagant amount on construction costs, competing architecturally with the designs of other contemporary gentry-built mansions such as the Hammond-Harwood House, the William Paca House, and Brice's more modest childhood home on Prince George Street. Residential construction of grand town homes during the pre-Revolutionary War period fueled the local economy and graced Annapolis with numerous handsome colonial buildings that we still treasure today.
Historic Annapolis Foundation
The grand house stayed in the Brice family until the 1870s. Since then, it has been owned by various private families, as well as by the nearby Carvel Hall hotel (once on the site of the William Paca House), St. John's College, and more recently, the International Masonry Institute. The State of Maryland acquired the National Historic Landmark in 2014 and arranged for the nonprofit Historic Annapolis Foundation to maintain and manage the Brice House as the preservation organization's headquarters.
Historic Annapolis uses the spacious rooms as their office, but also hold lectures, receptions, and meetings on site. Historic Annapolis is currently planning a new 2018 exhibit called "A History of Annapolis in 99 Objects" which the Brice House will also be a part of.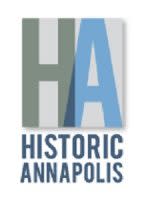 Brice and his wife had seven children in the mansion. Since his death in the house in 1801, Brice's ghost is said to roam the basement and bedroom. Some ghost tour aficionados call the Brice House the "most haunted house in Annapolis." Count me among the skeptics. My own story has a much happier ending. My husband no longer has his BMW sedan or sporty 1980s style clothes, nor did he ever reside at the elegant Brice House. Despite all this, he's a pretty good guy, and I am super thankful that the old snapshot in his office caught my eye thirty-five years ago. Now – when you think about it – that truly is some real HISTORY.
Maryland Day is March 25th
The Brice House is included in the State-wide Maryland Day celebration the weekend of March 25, 2017. Maryland's birthday commemorates the founding of the Maryland colony when English settlers gave thanks on St. Clement's Island in what is now St. Mary's County. This year's Maryland Day theme is "Made in Maryland." Historic Annapolis will celebrate with living history interpreters and hands-on activities offered at the Brice House and other locations.
Anne Arundel County House and Garden Pilgrimage Includes the Brice House
On Saturday, April 29, 2017, selected homes and gardens in Annapolis and Anne Arundel County will be open for tours as part of the annual Maryland House and Garden Pilgrimage. Since its formation in 1930 by the Federated Garden Clubs of Maryland, the Pilgrimage has arranged tours inside hundreds of extraordinary homes and gardens throughout Maryland and raised over a million dollars for preserving historically significant properties. This year, Historic Annapolis is hosting the Pilgrimage in Anne Arundel County with a tour featuring the Brice House and other dramatic town homes, waterfront estates, and beautiful gardens.
Lectures offered by Historic Annapolis
The Historic Annapolis spring calendar includes a variety of historian-led lectures at the Brice House, the William Paca House, and St. John's College in Annapolis. Lecture topics include:
Wednesday, March 8, 2017: An Eighteenth-Century Day from Morning to Night, Basement to Attic, Mistress to Servant (waiting list)
Saturday, March 18, 2017: Historic Property Research Workshop
Monday, April 3, 2017: Part I: Slaves and Servants and Part II: Black Lives in Colonial Annapolis
Thursday, April 6, 2017: Paint Discoveries from the James Brice House Revealed, an Exclusive Opportunity for Curator's and Preservation Circle Members
Tuesday, April 11, 2017: Brothers in Arms: The Revolutionary Service of James and Edmund Brice
Wednesday, April 19, 2017: Behind America's First Daughter, the Novel
The James Brice House is located at 42 East Street in Annapolis. The Historic Annapolis offices are open weekdays 9:00 am to 5:00 pm. Group Tours can be arranged by appointment (410-267-7619).
Photos courtesy of the Historic Annapolis Foundation and Jesus Sanchez Photography