In the next installment of this eight-part series, I want to talk about the historic residences sprinkled around Anne Arundel County. The vast differences between them is an excellent indicator of just how historically and culturally RICH this area is! Ranging from the seventeenth to the nineteenth century, these historic estates have been maintained remarkably - supported both privately and publicly -  in an effort to preserve the historic culture of Anne Arundel County.
Hammond-Harwood House

Present Day.m Photo courtesy of the Hammond-Harwood House
If you've ever taken a stroll down Maryland Avenue, you've probably noticed this magnificent house, and you might have even seen the historic marker posted just across the street.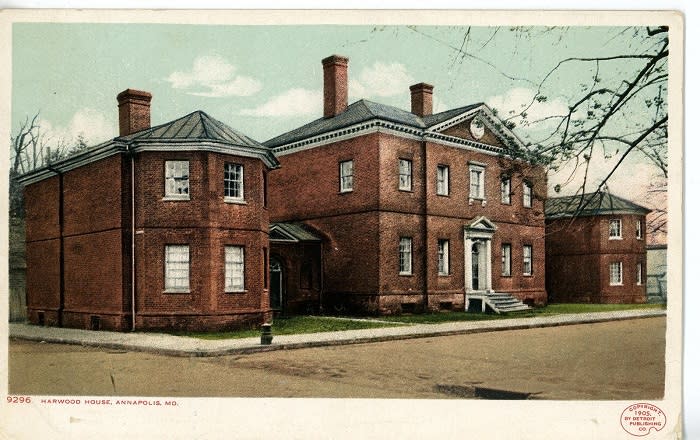 Post card circa 1905
But did you know that Matthias Hammond, the original owner, never actually lived in the house? Or that it was on the road to demolition in the 1920's? Thankfully, St. John's College purchased it in 1926 and made it the hub of the decorative arts program. Battling the struggles of the Great Depression in the 1930's but still determined to keep the house intact, the college was forced to look for a new owner. The newly established Hammond-Harwood House Association took ownership in 1940, and has maintained the property ever since.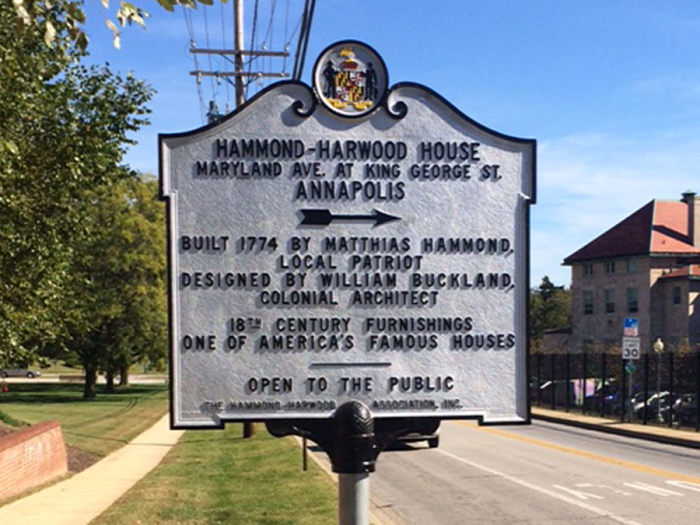 It is now open to the public as a museum of eighteenth century arts and architecture. You can find a list of upcoming events at the Hammond-Harwood House here.
Whites Hall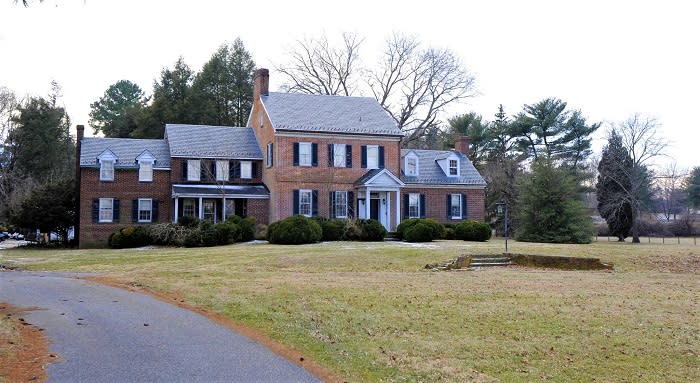 Just west of Annapolis in Crofton stands Whites Hall. It the birthplace and childhood home of Johns Hopkins, founder of Johns Hopkins University and Johns Hopkins Hospital - both located in Baltimore, MD.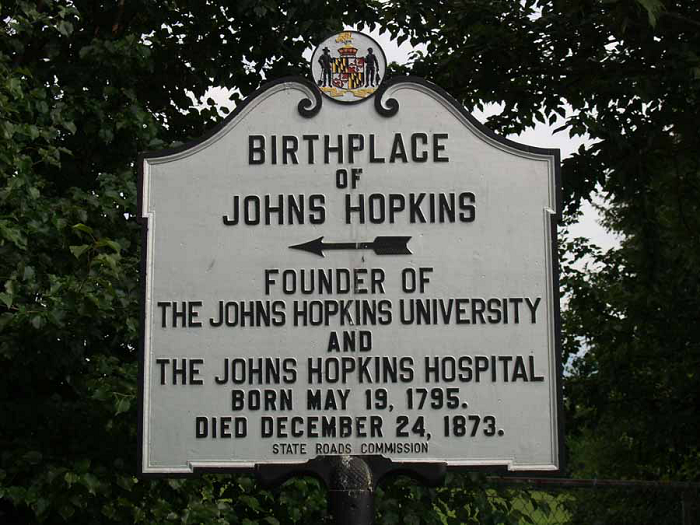 The original land grant given to Colonial Official Jerome White in 1665 for 1,800 acres. By 1780, only 500 acres still remained, and thus Whites Hall was built. The property was a thriving tobacco plantation, operated mainly with slave labor until 1807, when all slaves were emancipated in agreement with the Quaker principles that the Hopkins family followed. The home stayed in the family until 1910, when it was purchased by the Stewart Fruit Company and operated as a farm until the 1940's. Stephen and Thelma Duckett, residents of Annapolis, purchased the property in 1941 and made it a private residence once again. They raised Black Angus cattle there for over fifty years before turning 175 acres of the land into the Walden Golf Club in 1991.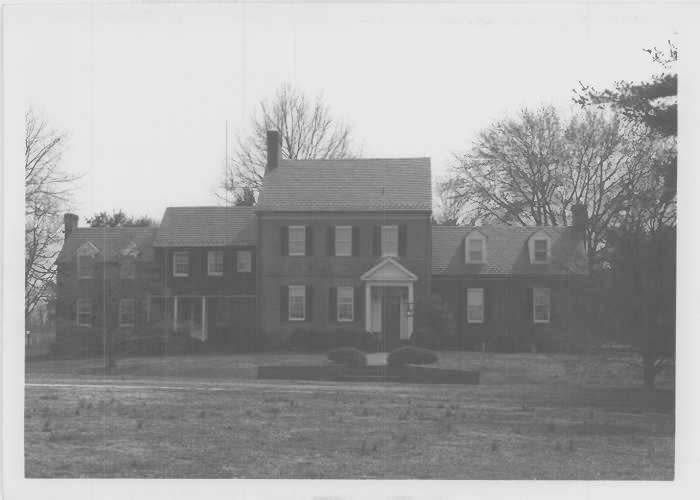 Whites Hall circa 1984
After Stephen Duckett's death in 2005, Whites Hall and fifty-one acres surrounding the estate was sold to a developmental group based in Maryland. Today, the property sits vacant, but efforts are underway to restore this great historical landmark to its original glory. You can learn more about Whites Hall and preservation efforts here.
Middle Plantation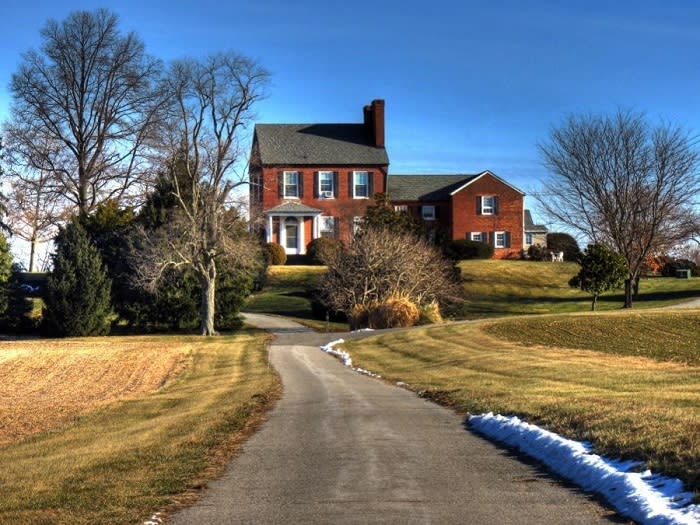 Present Day
Mareen Duvall, a French native and immigrant to the colony of Maryland in 1650, was given a land grant of 600 acres in 1664. Although the location of the original house at Middle Plantation remains unknown, there is a historical marker indicating where the land of the plantation is. The house is believed to have stood somewhere along Rutland Road.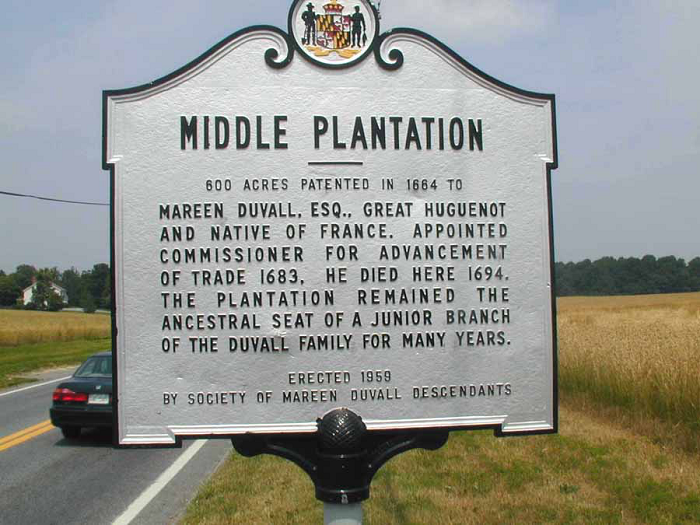 Duvall owned several thousand acres of land throughout Anne Arundel and Prince George's Counties until his death in 1694. The land has remained a working farm for over three hundred years, and is currently a private residence.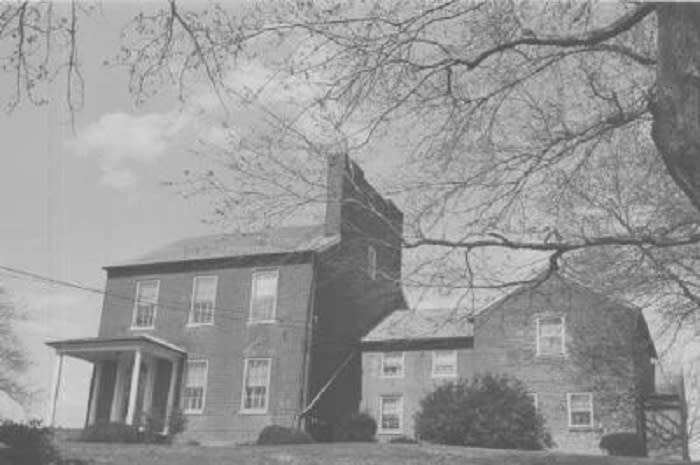 House erected at Middle Plantation: Photo circa 1975
According to genealogy records on Mareen Duvall, "The Emigrant," as he is often referred, is an ancestor of three U.S. Presidents (John Tyler, Harry S. Truman, and Barack Obama), one American Vice President (Dick Cheney), one actor (Robert Duvall), one U.S. Associate Supreme Court Justice (Gabriel Duvall), one billionaire (Warren Buffett), and a famous Confederate spy from the Civil War (Betty Duvall). I'd say that's a pretty good bunch of 13th great-grandchildren! I can't imagine what those family dinners would be like...talk about expectation!
Cedar Park and Tulip Hill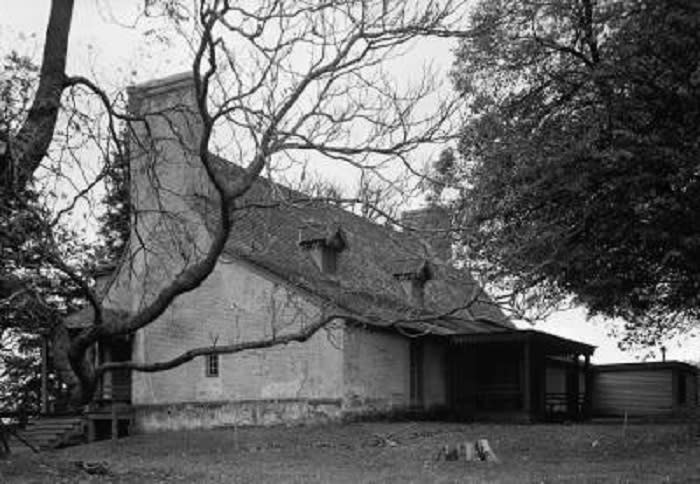 Cedar Park: Photo circa 1933
Taking our historic tour even further south, next up on our list is a two-for-one: Cedar Park and Tulip Hill. Both estates are located along MD 468 in Galesville, MD.
Cedar Park is the older of the two, and is situated about a mile off of MD 468 down Cumberstone Rd. The construction of the home dates back to 1702, when Richard Galloway, a Quaker, bought the tract of land adjacent to the West River. Like with many historic residences, the structural framework, cosmetics, and even a second story were added between 1702 and 1835. The single frame tenant house (or slave quarters) on the property dates back to the mid-nineteenth century. According to "oral tradition," this property was the easternmost of six or more similar dwellings that stretched from the main house westward to the road.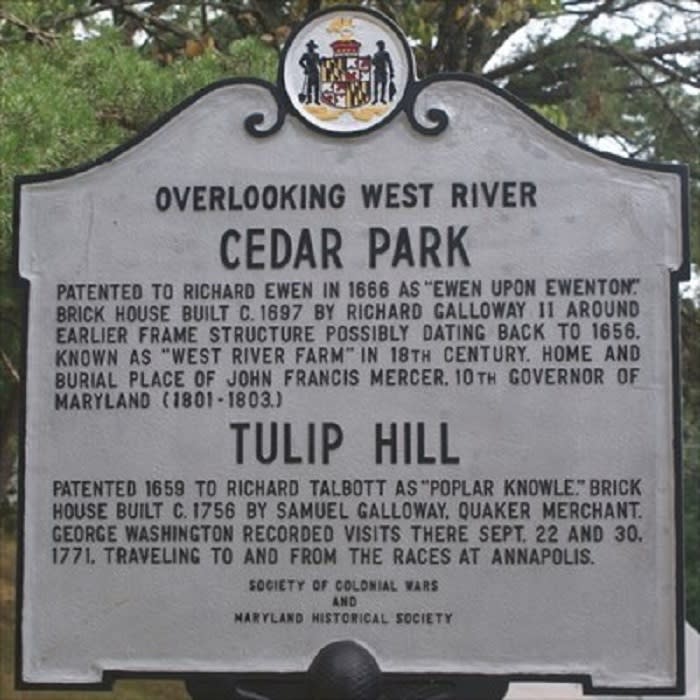 The main - and oldest - portion of the house holds the impressive title of having the oldest surviving earliest constructed dwelling in Maryland and Virginia. It is described as having "pitched roof and towering end chimneys, this old dwelling resembles an English Tudor country house; additions over generations give the house its idiosyncratic style." - A New Guide to the Old State Line, 2nd Edition
Margaret Mercer, the daughter of Governor John Francis Mercer (1801-1803), was an early abolitionist in Maryland with a vision of opening a boarding school for girls. Once she inherited Cedar Park, her vision came true and she operated the newly established Cedar Park Academy on the property from 1825-1834.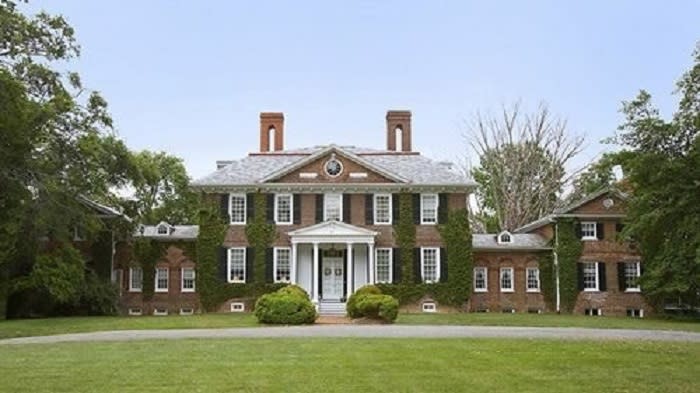 Tulip Hill present day
Tulip Hill, named for the giant tulip poplars that surround it, sits just off MD 468, although trees block the street view for most of the year. This was not the first name that this location was known as, though. In a patent for land to Richard Talbot in 1659, it is referred to as "Poplar Knowl."
This magnificent estate was bought by Samuel Galloway in 1755, and he promptly changed its name and started construction on what would become Tulip Hill. He continued to add to the home from 1756 until 1762. The house was to be a gift for his wife, Ann. What an anniversary present! Their son John Galloway added the wings in 1790.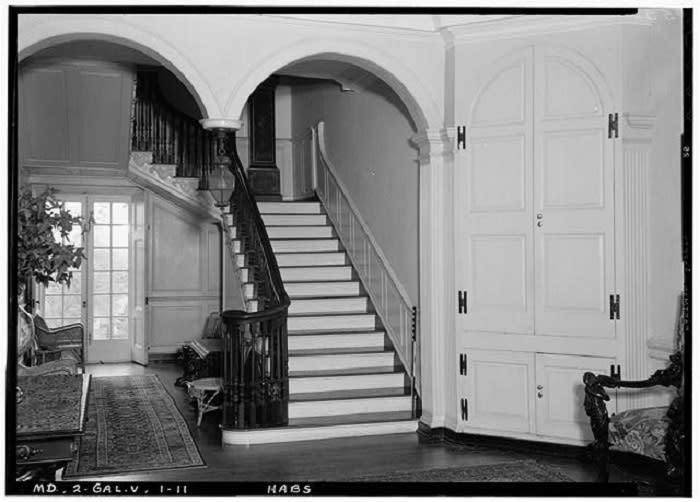 Tulip Hill Central Staircase circa 1937
Along with being architecturally unique compared to most estates of the period, it is also noted to have been constructed only of bricks that were made on site. Oh, and did I mention George Washington himself visited Tulip Hill in 1771? Many people are unaware of this little fun fact, but George Washington was an avid horse racing fan and went to the races in Annapolis every chance he got. Samuel Galloway and George Washington became good friends through a mutual interest of racing. Galloway was the proud owner of a celebrated racehorse of the colonial period, Selim. Through the years, a tale has been passed down of one of the young Galloway children riding his horse right up the central staircase. I can neither confirm or deny this tidbit, but I will admit that it scares me to think of how much trouble I would have been in had I done something like that as a child!
The house stayed in the Galloway family until 1866. It has stayed privately owned to this day, selling for $2.5 million at auction in 2011.
Benson-Hammond House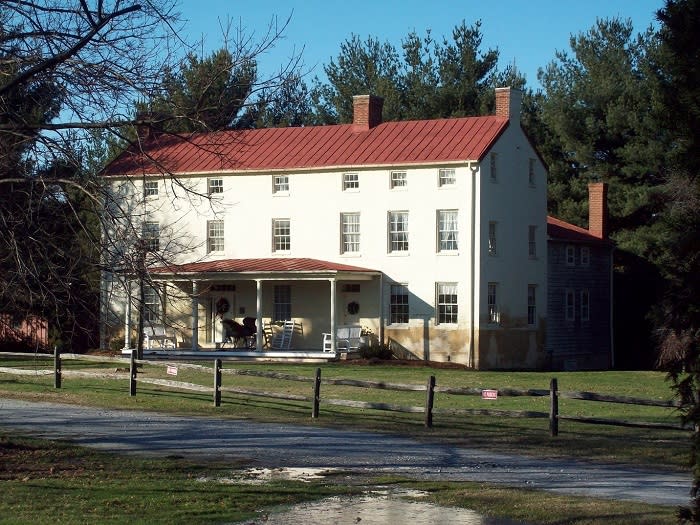 Photo courtesy of the Ann Arrundell Historical Society
The original 7.5 acres and log cabin belonging to Thomas Benson sat along what is now the intersection of Aviation Boulevard and Poplar Avenue in Linthicum, MD. Today, we can see the finished product of about twenty years of renovations and additions, starting in 1824 with Thomas Benson and continuing with his youngest son, Joseph, in 1940.
After changing hands in 1887 to the family of Rezin Hammond, the property continued on as a working farm until 1947 when it was purchased for the construction of Friendship Airport. Although almost 3200 acres of farmland and homesteads were demolished for the build, the Benson-Hammond House was miraculously spared - the only house to be saved!
In 1975, the Ann Arrundell County Historical Society entered into an agreement with the Maryland Aviation Administration, and the house became a museum dedicated to preserving the last remaining example of nineteenth century farm life post-WW2 on the land of what is now BWI Airport.
To read more about the preservation efforts being done by the Ann Arrundell County Historical Society, or to find information on becoming a member, donating, or volunteering, click here.
Larkin's Hills
Photo circa 1936
If you remember anything from your middle school history classes, you probably could recognize St. Mary's City as the first capital of Maryland, after which it was moved to Annapolis in 1695. But did you know that an estate in Harwood, MD, just southwest of Annapolis, served as the temporary capital of Maryland for a short period in 1683?
Six hundred and fifty acres of land in the Ridge was surveyed in 1661 and patented in 1663 to Mr. John Larkin, an early Quaker of Anne Arundel County. The original house, built in 1683, still stands, but there have been several additions made to the house - the most recent of which was a north end wing, completed in the mid twentieth century.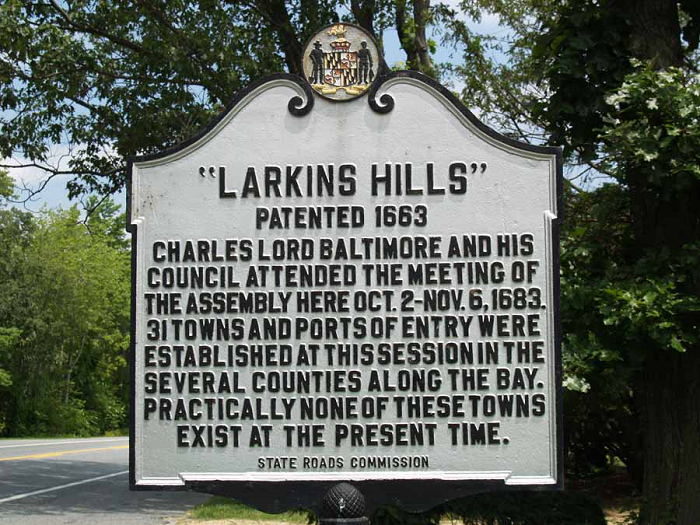 After serving as a makeshift capital, John Larkin strategically turned his estate into an inn due to its proximity to the Severn Ridge Road, once an Indian trail and regularly used travel route by seventeenth century settlers. This road is now known as Solomon's Island Road, or Route MD 2. Because of its placement along the road leading from Annapolis to St. Mary's, Larkin's Hill was also included as a stop on the first regular postal route in Maryland.
In 1753, John Gassaway acquired the property and made extensive expansions. If you're willing to do a little searching, you might even see the initials "JG" carved into one of the bricks adjacent to the house!
Images courtesy of the Maryland State Archives, Ann Arrundell Historical Society, and the respective residences