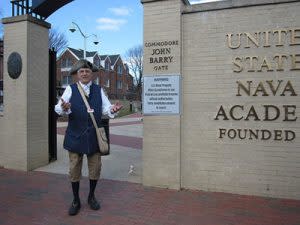 Squire Tony
You can time travel in Annapolis—that's what we did recently on a sunny February afternoon. Our energetic tour guide "Squire Tony" teleported us through history on a Four Centuries Walking Tour, a narrated jaunt around Annapolis that was chockfull of historic detail.
We followed Squire Tony's tri-cornered hat through two and a half hours of history, which touched on every age from the early 1700s through modern times. Dressed in colonial attire, Squire Tony shepherded us through the Naval Academy, to the St John's College campus, and finally to the Maryland State House. The Four Centuries Walking Tour is one of the unique sightseeing tours offered by Watermark, a professional provider of all things Annapolis from boat tours to water taxis to colonial guides.
Squire Tony looked every bit the part of a kindly Colonial gentleman as he led us on this unpretentious guided walk. I have no doubt we barely scratched the surface of his broad knowledge of history or the depth of his enthusiasm about Annapolis.
He threw in something for everybody—a little military history, some images of the harsh colonial lifestyle, a few quirky Naval Academy rituals, and plenty of glamorous architecture. Our guide was a true professional, choosing his stories and facts wisely in order to get us home before sunset.
Our friendly tour group came from all over the country and even included some folks from Germany. We were amazed at the many stops on our whirlwind tour, from the magnificent interior of the Naval Academy's Bancroft Hall, to Maryland Avenue's Hammond Harwood House and Chase Lloyd House, to the elegant State House legislative chambers with their fabulous Tiffany stained glass skylights. These truly are world-class structures befitting a grand European city.
We stood in the very room in which George Washington resigned his military commission, thereby allowing our nation's civilian government to have authority over the military. We gazed upward at the stunning dome of the Naval Academy Chapel and descended to its underground marble crypt encasing the remains of John Paul Jones. We walked through the Naval Academy's Gate 3 through which Abraham Lincoln arrived during the Civil War. We paused on Lawyer's Mall where modern-day legislators crisscross on their busy paths to and from the State House.
As present-day life swirled around us, our tour group was immersed in centuries past. We stood in each of these real-life places surrounded by modern trappings while visualizing each place in a prior century.
Squire Tony had us imagining the portly form of colonial figure Edward Lloyd as he was carried by litter from his home on Maryland Avenue. While cars whizzed by on King George Street, we envisioned our country's founders chatting under the now gone Liberty Tree on the St. John's College Campus. At the Maryland State House, we pictured the demise of the poor plaster carver, now a ghost who haunts the landmark's dome after falling to the marble floor as he was creating its beautiful detail.
Squire Tony's descriptions, while unfussy, lent humor and wit to historical events. His uncontrived tour immersed us in the history of our hometown in a way we as local residents didn't expect. And the tour reminded us that Annapolis is a living, thriving place in which contemporary folks walk historic streets and enter centuries-old interiors—perhaps unwittingly sharing them with folks who lived here centuries ago.
All those stories about Revolutionary War heroes and former Presidents and signers of the Declaration of Independence—those stories happened right here in places you can visit today. Who can say for sure? Maybe those heroes and Presidents and signers are here now, walking right along with us.
Photos courtesy of Ann Powell