If you have a gourmet on your holiday gift list, or someone who just likes to eat food with a gourmet twist, head to downtown Annapolis for a pleasurable and productive experience.
Walking into the Spice and Tea Exchange at 155 Main Street could improve the mood of any but the grinchiest of grinches. The walls are lined in the earthy tones of jars filled with herbs, spices, salts, peppers and teas attractively displayed in neat rows. When tops are removed from the wide-mouthed jars, you're provided a wonderful whiff of their contents. You can then decide if you wish to buy a bottle or a smaller packet. The small packet is a great option for the cook who likes to experiment by trying out a new recipe, yet may not wish to devote a whole pantry shelf to spices rarely used.
At this year's chili cook-off at the Annapolis "Slaughter Across the Water", I tried the most wonderful chili ever. When I asked the chef if he would share the recipe, he told me to "Google The Washington Post 'Dark Pot Roast Chili.'" The recipe called for Smoked Paprika. Thinking I'd probably never find this, I was delighted to find both a mild and hot version at the Spice and Tea Exchange. With various kinds of pepper and other seasonings available here, any chili chef would be delighted to have a gift certificate to choose his or her own level of heat.
When I saw the "Salts" wall, I remembered that Dry 85 used a delicious Bacon salt from the Exchange to rim its Bacon Bloody Mary and thought a packet of that would be a great stocking stuffer for a home bartender.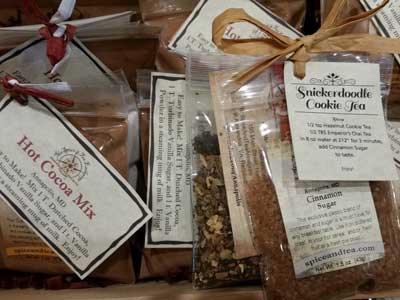 A basket of packets for creative hot cocoas and teas contained some heavenly options. One indulgent offering included ingredients and directions to a gift set for preparing Snickerdoodle Cookie Tea! This mouthwatering tea is made from a combination of ingredients found in the store, including Hazelnut Cookie Tea, The Emperors Chai Tea and a Cinnamon Sugar mix. Who wouldn't want to sip a steaming cup of one of these sweet teas instead of dessert on a cold winter night or after a day shoveling snow?
The Spice and Tea Exchange offers a variety of pre-made gift packets for the cook on your shopping list and will also customize one for you. Be sure to visit the Spice and Tea Exchange on Small Business Saturday, the day after Black Friday.
A short stroll up Main Street and 'tis the season to step into Seasons Olive Oil and Vinegar Taproom and sample from its vast inventory of fine olive oils and vinegars. Seasons offers every one of these products on tap for guests to sample. A slight twist of the spout and rich oils or unique vinegars flow into a small plastic cup for sipping or dipping.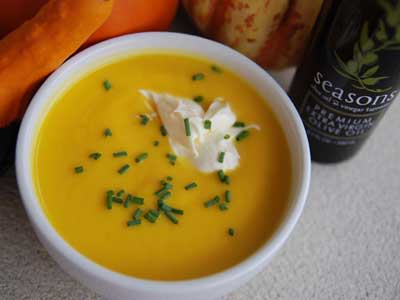 I am a frequent flyer in this store and enjoy taking first timers here. Sharing favorites such as the Baklouti Green Chili Fused Olive Oil or Rosemary Fused, or trying a new seasonal oil, it is fun to try to describe the taste. I find it very similar, and every bit as fun, as a wine tasting where different parts of the tongue react to different flavors in the oil.
The staff here is extremely friendly and knowledgeable. Tell them who you are shopping for and they can make suggestions or help you put together a unique gift pack for your special gourmet cook. The staff is also able to tell you all about olives: Where those used in their oils come from, the kind of soil they are grown in, and why they come from certain parts of the world at certain times of the year—once again, reminiscent of a wine-tasting event. This is not your supermarket olive oil.
Here's another of the store's perks: It provides recipe ideas and cooking tips. I found out that flavored vinegars are even used in cocktails! While recipe cards can be found in the store, the Seasons website is full of many more recipes, from appetizers to dessert, salads, main courses and side dishes. Now that the weather has turned colder, I am looking forward to trying the Butternut Squash and Apple Soup from the website. This recipe incorporates Season's Baklouti Green Chili Fused Olive Oil and Seasons Honey Ginger White Balsamic Vinegar. Wouldn't that be wonderful after a day shopping in the cold?
The Baklouti Green Chili Oil is a staple in my kitchen and I no longer consider making an omelet without it. Rubbed on pork roast and potatoes, the Tuscan Herb Oil will fill your house with a wonderful aroma as it bakes in the oven. Choose a non-flavored oil and Raspberry Ginger Balsamic vinegar to make a delicious baste for a roasted chicken.
[gallery size="large" link="none" ids="2515,2516,2514"]
You may enter Seasons to shop for your another, but after sampling, you will probably end up gifting yourself as well.
This trip promises to be more than an obligatory holiday shopping experience. It is an outing that will tickle your sense of sight, smell, and taste. Enjoy.