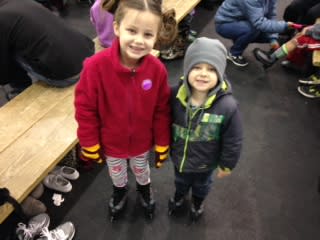 Winter is here! Though I love and appreciate all four seasons, I find it difficult to get the wiggles out of my bigger little's (ages four and six; the littlest little is a wee infant!) when we are primarily inside. This winter, I vowed to find an indoor sport. We tried the SkyZone in Columbia (which is awesome!), but we needed something a little closer to Annapolis and South County that we could visit with more regularity.  My son is already a little fish, so we go way back with the Arundel Olympic Swim Center.  My daughter dabbled in gymnastics for a while (if you're interested, check out Severna Park Gymnastics!), but we all craved something new…ice skating!
Ice skating is a great sport.  The skills and balance instilled can translate into any realm of athletics, and I'm hoping to prepare my kiddos for skiing in the near future. If you follow this blog, you may recall that we visited the USNA Brigade Sports Complex last year for the first time.  (And if you read that article, you shouldn't be surprised that we went back this year!)  The indoor complex is located at 64 Greenbury Point Road, which is across the Severn River from the main campus. Midshipmen are free and military families receive a reduced rate with identification.  If you have questions about directions or specific prices, the Brigade Sports Complex can be reached at 410.293.9700.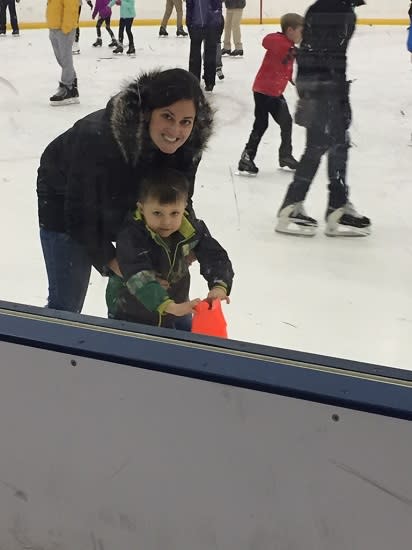 We chose to visit the USNA Brigade Sports Complex again because they have ample parking, good prices, convenient open skate times, and (drumroll, please!) they offer skating lessons for young children.  They participate in the Learn to Skate USA program, which is offered at several locations across the country.  Their classes cater to all skill levels, ranging from "Snowplow Sam," which is appropriate for my four-year-old son, to "Ice Dance" and even hockey and speed skating.
If you haven't been ice skating, you need to remember to dress appropriately.  Ice is cold!  I suggest light layers, a jacket with gloves and maybe even a helmet.  Helmets are required for lessons and included with skate rentals.  On the day of our particular visit, my six-year-old daughter was very confident once she took to the ice.  She needed a cone in order to make her way around, but after one lap as a team of three, she decided she was ready to set off on her own.  She made at least three solo laps, breaking only to watch the Zamboni!  I was especially impressed with her verve because my back took a beating while I bent over to assist my son.  He was more cautious (which is hilarious because I didn't think he had a cautious bone in his body!) and he wouldn't skate unless I held on to him.  After a fun hour, I asked if they'd be interested in lessons and received a resounding, "yes!" Our first lesson is upcoming this Saturday!
Photos courtesy of Becca Beasley