Go All Out for Annapolis Restaurant Week and order Cocktails To Go!

 

The birds are chirping, the daffodils are timidly poking through the dirt, a few boats are starting to brave the cold waters for a joy ride … and it's Restaurant Week in Annapolis! All the signs of spring are upon us and boy, are we ready for it this year! Annapolis Restaurant Week (ARW) is back March 20-28, and some would say, better than ever this year, because it will feature lots of options for how diners can enjoy the special seasonal menus. Many restaurants are offering indoor and outdoor dining options, carryout deals, liquor to-go deals, vegetarian and gluten-free options, as well as online gift card sales.

 
Even Better Deals
While ARW regulars may remember set price points in prior years, this year the event has given restaurants more flexibility to customize their prix fixe menus and offerings. Two-course breakfasts will range from $9.95 to $15.95, two-course lunches will run $12.95 to $19.95 and three-course dinners will range from $29.95 to $39.95.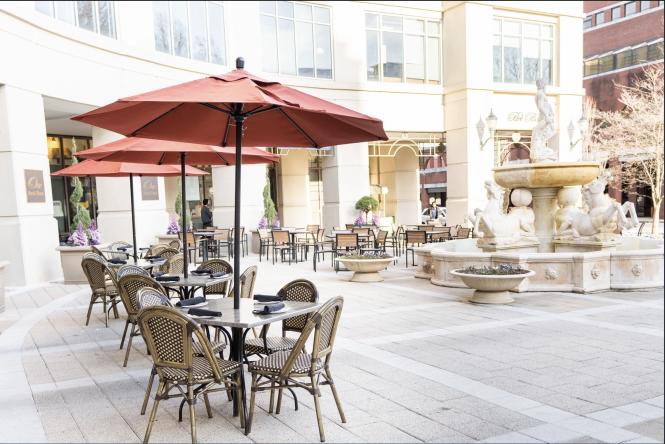 Carpaccio has some authentic Italian cuisine in store for ARW diners... and plenty of outdoor seating. Photo courtesy of Carpaccio Tuscan Kitchen and Wine Bar.

 
Carryout Deals
If you're not doing in-person dining yet, no worries—you can still support ARW. Many of the restaurants are offering their ARW menu as a takeout option; however, if you have your heart set on a particular restaurant, be sure to check first since some of the restaurants are not able to offer the special menu as carryout. The Downtown Annapolis Partnership, which organizes the event, has a comprehensive list of participating restaurants and what they will be offering.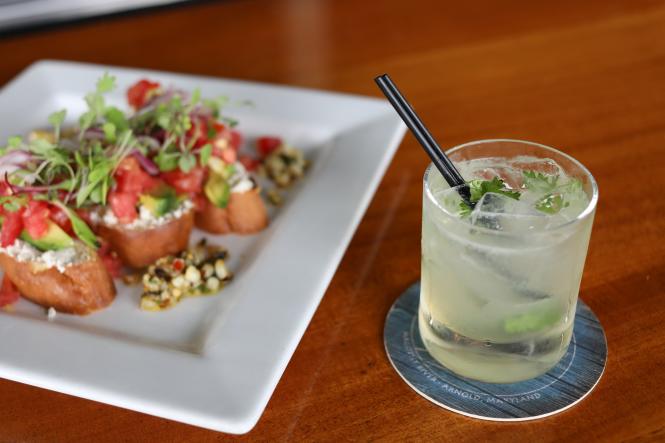 Support your favorite restaurants with a curated happy hour to go! Image of the Chart House courtesy of Annapolis Discovered.

 
To Whet Your Appetite...
While some of the participating restaurants are still keeping us in suspense for their ARW menus, here are a few specials I can't wait to try this year (all these are offered as carryout options, as well):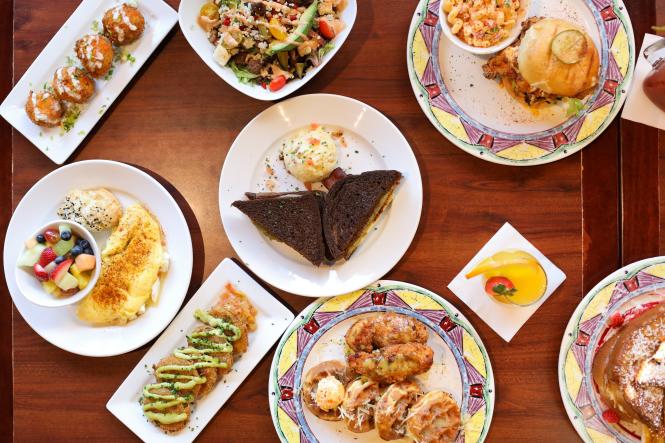 Carryout is fast and convenient at Miss Shirley's, they even have a dedicated carryout window! Photo courtesy of Annapolis Discovered.

 

For breakfast and lunch, you can't go wrong with Miss Shirley's. For a light, sweet treat, start with Grapefruit Brûlée or for heavier fare, try the Gravy Train Southern Skillet (fried chicken, collard greens, grits, sausage and cheese all topped with a sunny side egg!) for lunch.

 

One Restaurant Week trick I love is to treat myself to a fancy lunch during ARW. And with two courses, the portions are often more than enough for lunch. For a fab, filling lunch, try one of these ARW combos: Insalata Mediterranea with Linguini Sofia Loren (manila clams, roasted garlic, wine sauce, chili-infused olive oil) from Carpaccio's or for some local faves, start with a cup of Cream of Crab soup and the Big Buddy Crab Cake Sandwich from Buddy's Crabs and Ribs.  

 
Come for Annapolis Restaurant Week, stay for the view; Severn Inn has some of the best sunsets in town! Photo courtesy of Severn Inn Facebook page.

 

For dinner this year, I can't wait to grab takeout from a tried-and-true favorite: Severn Inn. I'm a sucker for unique starters, and the deviled eggs topped with pickle, jalapeno, and cilantro definitely fit the bill. The Grilled Pork Chop looks like just the right blend of seasonal freshness and hearty fare (served with herb roasted carrots, cheddar grits, and creamy bacon bbq). For dessert, I'll be choosing another unique and intriguing offering: the Citrus Olive Oil Cake.

 
Stay Tuned for More...
Definitely stay tuned to the ARW official site or their Facebook page for the latest updates about participating restaurants and menus. If you plan to dine in, make sure to call early and book your table, just in case restaurants are operating with limited seating restrictions. If you plan to eat outdoors, I'm keeping my fingers crossed for the finest spring weather Maryland has to offer all week! And if you'll be eating carryout, go all out with your orders to support Annapolis restaurants in a year when they need it the most. Now, you'll excuse me while I get back to studying these menus and planning my every meal during ARW!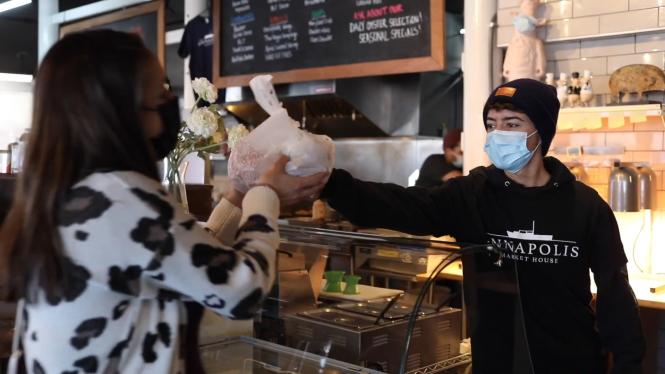 Try Annapolis Market House for great coffee and creative bites while you're on a stroll around town. Photo courtesy of Annapolis Discovered.

 
Restaurants offering carryout Deals & Menus:
(V)=Vegetarian option
(GF)=Gluten-free option