Is cabin fever beginning to set in with all this cold recently? Feeling a little stir crazy? With winter in full force here in Annapolis, it's nice to know locals and visitors alike can hunker down in one of the many restaurants to enjoy a meal, a drink, and even a warm fire. January dining in Annapolis is not only a nice excuse to get out of the house, but a great chance to visit a restaurant you've been meaning to sample.
The Magic of Fireplaces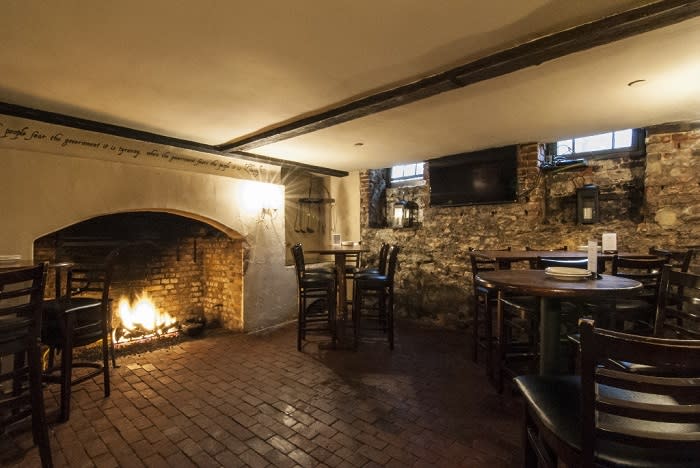 Reynolds Tavern
Looking for the comfort of the sounds, smells and warmth of a flickering fireplace this winter?  Annapolis has a handful of eateries with this special seasonal amenity.  Downtown, find what you're looking for at the historic Middleton Tavern opposite the City Dock, Café Normandie on Main Street, the iconic Maryland Inn's Treaty of Paris restaurant (open for breakfast, lunch and dinner), and in the cellar-level pub at the Reynolds Tavern on Church Circle.
Wine Dinner Diversions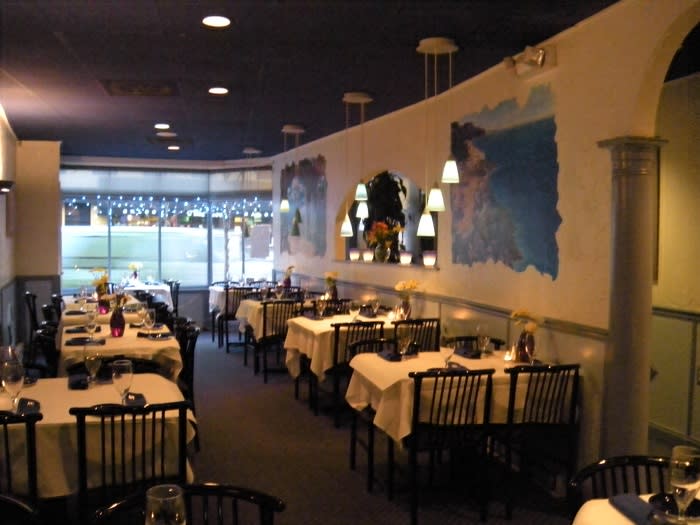 Luna Blu
January is a good time to explore the wine dinner trend that often includes a charity.  Luna Blu, the petite but popular Italian gem at 36 West Street near State Circle, is taking reservations for a celebration of food and wine on January 28 at 5 pm.  The Stanton Community Center for low-income youth will be the recipient of 10 percent of the $70 tariff for an inventive 5-course menu that includes pear wedges with prosciutto and Roquefort, Fettuccine Nero with seafood in a lemon-white wine sauce, roasted squash and mushrooms drizzled with Cleo's habanero oil, Veal Parmigiana as a main course and cherry tart with vanilla bean ice cream for dessert.  A different wine from French boutique vineyards accompanies each course.  Sign up soon via email at erin@lunablu.com.
Blues Chasers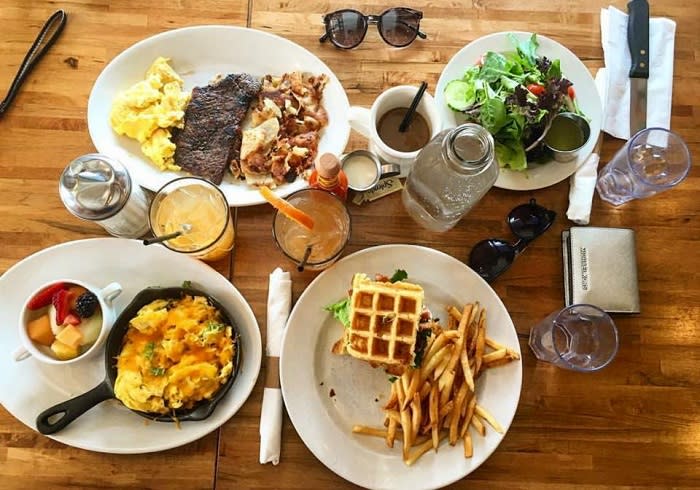 Iron Rooster
If you need cheering up during a month that can be dreary, may I share a few of my favorite things?  Settle in just about anywhere in Café Normandie's cozy dining room at 185 Main Street and enjoy its four-sided glass-enclosed fireplace while dining on chef-owner Jean-Louis's bistro-inspired French onion soup and authentic beef bourguignon.  Join the locals around the communal tables at Iron Rooster (12 Market Place) for "breakfast all day" as well as home-style lunch and dinner choices served with a drawl.  Weekend waits are too long to experience, but weekdays are perfect for a visit to this cheerful downtown eatery specializing in southern hospitality. If oysters are your pleasure, belly up to the bar at McGarvey's Saloon  (8 Market Space) or the trendy brass-topped oyster headquarters at Blackwall Hitch.  Either one is bound to chase the blues away and even make some new friendships blossom.  And if only a super burger will make it better, Uber over to the Severn Inn just over the Naval Academy Bridge.  Its beautiful beef burger with caramelized onions is known for its restorative powers, especially with paired with a glass of the restaurant's red wine.  Ask your server for recommendations, sit back and meditate on the mantra "life is good" while marveling at the best view of Annapolis skyline on the opposite shore.
January is Hot Tea Month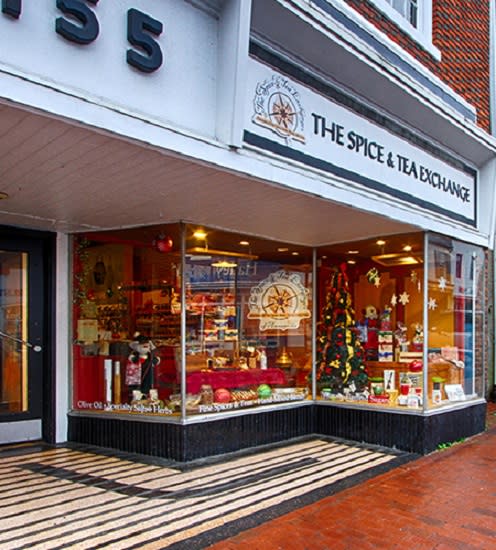 The timing is right to visit the Annapolis Spice and Tea Company 155 Main Street, 410-280-2088).  Staffed with a knowledgeable group of enthusiastic tea drinkers, this charming addition to our town has a unique selection of teas, spices and flavored sugars.  Set aside some time to browse among its attractively displayed wares that include soy candles and Yi Xing mugs as well as an impressive selection of herbs and spices sold by the ounce.  It's not too late to sign up for a cooking class from 6-8 on January 16 with trained chef Jill Siena for a fee of $35 per person.  A staffer at the shop who has taken several of Siena's classes assured me that students are "full by the end of the evening" because they are given tasting plates for each course as well as samples and recipes to take home.  If you can't find time to take the January class, check out the web site for a list of upcoming classes that are offered every Tuesday of this month and throughout the year.  The shop has an amazing web site that features videos featuring recipes that use the remarkable range of spices sold in the shop. Recipes (think coconut Thai chicken) are among the unique features of Annapolis Spice and Tea Exchange.  Flavored sugars are another rare commodity and the selection of teas – black, oolong, green, white an herbal – is mind-boggling.  A favorite is "Breakfast in A Cup" with a mélange of apple, orange, lemon and maple assuring a pleasant wake-up call to a bleak day.  The public is invited to an open house from 10 am-7 pm on January 13 and 14.  And have you heard that a cup of hot tea is recommended to reduce anxiety?  No hangover included.
Photos courtesy of the respective business.