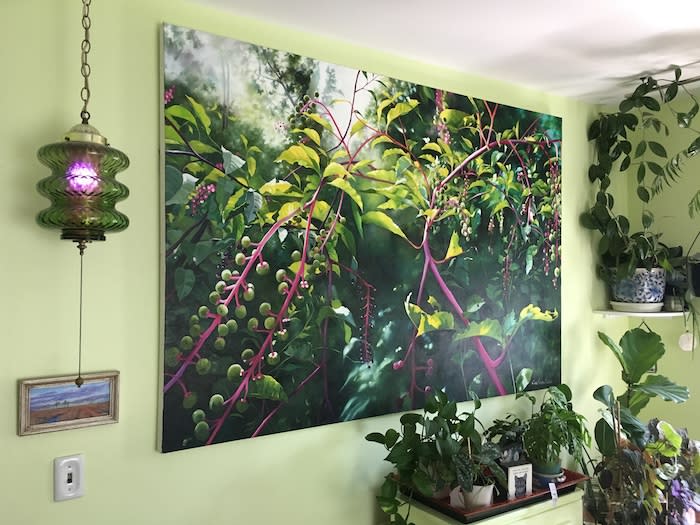 Image courtesy of author
Jeff "JaHru" Huntington & Julia Gibb are two artists that need no introduction around Annapolis. Each amazingly talented in their own right: Jeff a prolific painter and muralist with works on view around the world, and Julia a thoughtful wordsmith, artist, and local arts advocate. Together they are community leaders through their non-profit Future History Now, an organization aimed at giving voice to underserved communities through community public art and cultural education.
I am always intrigued by the artwork artists collect, to see what inspires "the inspired".  Jeff and Julia were gracious enough to share their art collection with me.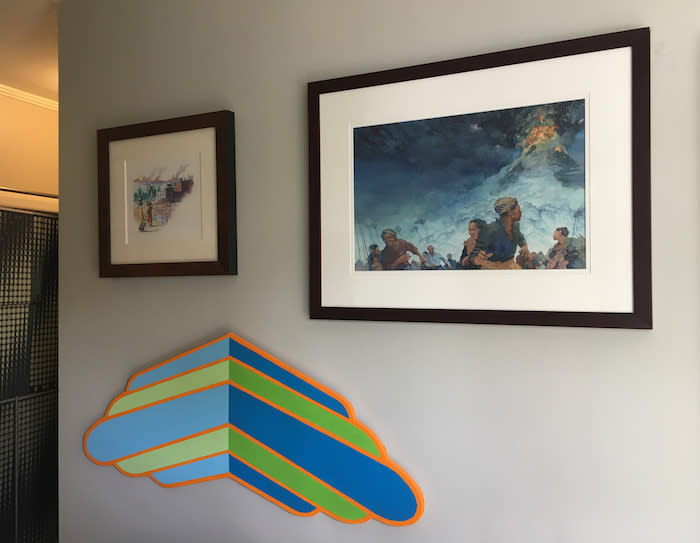 Image courtesy of author
This large oil on canvas by Cindy Fletcher-Holden is called Pokeweed, accompanied by an acrylic landscape on canvas by Neil Harpe. You can see Cindy's murals in Eastport and the Design District, and Neil's paintings at the Mitchell Gallery for the Image & Imagination exhibit, as well as ArtFarm's Grand Re-opening.
Another Neil Harpe piece, a modern geometric acrylic on canvas, is showcased with two Greg Harlin watercolors– India and 1815 Eruption of Mt. Tambora. Harlin's work can be seen as large-scale as an ArtWalk site on the USNA Gate on King George Street.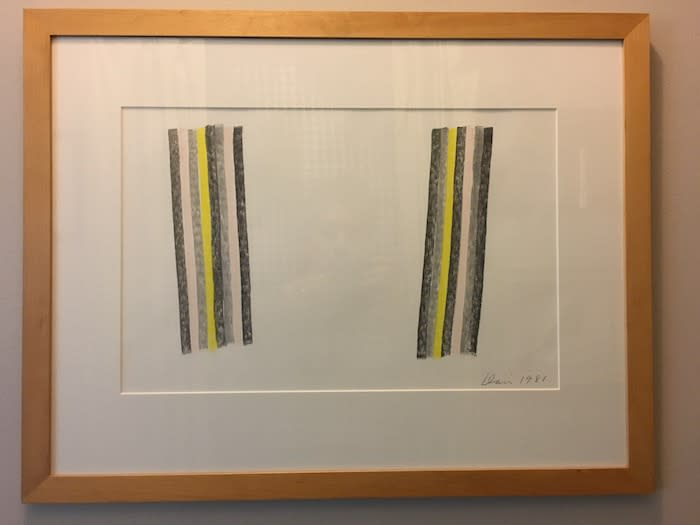 Image courtesy of author
American color-field painter Gene Davis, credited for landmarking D.C.'s contemporary art presence, has a home in the JahRulia (their combined nickname) art collection as well with this pastel on paper from 1981.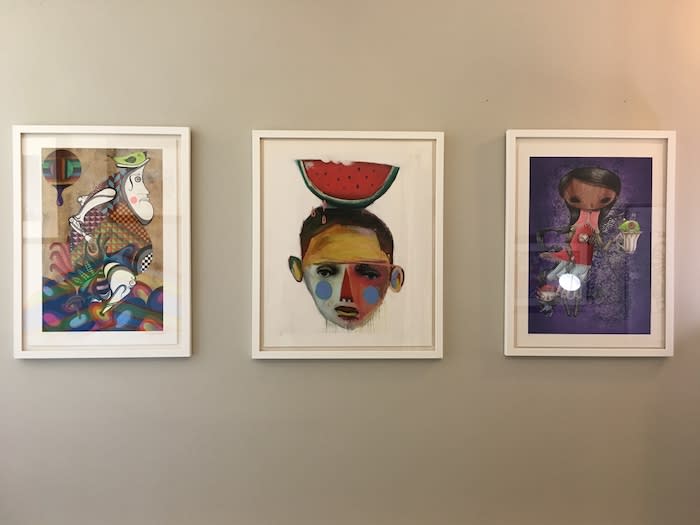 Image courtesy of author
The works of these artists may seem familiar through the Urban Walls Brazil projects throughout the Annapolis Design District– limited edition prints by Gen Duarte, Rodrigo Blanco, and Hermehlo Steam.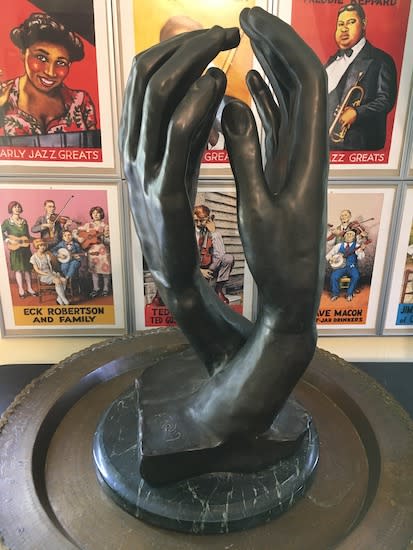 Image courtesy of author
This sculptural work by another Urban Walls artist Ciro Shu hangs above a pop-art collection of blues musician illustrations by R.Crumb. Next to one of Julia's many glorious plant specimens is a Rodin bronze sculpture of interwoven hands called "Cathedral".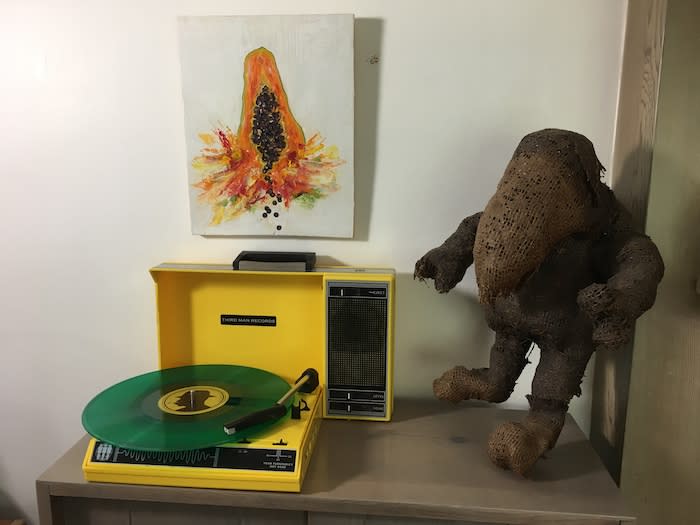 Image courtesy of author
Keeping on track with the blues, an acid green vinyl by world-renowned local duo Swampcandy adorns a bright yellow turntable, next to a swamp-like creature by Lisa Beckner in a pose that (to me) suggests he'd be ready to dance to some stomp and boogie as soon as the needle dropped. A papaya above explodes as part of Stephanie Baker's Luxe oil on canvas series.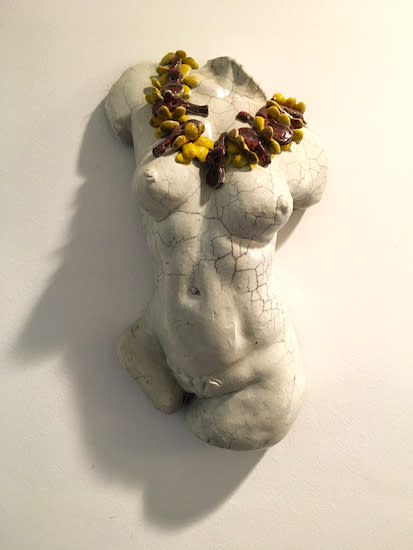 Image courtesy of author
You can even eat or drink from art at their home. All of Jeff and Julia's wares are handmade by John Jensen and Nevan Pearson-Cody Wise, a regular seller at First Sunday Arts Festival. Another John Jensen ceramic piece, a female bust, adorns the wall.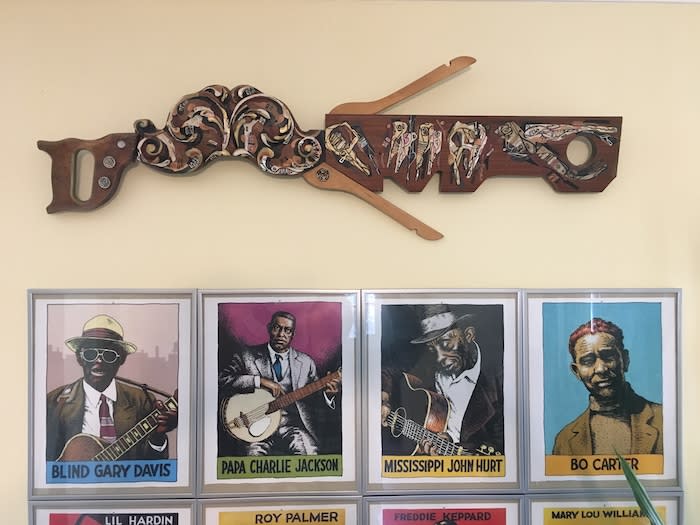 Image courtesy of author
Every inch of the Jeff + Julia bungalow is hand-crafted or personalized in some way. From exterior paint treatments and sculptures to luminary carports, Jeff and Julia are not just contributors to the art world, but supporters of it.