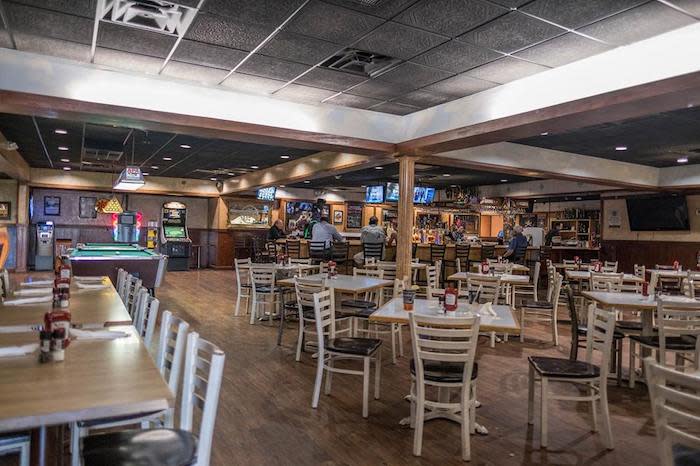 Image courtesy of Hellas
Hellas Restaurant & Lounge in Millersville offers up cheap drinks, pool tables and a low key atmosphere for the casual happy hour seeker. So naturally, I was excited for this to be my Happy Hour pick of for April. The family-owned restaurant specializes in Mediterranean and Mid-Atlantic cuisines. Guest favorites on the menu include crabcakes, souvlaki (gyro or chicken) and Chesapeake Smothered Chicken — a dish featuring chicken breast topped with sliced smoked ham, creamy crab dip, cheddar cheese, scallions, and old bay seasoning.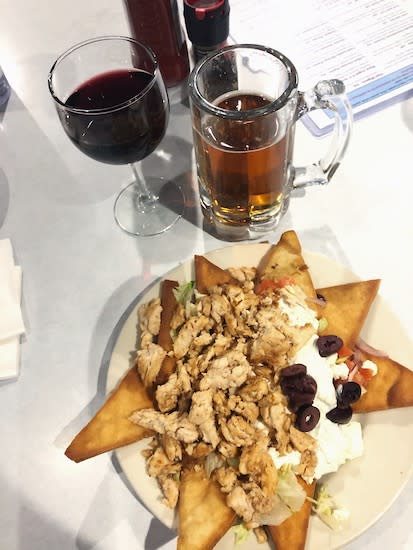 Image courtesy of author
Located off Veterans Highway, it's a stone's throw from BWI Airport. On a recent happy hour visit, I found $1 draft beers, Greek nachos made with homemade pita chips, friendly service and a casual, family-friendly lounge. There is a neighborhood feel while still remaining welcome. Hellas offers a somewhat extended Happy Hour from 3-7 pm Monday through Friday. While they don't offer specials on appetizers, their drink specials more than make up for that.
Individuals can enjoy the aforementioned $1 domestic drafts and those who come to play pool, or sing karaoke with a crew can splurge $6 for a pitcher (pitcher service ends at 6:30 pm). Trivia nights and live music sometimes grace the lounge too. Wine lovers sip on $3 glasses from a limited menu of house wines: Moscato, Chardonnay, White Zinfandel, Merlot, and Cabernet Sauvignon. A rum and coke — or any rail mixed drink made with your choice of juice or soda — is also just $3.
Pick out an item or two from the light fare menu to round out your evening. My server told me the Chesa-Honey Wings were a popular choice. Dipped in honey and sprinkled with Old Bay, you can even request all flats (or wingettes) for extra crispiness. Off the main menu, the fried calamari and steamed shrimp are the most popular starters. Spice up your shrimp order by adding potatoes and onions. Murals depicting Greece and a tempting dessert case stacked with tall layer cakes catch your eye throughout.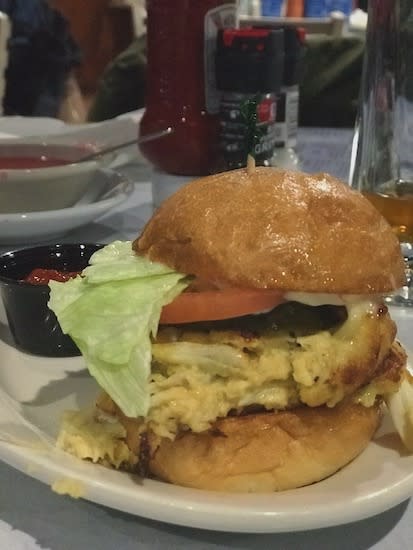 Image courtesy of author
After its locals' friendly vibe, Hellas is probably best known for its Chesapeake style jumbo lump crabcakes. You can even have them shipped! I couldn't resist trying them so I opted for the crabcake sliders to stick with the happy hour theme and they were the highlight of the night. Served on a buttery roll with lettuce and tomato, the cake was meaty, flavorful and a nice size for a slider. If you're looking for a fun, no-frills happy hour with a great deal on beers, Hellas is a hella good choice!
Images courtesy of Katie Redmiles and Hellas