As a Davidsonville native – with enough family members still living there to count on two hands – Killarney House (584 West Central Ave., Davidsonville, MD) and its authentic Irish fare will always be one of my favorite spots for a casual happy hour. Even if you're a newcomer, the welcoming and down-to-earth pub graciously opens itself up to become anyone's go-to spot. Part of the Irish Restaurant Company, Killarney House's sister restaurants are Galway Bay (63 Maryland Ave., Annapolis, MD) and Brian Boru (489 Ritchie Highway, Severna Park, MD), and their management team also operates Pirates Cove (4817 Riverside Drive) in Galesville. While all great choices, I remain loyal to Killarney House.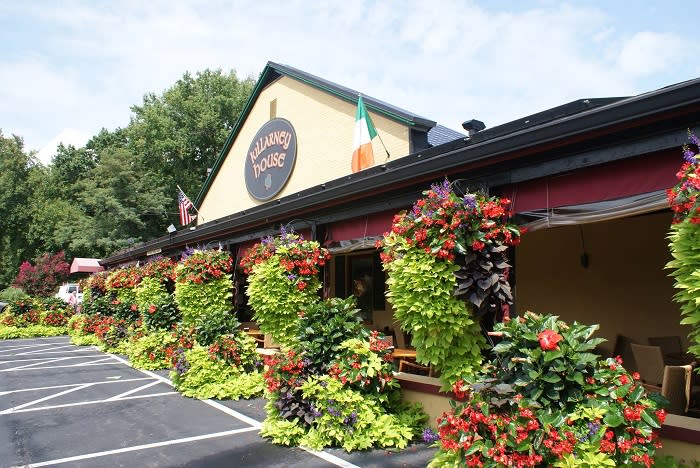 Image courtesy of Killarney House
Discover Killarney House's happy hour inside their pub (enter through the door on the right) Monday through Friday from 3-6:30 pm. The cozy pub is accented with low lighting, warm pine-covered walls, an open beam ceiling, a smattering of antique Guinness signs and, naturally, a countdown clock to St. Patrick's Day that runs year-round. The happy hour menu extends to the adjoining covered front porch, lush with flowers in summer and spring. Soon after settling in, a friendly bartender will greet you with menus ready to bring you your first drink. Their bartenders work as a team so you'll be lucky to have two or three different people serving you.
When it comes to drinks, pints are king at Killarney House. The Irish draft beers on tap include Harp, Smithwick's, Black & Tan, Half & Half, and Guinness. You'll find them for $4.50-5.00 during Happy Hour. Other drafts include Yuengling, Galway Bay Red Ale, Eastcider, and Miller High Life ($3-5). Bottled beers include your standard mix of domestics and imports ($3-4.75). Wine drinkers can sip house wines for $4.75 a glass and spirit lovers can pick from a cocktail menu that features creative spins on beverages you already love: a $5 Irish Mule with Irish Whiskey, ginger beer and lime juice, or an Angry John Daly with lemon sorbet, vodka and ice tea.
[gallery link="none" size="large" columns="2" ids="9104,9102"]
Their happy hour menu offers a mix of pub fare and Irish flavor. Chicken or Reuben quesadillas and fish tacos even make their way into the mix. Stand out dishes include the curry deviled eggs and pot roast sliders. A bartender tells me the fish tacos and pot roast sliders are the most popular, the latter being a smaller portion of the popular, more expensive entree (score!). Off the happy hour menu, she says, the corned beef poppers are the most popular appetizer. Having had them many times, I promise they're worth venturing off the happy hour specials!
This time for happy hour, local Chincoteague Oysters on the half shell were on happy hour special. If slurping oysters is your jam, stop in on Wednesdays for freshly shucked local oysters every week. Monday night is burger night with a choice of angus beef burgers starting at $7 and $8
Now, if I didn't have you at pot roast slider, corn beef poppers, or the slew of tasty drinks, Killarney House's commitment to sustainability will surely win you over. Solar panels and compostable materials are two of the ways the Irish Restaurant Company shows their commitment to renewable energy and reduced waste.
See you in Davidsonville!
Images courtesy of Katie Redmiles and Killarney House