It's been a while since I enjoyed an agenda-free, lazy day. As the mother of three young children, one being just two months old, "lazy" is not readily in my repertoire. But with the holiday season now upon us, I feel the need to refocus and spend quality time with my little family. So on the sunny Sunday after Thanksgiving, I packed up all three of my children and we ventured into Annapolis for an unscheduled day.
Our adventure began in the car, on the ride in via West Street. I was pleased to find that many of my favorite restaurants remain from my days as a resident of Cathedral Street. My children found it hilarious that I actually lived in the city ("You mean your bed was there??") but my local knowledge benefitted us. We sailed into town via Duke of Gloucester Street and parked in the Noah Hillman parking garage. We exited the parking garage by foot onto Main Street, where I promptly led them to City Dock Coffee located at 18 Market Space. My eldest children are old enough to enjoy hot chocolate, and this recent phenomenon is very much still a novelty so they both selected one. My daughter even wanted to carry her own cup like a little lady.
We meandered over to the city dock, near the Alex Haley Memorial, where we found many hungry water fowl. A nice young woman gave my daughter and son the remainder of her bagel so they could feed the ducks. If you're headed into downtown Annapolis with your family, you may want to pack a bit of bread. There is something so innocent and sweet about watching children feed ducks; it's almost a rite of passage!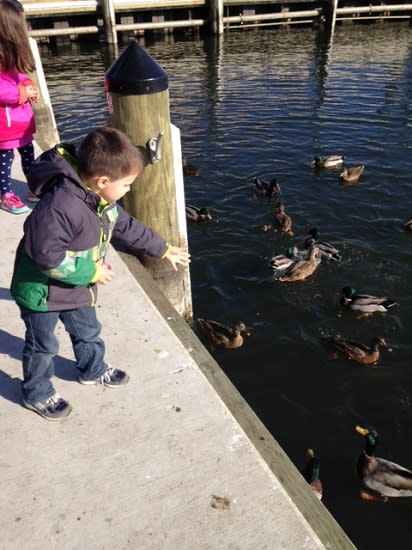 After the bagel was demolished, we followed the water down to the waterfront, past many large boats pulled into their slips along the pier. Many of the boats were adorned with Christmas decorations, which adds to the charm of Annapolis. At the small waterfront park my children were able to run without me worrying about them falling into the creek (true story!) so I actually had a minute to enjoy the beauty of the spot. While I enjoyed the views of Eastport, the Naval Academy and the coming and going sailboats, my children finished their drinks.
My daughter, Maggie, wanted to explore the "building with the green roof," that she saw from the waterfront park, so we set off to find Randall Street which led us to the Naval Academy entrance.  [The green roof was the oxidized copper which covers much of the Academy buildings.] My eldest son, Brendan, appreciated the colorful historic homes that we passed along our short walk; historic ordinances regulate residents in a manner of ways, but the color of your home is one thing that homeowners do control, hence the wide range of self-expression! The colors are yet another element of charm in this town, the capital of Maryland.
We are a military family, and even though my husband did not graduate from the United States Naval Academy, being inside the gates was a great teaching opportunity for me to explain what Dada does at work. Maggie and Brendan enjoyed looking at the large homes of the officers as we walked along on our way to see the chapel. The USNA Chapel is one of my most favorite in the world. I've had the privilege of visiting The Vatican and seeing the Sistine Chapel with my own eyes, and even with this truly awesome worldly perspective, I appreciate what we have right in our own backyard. The beauty of the stained glass and gravity of the dedications should not be taken for granted. If you're in the vicinity of the chapel, please visit.
After my kids held it together for so long (being quiet in the chapel is super difficult for a brand-new baby and just turned four-year-old little boy!), I promised them lunch at their favorite pizza restaurant (which happens to be within driving distance of downtown): Bertucci's. On our way back to the car, I led them down King George Street behind the William Paca House and Gardens. I dubbed it "my secret garden" and piqued their interest by picking them up to see just a glimpse of the two-acre garden and summer house over the brick wall. The Paca House entrance is located at 186 Prince George Street, and another one on my must-see list though we shall save it for our next unscheduled afternoon!
I hope that you find yourself with some lazy time this holiday season! My time with my children, and without agenda, in downtown Annapolis is one I shall cherish. Blessings to you and yours.
Photos courtesy of Becca Beasley