CRAVING for a Neapolitan crispy crust pizza but have no immediate plans for a trip to Italy?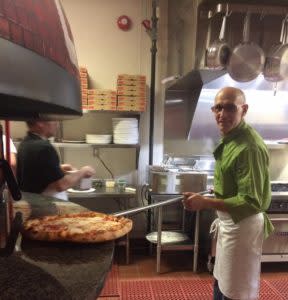 Photo courtesy of the author.
Transport over to Severna Park and find authentic Italian food made with fresh and imported ingredients the old-world way. A wood-fired oven is strategically centered in the heart of La Posta and an attentive, congenial staff is ready to guide you through the menu.Three of us went on a Saturday for lunch and shared their house red wine along with:
Starters
Margherita pizza was crispy and flavorful. The fresh Mozzarella, red sauce and basil was just the right amount on top of the crust.
Antipasto Misto had delicious quality meats served with bread is a meal in itself.
Mussels Marinara were succulent along with the sweet and spicy sauce.
Photo credit: The Capital Gazette
Main Course
Ravioli La Posta was incredible…light and tasty like edible pillows of heaven with Porcini mushrooms and Speck.
Gnocchi with Gorgonzola were also yummy and light.
Linguine with clams was sheer perfection with sweet clams and a wine, butter and parsley sauce.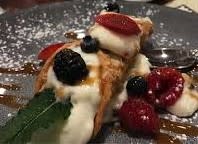 Photo courtesy of the author.
Dessert
We had to try the Cannoli because people rave about them and "they" were right. Sensuous cannoli cream inside of fresh, crisp shells.
Double espressos were smooth not bitter.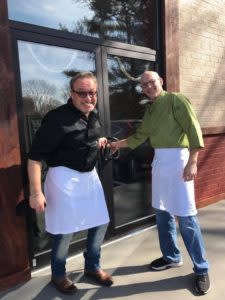 Photo courtesy of the author.
Considering all that we had, the quality of each dish, spot-on service, and atmosphere, I would say moderately expensive. We highly recommend this neighborhood place. It is also clean and they offer take-out.
5 out of 5 Tummies
La Posta Pizzeria & Italian Kitchen HOURS OF OPERATION Sun: 4:30 - 9 pm Mon: 4:30 - 9 pm Tue: 11:30 - 2 pm & 4:30 - 9 pm Wed: 11:30 - 2 pm & 4:30 - 9 pm Thu: 11:30 - 2 pm & 4:30 - 9 pm Fri: 11:30 - 2 pm & 4:30 - 10 pm Sat: 11:30 - 2 pm & 4:30 - 10 pm