Maryland is a state that recognizes the value of art, demonstrated by the fact there are only two American states that provide more funding for art.  We love art! Nowhere is there a better evidence of this wide support of Maryland Art than at the Lowe House Office Building (6 Bladen Street) in Annapolis.  Across the street from the stately Senate Building (both of which are connected to each other and to the State House via an underground tunnel), the architecturally impressive Lowe House provides the elected Delegates with offices (generally grouped by counties), and Committee Rooms where the business of discussing, reviewing and amending bills by various committees is conducted.  As you can imagine, this building is abuzz with serious business on a daily basis while the legislature is in session, which is 90 days every year, from mid January to April 10th.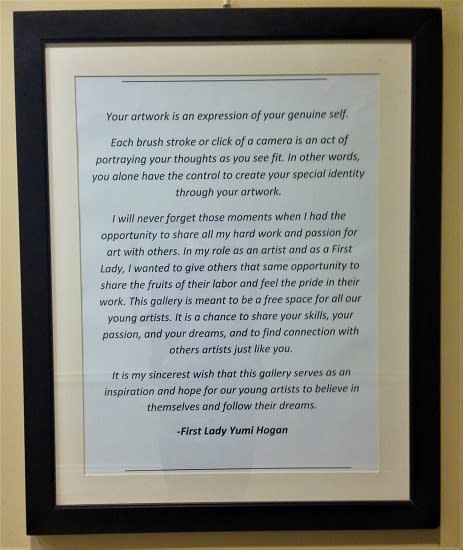 Letter by Yumi Hogan
Creating a balance in this intensely high-paced environment is the artwork that adorns many of the halls and walls with rotating exhibits; artwork by local and regional professionals and students.  It doesn't hurt that Maryland's First Lady, Mrs. Yumi Hogan, is a world-class professional artist and instructor.  The main hallway in the Anne Arundel County section of the building, which is on the first floor, is lined with artwork of all media created by students in schools across Maryland and curated by Mrs. Hogan.  There are rotating exhibits year-round, and many of these students have a future in fine arts.
The counties love exhibiting work by their artist constituents.  In a number of the halls and delegation rooms, there are on-going collaborations between the legislative administration and county art organizations.  For the third year running, Maryland Federation of Art (MFA) has been honored to present a juried exhibit of artwork selected from submissions by MFA Members and Maryland artists.  This year's juror was Matthew Moore, fine art photographer and instructor at Anne Arundel Community College.  Not only is the work exceptional, it is also a cohesive body of work, somewhat thematic in mood, even though the work is wildly varied.  These works of art line the hallway outside the Anne Arundel County delegates' offices, and also hang in the County's Delegation room.
Jimi Hendrix, Acrylic on Canvas by Jaleel Davis, for Future Nostalgia, 2nd Floor, Lowe House Office Bldg.
On the 2nd floor, Montgomery County has several exhibits on display in their hallways from Montgomery County Community College (photography), and Gaithersburg Fine Arts (painting) that truly represent their county.  Prince George's County and Howard County have wonderfully lively and thematic exhibits as well.
While these exhibits make a serious environment more well-rounded for those who work there, it adds particular value to the thousands of Maryland constituents – like you, if you are a Maryland resident – who come through to say hello to the individual elected to represent your district, or to show support or testify for a bill that has particular meaning to you. On any given day while the General Assembly is in session, there can be hundreds of people milling about or going from one part of the building to another, or to the state house and back. I see people stopping to view the work by their fellow Marylanders, as I do myself.
If you plan to do the State House tour, be sure to hop across the street to view the exhibits at the Lowe House of Delegates and see the artwork that represents our diverse state. There are a lot of talented people living here!
Photography courtesy of Patrice Drago