Restaurants rejoice at the influx of legislators, lobbyists and staffers brought to Annapolis by the annual convening of the Maryland General Assembly. This year marks the 436th session of the state's governing body, kicking off January 13 and concluding April 11. At last count, that means 47 senators and 141 delegates will come to town on weekdays, some staying at area hotels or B&Bs and all of them dining locally.
Where the owners match legislators with their favorite sandwiches
One of our town's most super-charged eateries for politicians is Chick and Ruth's Deli on Main Street. Owner Teddy Levitt, 59, is known for honoring Maryland elected officials with sandwiches named after their personal favorites. Senate President Mike Miller likes Swiss cheese on his corned beef and pastrami on rye; U.S. Representative Steny Hoyer gets chicken with his Caesar salad; the late former Governor Marvin Mandel, a Chick and Ruth's regular for most of his 95 years, opted for corned beef and chopped liver on rye.
Usually, elected officials can choose a single namesake sandwich. But Chick made an exception to this rule when Governor Larry Hogan, a Republican, met Mandel for breakfast at his restaurant. He allowed Hogan to pick two, not one, favorite food items: a blend of tomato-based Maryland crab and Maryland cream of crab; and a cheesesteak sandwich with American cheese and fried onions. But they did not go up on the official blackboard menu until Hogan took office – that rule stays rigid. So does the patriotic custom of publicly reciting the Pledge of Allegiance every single morning at this all-American Annapolis landmark.
An area innkeeper who plays "mother" to legislators
Annapolis, by definition, is rich with landmarks. Peg Bednarsky, the iconic innkeeper for the Historic Inns of Annapolis (HIA), says with some wonderment that this will be her 47th year of playing "mother-to-all" for legislators who take up temporary residency at HIA properties. Bednarsky started early this year, learning the names of the many newcomers to Annapolis. She has been in her position during the terms of six governors, and has known all of them as well as the politicians of their eras. William Donald Schaefer was a favorite, as was Democrat Cass Taylor, the former senator from Western Maryland and now a lobbyist. "Cass, and many others over the years, became like family," says Bednarsky.
Local legislators' lore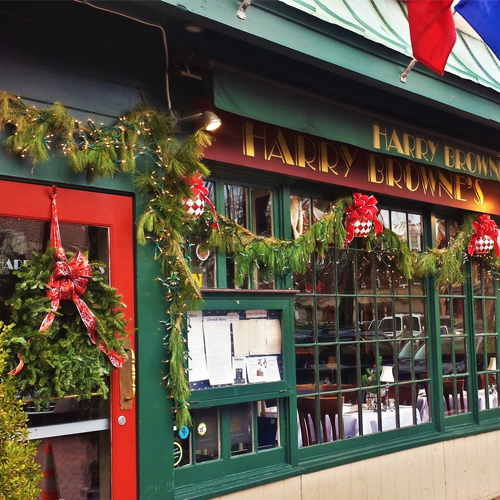 Harry Browne's Restaurant in Annapolis
Rusty Romo, proprietor of Harry Browne's restaurant on Church Circle, opened his restaurant when he was 21. Located a few steps from the State House, this hospitable spot (fine dining downstairs/casual upstairs) has been popular with legislators and staff over the past 38 years, with some regulars claiming a table as their own. One of Romo's favorite stories involves lobbyist Jay Schwartz of Baltimore, whose efforts helped defeat a bill involving Baltimore's infamous Block. On the day of the decision, a black rose was delivered to Schwartz's table – a sign that he was a "marked man." He dismissed the incident as a joke, until what sounded like a gunshot rang out as he left Rusty's restaurant. Schwartz dropped to the ground, sure it was a bullet meant for him. "It was just a truck backfiring outside the door," remembers Rusty, still chuckling about one of his many untold "legislature stories."
Arnold resident Kathy Daly, who recently retired after 11 years working for the Senate Finance Committee, says it was a fascinating job – with some perks included. Among them were gift certificates from her "bosses" for Café Normandie, her favorite Annapolis eatery. She remembers that one of Senator John Astle's favorites was Osteria 177 on Main Street and that a lot of the meat-eating legislators and lobbyists favored Ruth's Chris and Lewnes' in Eastport. Luna Blu on lower West Street was a go-to place for pizza and many staffers liked the convenience of the Potato Valley Café on State Circle.
Her "stories" include one about Senator Tom Middleton, a regular at Galway Bay on Maryland Avenue with his own "office" at one of its tables. He was frequently in a rush, sometimes leaving papers behind, but his staff knew just where to look for them – back at Galway Bay.
Another involves a legislator who walked into Maria's (a popular eatery at the City Dock that recently changed hands) just in time to do the Heimlich maneuver on a man choking on a piece of food, a quick gesture that saved the man's life. He learned later that the man he rescued was the politician who had beaten him in the last election.
Gary Brown, a Scotsman and staffer at Galway Bay, says owner Michael Fenton rolls out the green carpet for legislators, lobbyists and staffers. "Their presence lends a certain buzz to the atmosphere in town – and we love it."
Rusty Romo has a word-to-the-wise for visitors to Annapolis and local residents: "Feel free to come out and enjoy yourselves at our restaurants – and don't buy into the myth that the legislators take over the town during the session – they just make Annapolis more interesting."