Inside Boatyard Bar & Grill, a large, open space with high ceilings reveals countless signed photographs of fishermen and local memorabilia. Since Boatyard opened in 2001, Owner Dick Frayno has dedicated his efforts to creating a restaurant that exudes the essence of Annapolis' Eastport neighborhood, both as it was in the past and as it is today. Located in Historic Eastport on Restaurant Row, Boatyard is a living history book—the kind that begs to be read.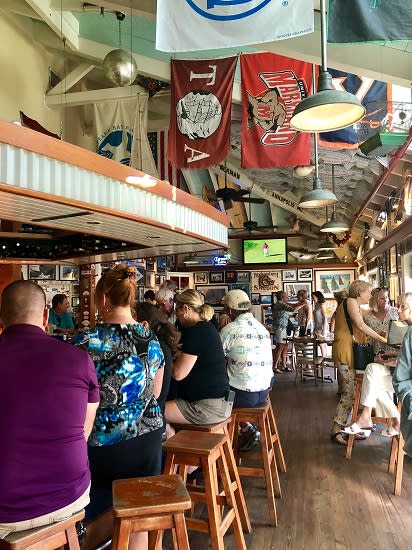 Boatyard's bar, shaped like a fishing boat, alive with visitors, locals, and sailors
When I visited Boatyard for this month's happy hour highlight, I went fully expecting to write about drink specials and tasty food. For example, drafts, domestics, and well drinks are $3, house wines and imported bottles $4, call drinks $5, and a variety of citrus crushes $6 during weekdays 3pm-7pm at the bar.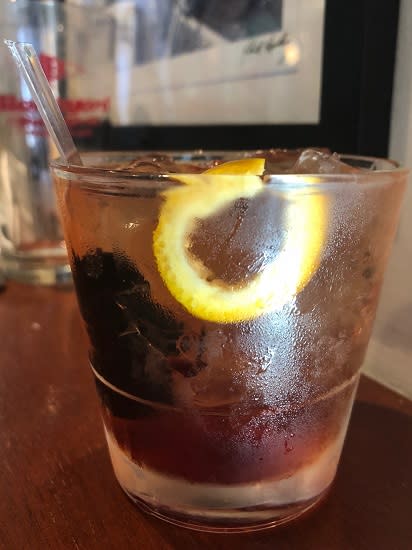 "The Admiral" is a Boatyard twist on a cocktail classic:
Maker's Mark, ginger liqueur, bitters, Luxardo cherries, and orange peel
Food specials range from $4 to $7 and include bar standards, like nachos and onion rings, as well as seafood fare, like mussels and smoked fish dip. A popular item on their happy hour menu—a fried cod sandwich dubbed the "Coddies"—was the freshest-tasting fried thing I've ever been lucky enough to eat, and elicited an involuntary and elated utterance upon my first, crisp bite.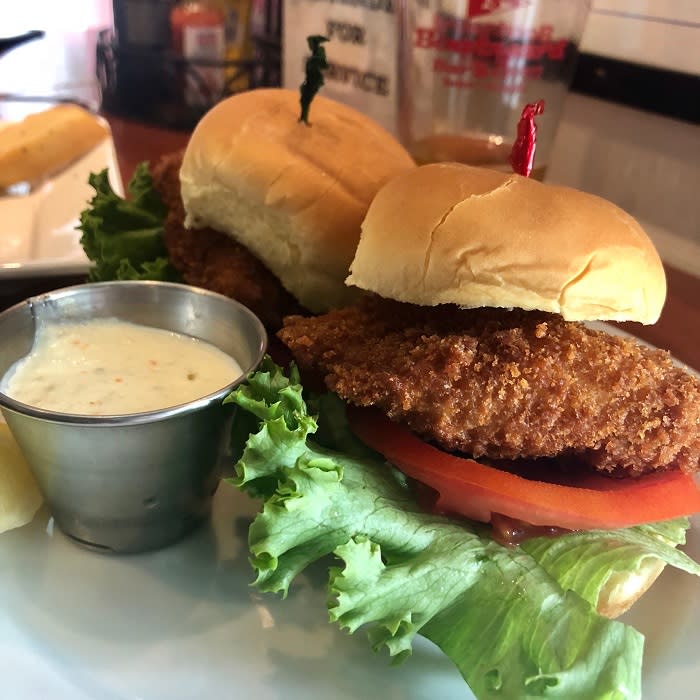 Two well-portioned cod sliders with lettuce, tomato, and served with homemade tartar and lemon
Their happy hour also features fresh, "Buck-A-Shuck" oysters on the half-shell, served with the customary accoutrements. Although Boatyard is widely known for their no-filler crab cakes (so well-known, in fact, that you can have them shipped to you by ordering online here), their other menu items stand up as well. Pizza, scallops, and curd-stuffed burrata with sundried tomato pesto, to name a few.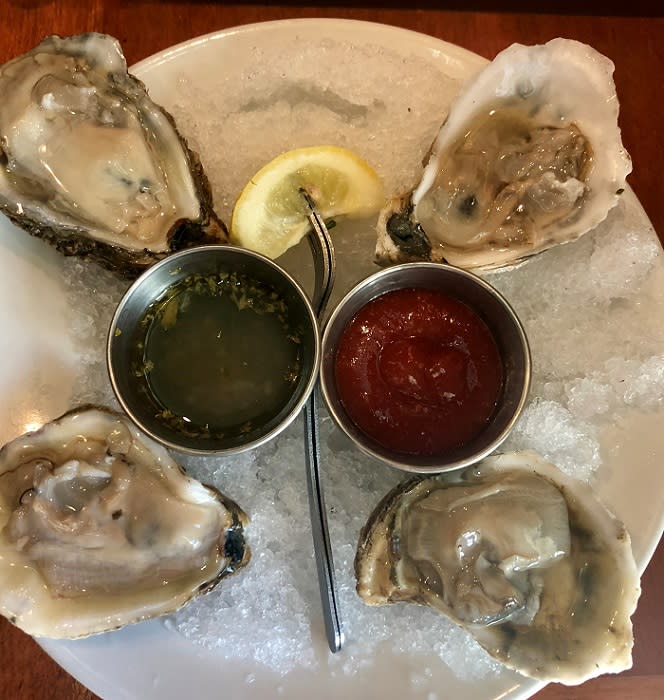 Again, I expected to write about such things in a happy hour piece. I did not, however, anticipate writing about the environment. In addition to being a hot spot for food and drink, Boatyard's commitment extends in a big way to the restoration of the Chesapeake Bay. They organize and host events year-round, donating the proceeds to the Chesapeake Bay Foundation, among other local environmental and charitable groups. Upcoming events include the C.R.A.B. Regatta benefit on August 18, which promotes and supports disability-accessible sailing. On September 15, Boatyard will hold its fourteenth annual Boatyard Beach Bash, an event to raise money for the Annapolis Maritime Museum, where it is also held.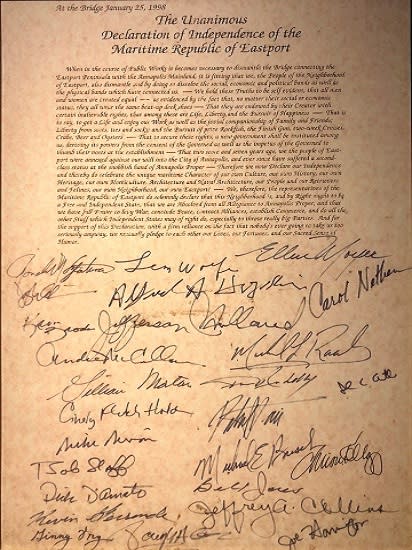 The walls of Boatyard, effective archives of the area
Remember those oysters I ate? Boatyard recycles the shells—an important part of the Bay's habitat restoration—through the Oyster Recovery Partnership's Shell Recycling Alliance, where they are a top producer. Boatyard itself has contributed the shells from nearly 100,000 oysters.
So, if you're looking for a place to eat good food, get a genuine Annapolis experience, and help the environment while you're at it, Boatyard Bar & Grill will not disappoint.
Photos courtesy of Leslie Howard-Goddard