As summer winds down, leaving behind hazy nights in favor of crisp, cool ones, my mind wanders to the excitement of fall festival season. In Annapolis, this might mean getting a Scotch egg at the Renaissance Festival or participating in the annual U.S. Sailboat or Powerboat shows. But for me, nothing says, "Fall's here! Let's celebrate!" quite like a stein of German-style beer. So, I kicked off the season with a happy hour excursion to Gordon Biersch (1906 Towne Center Blvd.), located in the Annapolis Towne Centre at Parole.
With thirty-nine restaurants, including four in Taiwan, Gordon Biersch is in the brewery-restaurant big leagues. And yet, all the draught beer sold in the Annapolis location is made on site, and about half of the beer list is exclusive to the branch. The brewery even has its own master brewer ("Jim the Brewer"), who keeps the taps flowing with both seasonals and favorites.
What's fall without a Festbier! (modern Oktoberfest style)
Ample indoor seating and a large outdoor patio of high-topped tables flank a well-staffed, double-sided bar with open access to everyone sitting at the counter, whether inside or out. The pour sizes are .25L, .4L, .5L, 1L, and growlers. (The beer list depicts a helpful size comparison for those accustomed to drinking their beer in ounces.) During happy hour, half-liters are only $4 (and $3 on Tuesdays!), with $2 off wine by the glass, and $6 cocktails.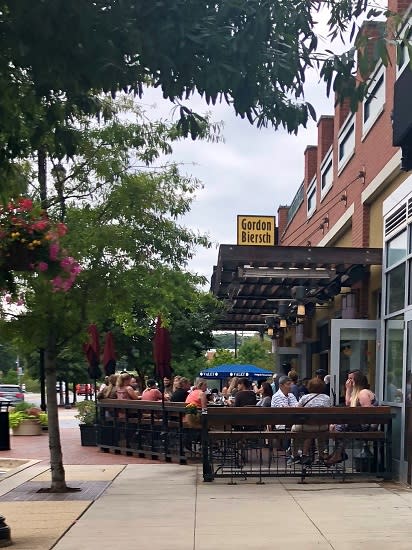 Flights of five for $5 are available for the indecisive. Having never been, and wanting to taste a selection, I chose from among the nine beers on tap that day, a mix of modern and traditional styles: a stout, an IPA, a Kellerbier, a Hefeweizen, and a Märzen.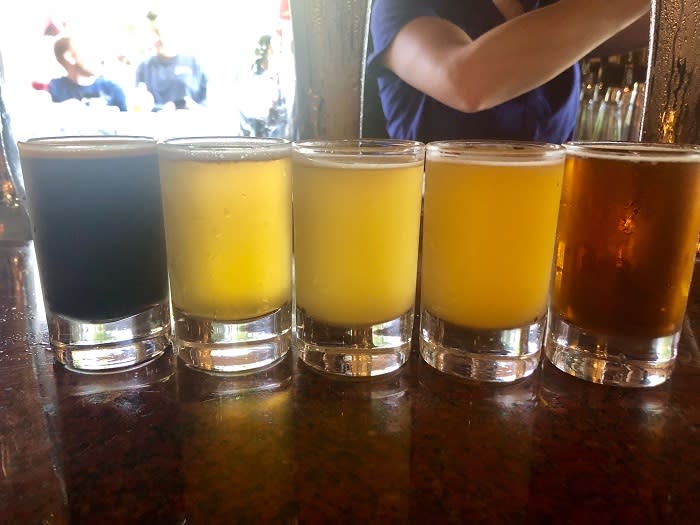 L-R: Oatmeal Stout, Wicked Cool IPA, Sunday Morning Kellerpils, Hefeweizen, Märzen
A friendly regular let me rank and comment on my selection. Halfway through my flight he disclosed his own favorite from the menu, the Black and Tan – half Märzen and half Oatmeal Stout. A sucker for black and tans myself, I thankfully had some of both left in their glasses, which I promptly combined, learning that if you play your cards right, you can eke out a flight of six. The malty Märzen, traditional beer of Oktoberfest, topped with the velvety Oatmeal Stout shouts "autumn!" more than an apple cider ever could.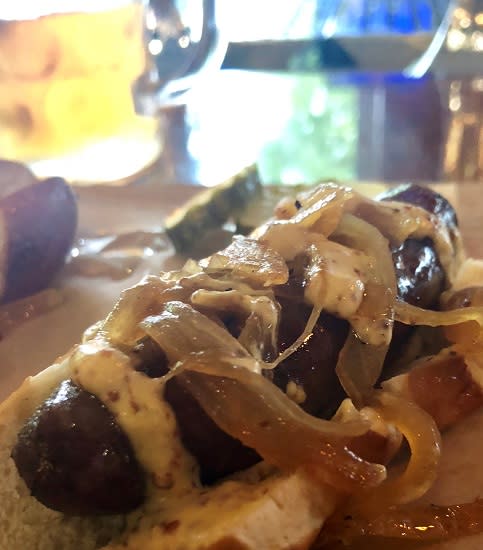 Served with pickle slices and a side of chips
Although I could talk about beer for hours, what's a solid beer without delicious fare to go with it? Their happy hour menu includes a variety of snacks and plates at $5, $7, and $9. In order to get as authentic an experience as I could, I ordered the Bratwurst Sliders: three Märzen-simmered bratwursts on pretzel rolls, with hearty mustard and caramelized onions. In addition to the beer and food menus, Gordon Biersch also provides a pairing menu, so as to have the food and beer styles bring out the best in each other.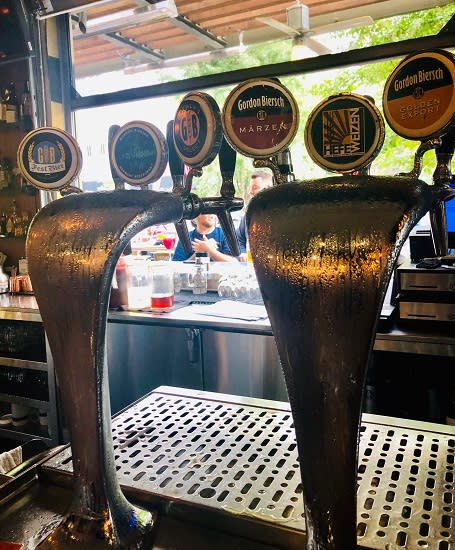 Two separate happy hour times makes it hard to miss food and drink specials, with a regular one running Monday through Friday, 4pm to 7pm, and a late night one running every day (yes; every day!), 10pm to close. As you welcome the new season, I recommend making Gordon Biersch's happy hour a part of your fall tradition.
Prost!
Images courtesy of Leslie Howard-Goddard