There's an Annapolis jewel I truly treasure—the Lil' Lamb Boutique. Before my son arrived, I fell in love with this store and would buy baby gifts for friends and family expecting or with little ones; they even have some great gifts for the new mom.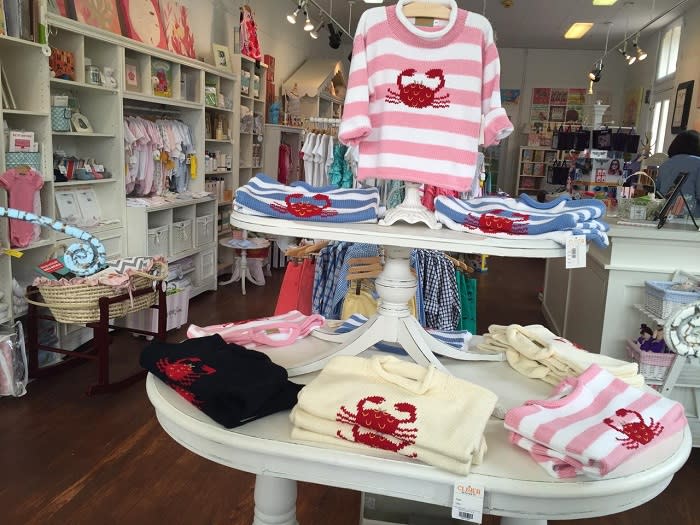 The shop is a quick walk off State Circle on Maryland Avenue, not far from the Naval Academy and Spa Creek. As you step off the brick pavement at 44 Maryland Avenue and enter the historic building with the high ceilings that houses the Lil' Lamb Boutique, you immediately feel the warmth of the store and staff. The shop has a European boutique feel, the design and layout immediately engulfing you in its charm. The clothing is "traditional" and every time I visit, I see things I haven't seen before. I'm even guilty of buying a thing or two without a specific gift recipient in mind. I suppose it's because I get that "fear I won't find it again" feeling. When I mentioned this to owner Kristin DeMarco, she told me she buys one of every size, so essentially, you don't have to worry about another child wearing the same outfit on picture day!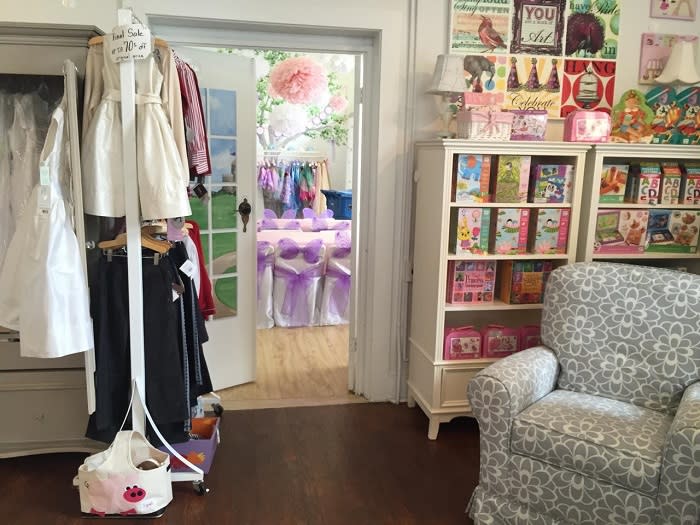 Due to its Annapolis location, nautical and sea items are very popular and the biggest sellers include hand-knit crab sweaters, which go for $50 (for ages 3 months to 10 years old); First Play Linking Crabs, which attach to strollers and go for $7.99; and Kleynimals. Invented by an Annapolis mom, they're "clean keys" for infants and toddlers. Inspired by a little one's desire for mommy's keys, this set acts as a teething tool and goes for $28.
Ms. DeMarco, who's owned the Lil' Lamb Boutique for almost seven years, doesn't consider it to be a clothing shop. She calls it a "specialty" store: she sells gifts, artwork and clothing, although my son would highlight the books and toys. He loves going there to "feed the banks". In fact, I bought the dolphin bank for him this past Christmas, but even though he has his own, he loves stopping by to feed the other animal banks at Lil' Lamb. Sales associates always have pennies on hand, since he's seemingly not the only one.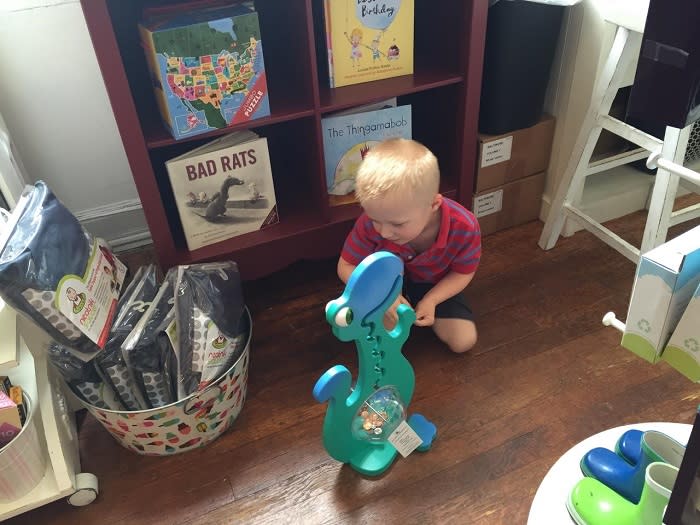 Have a blank wall in your nursery or toddler's room? Take a look at the artwork here. Art is mostly focused on ABC's and Navy prints and were painted by local artist Lisa Hall. Pieces run from $95-$190 and can be shipped home for out-of-town buyers.
What also makes the store stand out are the special events it offers. There are memory events where you can create keepsakes such as impressions of your little one's hand or foot; photography events (with Santa, for example). There are themed birthday parties: think royal court, princesses; trunk shows; and seasonal sales. I'm on the mailing list and am always intrigued by the themed parties and classes available. There's a back room used for events and where kids can play dress-up or do crafts. This summer, there's a week-long etiquette camp. I know my little guy is too young, but I'm tempted, nevertheless, to try to sign him up!
For locals, Ms. DeMarco offers a free in-home nursery design consultation. And if you can't make it to the boutique, a little tip: Get on the mailing list. They offer a great catalog and sales throughout the year. But visit if you can. I would even go so far to say it's not just a "specialty" store; it's a wonderful experience for the little ones (and parents, too)!