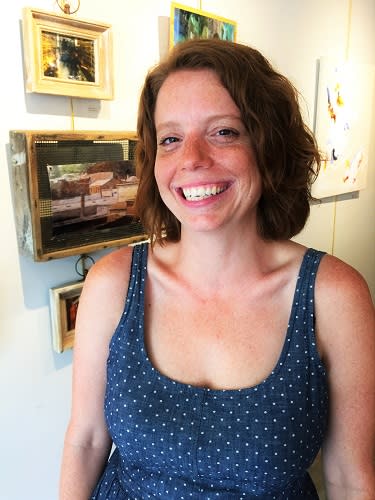 Alison Harbaugh
If you've heard Annapolis come up in conversation when discussing art recently, there's a good chance Alison Harbaugh had a hand in spreading the word. Owner of Freckle Photography and  Sugar Farm Productions in Annapolis, Alison has always had a dream of creating a space where artists could gather, share ideas, create, and learn together. That dream seems to have come true on West Street with her latest venture, ArtFarm. Opening the space with fellow artist Stacey Turner, ArtFarm is a large, open studio for creative minds and talents of all ages, offering a variety of classes, visionary events, and a stellar gallery space.
When she's not busy keeping up with ArtFarm, Alison is hard at work building the name of Annapolis' thriving arts scene as a board member for both the Inner West Street Association and the Arts District. Whether creating her own art, expanding the Annapolis name in the art world, or helping to organize coveted city events like the Fringe Festival, the First Sunday Arts Festival, and most recently Dinner Under the Stars, Alison is one of Annapolis' most notable art figures.
I had the chance to sit down with Alison and discuss her work and the city she calls home.
What inspires you as a photographer/artist? I'm a big fan of texture. But I think simply taking a picture of texture and making it your art is a little like cheating in photography. So, I began layering textures I'd capture in my travels to give a piece a lot more depth and a sort of story within an image. Whether using a photo of paint chipping off a boat in Cuba or fabric hanging in an Indian market, layering those textures with other images creates an authentic story that I really enjoy. A lot of my work combines the journeys I go on with the stories behind the people, places, and environments I encounter.
Is there any particular feeling you aim to get out of a person viewing your work? Taking my own travels, creating a story, and presenting it publicly is one of the coolest parts of being an artist. Anyone that looks at an image comes up with a story of their own, so, my only hope is to create something that encourages their own stories to grow in their minds. You can't love everything that you create, but there is always going to be someone who finds a beautiful, empowering, or even scary story behind your work. Maybe there's a street sign or a boy playing soccer in the background that you didn't see the first few times you looked at one of the photos. The entire story could change once a hidden aspect is uncovered.
As an artist, what is it about Annapolis that keeps you here? I've been here for 14 years now. The first five years I wasn't involved with the arts scene at all. I worked with the Naval Academy and the newspaper. I missed my friends from school in Philly and the prominent arts scene there. Once I met Ruben, (Alison's husband) I slowly began to get introduced to the different circles of artists around town. Annapolis is kind of an oddity in that we have bubbles of different artists making different things. I'm not sure if it's because I'm involved in events now, but I've seen a lot of these bubbles overlapping lately. The First Sunday Arts Festivals is a great example. When it first started it was a little too crafty for my taste, but each month I see more and more great art popping up. I think there's something big, artistically, that's growing here in Annapolis and it's great to be a part of it.
What is it about the Arts District that you find so attractive? West Street is an exciting place to be as an artist. The whole block feels like one big family with the goal of building Annapolis' arts world. With all the art that I see on the street or in galleries, I don't think Annapolis is just some small town of hobbyists. Many of the artists here – and the Arts District itself – are really cutting edge and can compete with bigger cities like D.C., Baltimore, Philly and even the art scene in New York in many regards.
What places around town do you go to for inspiration?
I really value the Elizabeth Meyers Mitchell Gallery at St John's College. The curation they do and the shows they put on are really high-end and just amazing. Maryland Federation of Art (MFA) is right up there, too. Those two galleries are showing the most out-of-town art. I think people who live here can get tired of seeing crabs and sailboats all the time, so they're a nice reminder that art is bigger than just the town it represents. Aside from galleries, this town at night is something that really inspires me. It's almost like being in Europe when you walk around at night. There's always someone painting, playing music, or taking pictures.
Check out ArtFarm online for more information and to learn more about Alison's work.