Annapolis has a thriving live music scene, with artists playing every night of the week at venues all over town. And even quarantine isn't going to keep that from happening. Musicians have been streaming performances via Facebook, their personal websites, and through Zoom parties.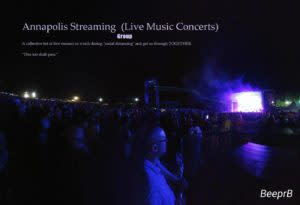 Annapolis Streaming. Photo courtesy of author.
Bridgett Rheam is used to being out and about, chronicling restaurants, live music and events around the area on Instagram as @BeeprBuzz. After the stay-at-home order began, "I kept seeing livestreams pop up by musicians, and think 'I wish I would have would've known about that,'" she says. "I was seeing Facebook groups pop up for takeout, and a friend said, "You need to do this for musicians." So she created Annapolis Streaming on Facebook, with a public Business Page that tracks and promotes shows by local musicians, and a Group Page where artists can post and share their shows with a wider audience.
Musicians make their living by playing out, so many of the shows have a virtual tip jar where you can support them. "That's why I wanted to start this—to get as many eyes as possible for them," she says. If you don't have the money to tip, don't worry. "Musicians want you to listen to their music even if you can't tip them," she says.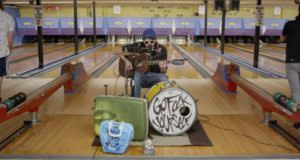 Skribe playing live from Facebook. Photo courtesy of author.
The range of talent is diverse: You can catch singer-songwriters taking requests, kid-focused tunes from SQRL weekdays at noon, and shows by well-loved groups like Skribe, Pressing Strings and Swampcandy. There are recurring events too; Hurricane Kevin streams his Stan and Joes' open mic night on Monday evening, and Maryland Live Arts links to a new recorded concert every evening a 6:15 pm. Want to learn how to play? Bryan Ewald is offering virtual guitar lessons, and Swampcandy is doing a class on slide guitar. Her focus is on local artists, but she's also tagging artists with strong Annapolis roots who live as far away as Denver and Los Angeles. "I so enjoy watching people tuning in that weren't aware of the musician before," she says.
Stan and Joe's. Photo courtesy of author.
Annapolis City firefighter and podcaster Rocky Quetel takes a different approach. A guitar player himself, he started the Local Soundstage podcast earlier this year as a way to support and showcase the local music scene. "I've always been impressed with the amazing talent in this area," he says. "I  wanted to support the scene and get their music out there."
These days, that's even more important. Local artists send him songs and he makes playlists, which he airs in a series of podcasts. Unlike live shows, you can go back and listen to them after the fact, on podbean or itunes. He also has a playlist of local artists on Spotify, The aim is, if you discover an artists you like, you can go out and buy the music directly.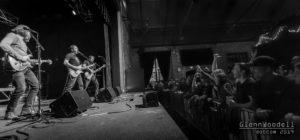 Jimmie's Chcken Shack Live. Photo courtesy of author.
So what's streaming like from the artist's end? Musician Jimi Haha hit the national charts with his band Jimmie's Chicken Shack, and has a loyal local following with the band Jarfys. "I'd seen live feeds but never done one," he says. "But I looked into it out of necessity, because I've lost some paying gigs."
While he's entirely comfortable playing in front of crowds, playing acoustically from his living room was a different thing at first. "I got butterflies," he laughs about his first show. But despite the jitters, he was hooked. "It really surprised me how much fun it is!"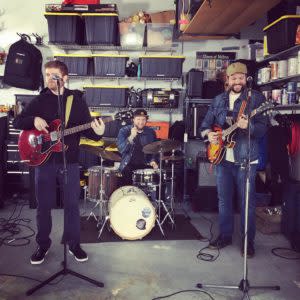 Pressing Strings Garage Shot. Photo courtesy of Facebook.
During a recent Wednesday night show he played acoustic songs and told stories, while viewers filled his feed with comments from song requests to virtual handclaps to jokes. During the show, he focuses more on playing than looking at the screen but afterwards he goes back and tries to read every one, which is another part of the joy.
And it isn't just a local audience that gets to enjoy. "Jimmy's Chicken Shack hasn't toured internationally in a number of years. So, to see people tune in from Italy and Australia, and getting messages from people in London saying, 'I'm so glad I finally got to hear you do this song live' is amazing." He's looking forward to the day he'll be able to play in front of a live audience again, but even when that happens, he expects to continue streaming in some fashion. "It's a great way to connect across the globe."