Moving back to Annapolis after spending years in California was quite the adjustment at first. My drink of choice naturally became wine and I became quite passionate about wine culture. After spending weekends in Napa and learning more on the craft of wine making, I was hooked. I love how versatile wine can be and enjoyed learning everything I could about grapes and what makes one wine different from the next. I noticed on my first few nights out with friends that Annapolis has a strong passion for beer and local breweries. It took me a bit but did finally find the culture of wine that I had left behind out west. All I had to do was find the right places to get my wine fix. Here are 4 of my go-to spots around Annapolis for all things wine.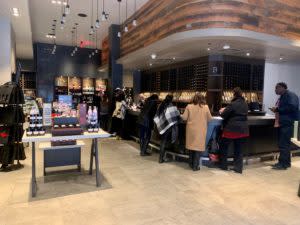 Cooper's Hawk. Photo courtesy of the author.
Cooper's Hawk
By far one of the most popular things to do around the Annapolis Towne Centre is visiting Coopers Hawk tasting room. I look forward to my monthly tasting and bring a new friend with me each visit. As a wine club member, you will get tastings every month as well as your choice of bottles to take home. I would avoid Friday and Saturday nights as it can be heavily packed full of tasters and your wait could be long. Plan your tasting for during the week or a Sunday afternoon to beat the crowds. Ask your bartender to substitute with any of the wines on the back the menu for a more personalized experience.
Bin 201. Photo courtesy of the author.
Bin 201
Another Towne Centre staple is Bin 201, located right across from Whole Foods and honestly I find it super underrated. I first discovered this spot after grocery shopping and I figured I would get a bottle of wine for dinner. Come to find out, this is not your average wine store. With a large tasting room and a selection of wines I had mostly never seen before, I was extremely excited to be perusing their floor to ceiling isles. Bin offers a wide variety of tastings from Binology Wine 101 class to chocolate and wine pairing. The events offered here are exciting and different than others I've found in the past. Find me here on Free Friday wine tastings or their Sunday afternoon movie and wine.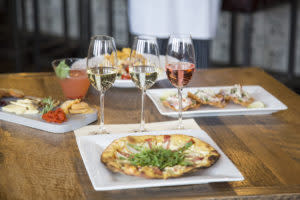 Red Red Wine Bar. Photo courtesy of VAAAC
This main street wine bar is a refreshing change next to the Irish pub speckled streets of downtown. The moody atmosphere is one of my favorite parts about this place. I love how the menu takes on a creole twist with high end cuisine. The menu items to choose from at Red Red wine are a lovely marriage of Maryland and New Orleans favorites, Paired with a California wine bar vibe. Red Red is one of my go-to happy hours with $5 glasses of wine and light bites. Stop in for a date night and try one of the wine flights to challenge your palette with wine from all over the world.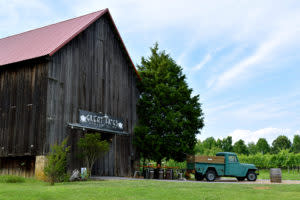 Great Frogs Winery. Photo courtesy of VAAAC
One of the cutest day dates in town, Great Frogs property on Harness Creek Road makes me feel like I've traveled back into wine country. You really don't have to go too far for a vineyard vibe since they have opened their doors to the public. What a beautiful space to hang out with a group of friends on a nice day. Join the wine club at great frogs for free. The membership is only the cost of the wine and allows you to choose from several different packages. Catch me here in the spring with a glass of rosé in my hand!