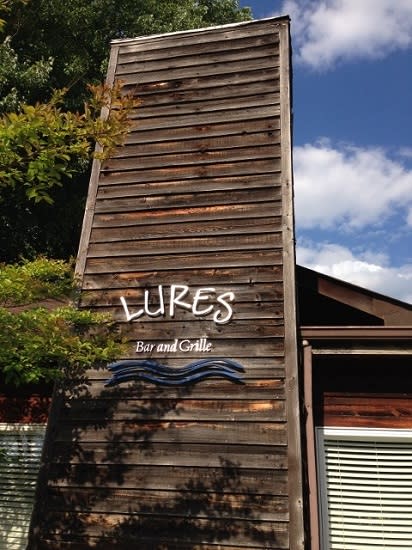 Entrance
"Drink Good Beer" is the motto on T shirts worn by staff at Lures, and if that is your penchant, head to Crownsville for some very good beer indeed. One of my top three bar/restaurants in the greater Annapolis area, Lures—and even just the thought of it—makes me smile.
Lures is on my commute to work, and for afternoon commuters traveling Generals Highway north to 97, it can be an oasis.  For those in bumper to tailgate traffic four to six p.m. weekdays, Lures offers sweet relief to the thirsty, hungry, and those in need of an attitude adjustment.
With winter approaching, it's cozy and warm complete with fire place and great "comfort food", yet Lures is a wonderful destination for happy hour unwinding in any season, too. During summer and spring, a large deck welcomes the happy hour crowd in need of the warm sun or refreshing shade they longed for while stuck inside all day. In autumn, the surrounding foliage can inspire you as you transition to your happy (hour) place with a Belgian white, coffee and chocolate stout; a hoppy IPA; or a more traditional lager from a menu of 27 rotating craft beers.
I am entertained just reading the craft  beer menu with extraordinary  names such as "Rogue Promise Gone Aw Rye IPA", "Green Flash Cosmos Ristretto Porter," Dogfish Head Siracusa  Nera," " Clown Shoes Hammer of the Beast Strong Ale" or "St. Bernardus Christmas Ale Belgian Quad".  It's fun to read each detailed description and, more often than not, I end up ordering a beer paddle because it just doesn't seem right to try only one. This allows me to sample five ounces of four different beers. Since my taste preference runs to the stronger flavored variety, I generally order a couple of IPA's, a stout, and then try to broaden my taste buds by ordering a last one out of my comfort zone. This is fun to do alone or with a partner who has ordered the same thing. Plus it will completely take your mind off the hassles you left at work while you sip and discuss your way through them.
During happy hour, these 27 craft beers are half off. (Now isn't that a reason to pull out of that commute?) There are also seasonal specialty drinks such as Oaxacan Hot Chocolate, Pumpkin Nog, or a Nutty Fisherman Margarita, as well as $5 house wines and a dollar off your go to traditional liquors.
Lures' happy hour menu offers a variety of appetizers ranging from $6.50- $10.00 created by their creative chefs. On a recent visit, I was totally won over by their Crabby Pickles. Before wrinkling your nose, read on and then go give 'em a try! Lures makes their own "half sour" pickles. Served in a Panko Crust—topped with Jumbo lump crab meat, cheddar and cream cheeses and Old Bay—they are luscious. At Lures, they mean it when they say "jumbo" lump crab. I hope this dish stays on the menu.
Rarely can I stop at Lures without ordering their Rock Fish bites from the regular appetizer menu. These are also lightly fried in Panko crumbs and are served with a fabulous plum dipping sauce. I guarantee these are the best Rock Fish bites in the area.
Lures expanded several years ago and now there are two separate bar areas. The original is in the main restaurant and is usually filled with a faithful group of regulars and those who are going to be dining there.
The happy hour crowd in the larger, front bar generally seems to be a slightly younger and livelier crew, although all will feel welcome in either due to a friendly wait staff and casual ambiance in both.
If you decide to stay for dinner, Lures has something for everyone.  With the name, "Lures" it is no surprise that their specialty is fresh fish brought in daily, but there is great food from apps to deserts no matter your preference. And don't forget, "Drink Good Beer."
For specials and information, visit their website.
Photos courtesy of Natalie Spong