*A Must Read:
As to whether farm-raised are less worthy?   My educated answer is NO!
Shellfish are some of the safest, nutritious and least contaminated farmed gems of the waters, when tested.  Most farmed shellfish live very "natural" lives, only instead of being attached to a rock they are deliberately planted by farmers and fasten to an artificial construct.  The primary concern most people have, I know I sure did, is that all shellfish are "filters," - like physical filters that accumulate crap and are either cleaned, tossed or recycled.
Shellfish are not at all filters like that and are just the opposite – they process toxins by rendering harmful compounds out and then expel them.
---------------------------------------------------------------------------
Here are some Local Stops around Annapolis & Anne Arundel County for succulent and nutrient rich gems of the waters:
Oysters – Carrol's Creek Café located at the Annapolis City Marina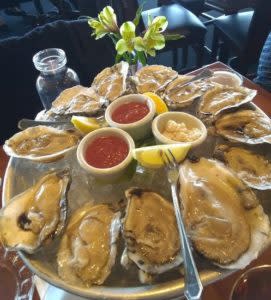 Oysters. Photo courtesy of the author.
Our superior server, John, introduced us to Harris Creek Primes.  These are Chesapeake Bay farmed raised oysters.  Aside from the fact that they are full of a sweet clean flavor, they are part of the Oyster Recovery Partnership.  (Check it out!)  A delicious way to clean up the bay, according to John who also chose for us a crisp and dry Chardonnay.  It was a perfect choice, delicious and something we had never tried.
Scallops – also Carrol's Creek Café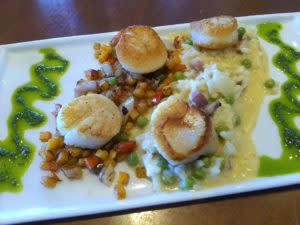 Scallops at Carrol's Creek. Photo courtesy of the author.
Pan sear could have been pan seared longer for my liking.  Colors and presentation, great.
Lobster - Mason's Famous Lobster Rolls located on Main Street Annapolis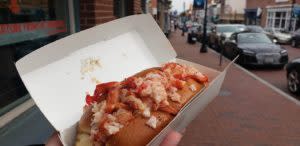 Classic Lobster Roll. Photo courtesy of the author.
Mason's lobster meat is trucked in daily from Maine and they are de-licious!  I got the Classic Roll and it had just the right amount of mayo so I could still taste the lobster.  The bread is so buttery and crisp.  Quick Tip – the sandwich is usually overflowing in lobster so I use a fork to start to avoid a mess.  Overflowing in Lobster…now that has a nice sound.  I usually go myself once every couple of weeks.  The classic rolls is $14.50 and $3 more for chips and a drink. I consider this place a real treat. I have not had their clam chowder yet, but I have heard great things!  In addition, there is a unique collection of bottled root beers and sodas, like blueberry.  They offer a nice dining bar along the Main Street window for people watching.
Mussels – Grapes Wine Bar of Annapolis located in the Clock Tower Place Shopping Center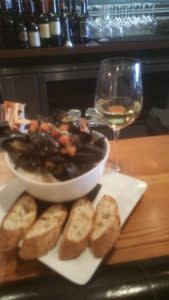 Mussels at Grapes Wine Bar. Photo courtesy of the author.
Classic Mussels in a white wine and herb broth – the best mussels I have had in a long time.  They also serve crusty French bread for dipping.  If you have never been here before, you will find a cozy and relaxed environment and every dish that comes out of their tiny little kitchen are served with fresh, locally sourced ingredients so not only are the dishes pretty and flavorful, they taste amazing.  One of my favorite go to places and plenty of free parking.  Oh, and there is wine!!
 One final note on Shellfish - Most farm-raised spend their lives immersed in mineral rich water including zinc, iodine, selenium, and magnesium, along with vitamin A and B-vitamins.  In addition, for those of us into sustainability - when we eat shellfish, we are eating the entire animal; except for the shell.  And, incidentally, those businesses who belong to the Oyster Recovery Partnership send their shells back to the Eastern Shore to continue their already successful process of the cleaning-up of the bay.  Very cool and an environmentally perfect circle of life!
Enjoy!