October is here! Not far behind the turn of the fall season, we delve into birthdays and holidays at my house. In an effort to spend some one-on-one time with my new kindergartener, scope out potential holiday activities ahead of time, and extend our festive season, I thought we'd start by picking up tickets to the Ballet Theatre of Maryland's late October presentation of The Legend of Sleepy Hollow at Maryland Hall for the Creative Arts in Annapolis. What I soon learned about Maryland is that, in addition to several top-notch professional performances throughout the year, it also offers families a ton of other accessible arts experiences.
Maryland Hall is conveniently (and aptly) located at 801 Chase Street in Annapolis, adjacent to the city's growing downtown Arts District—the area of West Street between Church Circle and the Westin Annapolis Hotel. It was launched in 1979, long before the arts started taking hold of this area of the State Capital. Founded with a mission to provide "art for all" through art education and the performing arts, Maryland Hall offers "the most comprehensive selection of arts enrichment classes in the region" for anyone from toddlers to teens and adults to seniors. Along with top-flight professional theater performances for general audiences, Maryland Hall features a gallery (yes, a gallery with revolving exhibits!) open to the public, a plethora of classes for children, as well as performances exclusively for school groups.
Locals, you can register your child for a semester of classes at Maryland Hall. The next semester begins in January and extends until early June. The Ballet Theatre of Maryland (the same troupe performing The Legend of Sleepy Hollow) conducts children's ballet lessons, as does the Academy Ballet School. Other dance classes are offered for ages five and under and 5-12. Three age groups can partake in arts and crafts classes (my daughter would LOVE this!), musical theater or drama. I'm thoroughly impressed!
Then there are the school shows exclusively for school groups. Some titles in the coming months that caught my eye are Santa's Christmas Miracle on December 12, Rainbow Fish on April 4 and Butterfly: The Story of a Life Cycle on April 14. I think I'll encourage my children's schools to attend one or more of these educational programs and, if you live in the region, you should too! They seem perfectly suited to my preschooler and kindergartener.
If you're heading to Maryland Hall for one of its evening performances, you can make a night of it in Annapolis' art district. You'll find many excellent dining options in this area, including Tsunami (sushi), Luna Blu (Italian) and Lemongrass (Thai), so you can easily grab dinner before or after the show. Parking is readily available on West Street at one of two parking garages, but you'll want to drive over to Maryland Hall from there and park in their lot.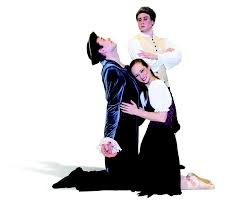 Legend of Sleepy Hollow courtesy of Ballet Theatre of Maryland
If you attend Saturday evening's performance of The Legend of Sleepy Hollow the weekend of October 21, look for my daughter and me. And remember to arrive thirty minutes before your show time so you get settled before the performance begins. If you can't make it this month, check the Maryland Hall website frequently. They have several holiday performances in December 2016 and even an opera for children in January 2017!
Maryland Hall will be offering three showings of the ballet, The Legend of Sleepy Hollow, over the weekend of October 21, and tickets are still available for purchase at www.marylandhall.org. Plus, the main office is open Monday through Friday from 9:00 am until 5:00 pm; the box office is open Monday through Friday from noon until 5:00 pm; and the gallery (yes, a gallery with revolving exhibits!) is open Monday through Saturday from 10:00 am until 5:00 pm.
Photos courtesy of Becca Beasley, Ballet Theatre of Maryland.