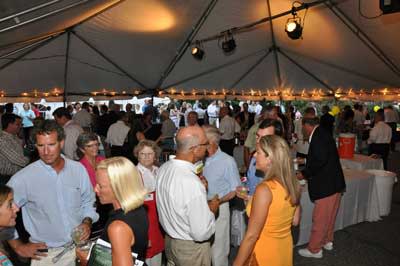 Guys: Slip into your boat shoes, no socks, per local custom; get comfortable in your khakis; and finish the look with a navy blazer. Gals: Start with dancing shoes and add a swing skirt, sun dress or capris. You'll be ready for an event that's become "the party" in Annapolis. And no wonder. Where else can you mingle with visitors and locals, sample cuisine from several of Annapolis' finest restaurants and caterers and sway to the sounds of swing and jazz?
It's all happening on Friday, September 11, from 6-11 p.m., as the Maryland Hall for the Creative Arts (801 Chase Street) hosts its annual Arts Alive Celebration to support its mission to bring "art for all" to the community. Chances are you will see the organization's popular director Linnell Bowen thanking folks for "being there" as she and her husband enjoy this season's cultural hot spot.
Food and drink donated by top area restaurants and caterers will take center stage from 6-8 pm, when guests gather under a tent in front of the historic building that once was the Annapolis High School. Among the providers of an upscale selection of hors d'oeuvre, appetizers, drinks and sweets are the Loews Annapolis Hotel, the O'Callaghan Annapolis Hotel, Paul's Homewood Café, Carroll's Creek, Blackwall Hitch, Main Ingredient Caterers, Sweet Hearts Patisseries Harry Browne's, Fado's Irish Pub and Metropolitan Kitchen Caroline's – a veritable who's who of this town's food hierarchy.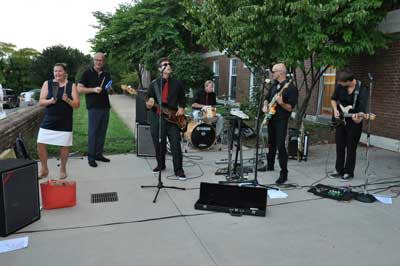 Starting at 8 pm, the sounds of swing and jazz music by the Craig Gildner Big Band will draw guests inside to Maryland Hall's newly renovated theatre for dancing and desserts. Improved acoustics and handsome new windows and seating have transformed the space into a state-of-the-art venue for performances by the Annapolis Symphony Orchestra as well as opera, ballet and theatre productions. So you think you can dance? Watch the moves of professional swing dancers showing their styles in the orchestra pit – and grab your partner and join the party.
And the beat goes on with a live auction of an eclectic mix of "prizes" and a raffle winner drawn from 200 tickets at $100 each, with a choice of luxury vacations at international tourist attractions.
If your travel-to-Annapolis budget does not include a $150 ticket to Maryland Hall's "Arts Alive" Gala, you can still visit this wonderful community resource for free. My suggestion is to combine your visit with lunch or dinner at Paul's Homewood Café (a local favorite close to Maryland Hall and within walking distance of the Westin Hotel). The galleries at Maryland Hall showcase the talents of area artists, with opportunities to purchase.
Take note of these special events at Maryland Hall this month:
Vox Populi a free concert on September 15 at 7 pm features the 60 singers in a youth mixed chorus from Estonia co-sponsored by the World Artists Experience.
Saxophonist Art Sherrod Jr. with full band and choir A concert at 4 pm, Sunday Sept 20 Introducing his gospel jazz album Intervention.
The Art of Wine A Wine Tasting is sponsored by the Young Patrons of Maryland Hall at 7 pm September 25.
For tickets to Arts Alive or for Maryland Hall performances, call 410-263-5544 or visit their website.