Anthony Bourdain, the often-outrageous star of CNN's popular Parts Unknown TV show, recently made a startling confession in an interview with People Magazine. This onetime chef, a fearless consumer of insects and other intimidating delicacies, says that upon returning from one of his worldwide culinary treasure hunts, he often indulges in his favorite comfort-meal:  Popeye's spicy fried chicken, biscuits and gravy, and an order of its macaroni and cheese.  All this paired with non-vintage Dr. Pepper and served at his favorite Popeye Louisiana restaurant in Lafayette.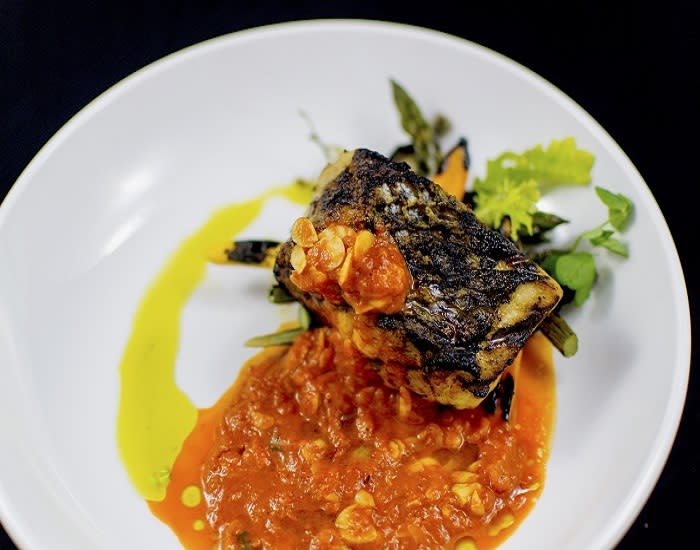 Maryland has its own signature chicken dish, a recipe that calls for pan frying in an iron skillet, covering tightly so chicken steams as well as fries, then adding milk or cream to create the white gravy that is the signature of what the famous French chef Auguste Escoffier called Chicken a la Maryland in his famous cookbook Ma Cuisine.  This dish is still on the menu of some Eastern Shore restaurants and is a staple for many traditional home cooks.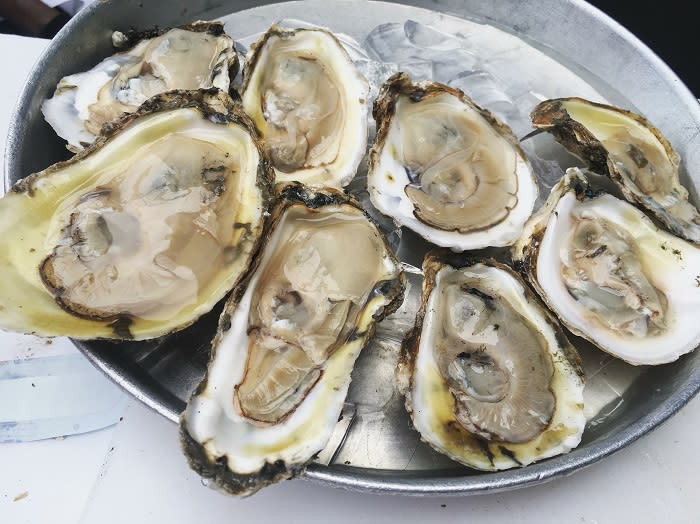 Food is an important factor in the travel industry and Maryland is firmly identified with the allure of Chesapeake Bay seafood and signature dishes -- especially the blue crab, star of crab feasts and crab cakes.  And, according to the Maryland Department of Natural Resources, this year's harvest promises to be one of the best in recent years.  Other seafoods linked to our locale are oysters, rockfish, mussels and tiny bay scallops.  We are also known for produce, specifically the strawberries and asparagus that come into the market this month, followed in July by sweet corn and tomatoes.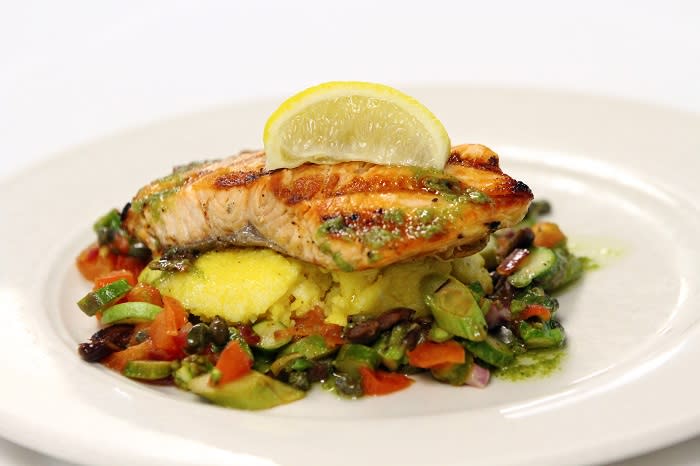 Most of the non-chain Annapolis restaurants feature seasonal seafood and produce on their menus at this time of year.  And in case you want to take a Maryland memory home with you, here is a wonderful crab cake recipe, courtesy of Annapolis caterer Ken Upton of Ken's Creative Kitchen, and a creative recipe playfully called "I Can't Believe It's Not Crab Cakes" by cookbook author and restaurateur Chef John Shields of Gertrude's Restaurant at the Baltimore Museum of Art.
Jumbo Lump Maryland Crab Cakes
1 pound jumbo lump Maryland crabmeat 1 egg 1 tablespoon Dijon mustard ¼ cup mayonnaise (homemade, with lemon, preferred) ½ teaspoon salt ¼ teaspoon pepper ¼-1/2 cup fresh breadcrumbs (panko, preferred)
Remove any cartilage or shell from crabmeat.  Combine egg, mustard, mayo, salt and pepper n large bowl.  Add crabmeat and gently mix without breaking up lumps.  Shape mix into four crab cakes and sauté in a buttered skillet over medium heat until golden brown.  Serve garnished with lemon wedges.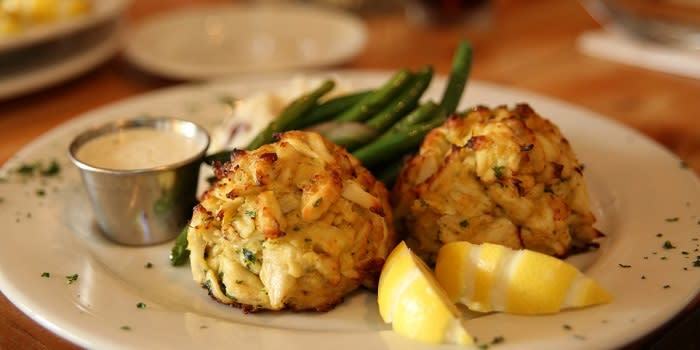 Mock Crab Cakes
2 cups coarsely grated zucchini, drained in a colander for 30 minutes 1 cup bread crumbs, plus additional for coating 2 eggs 1 teaspoon Old Bay seasoning 1 teaspoon Dijon mustard 1 tablespoon mayonnaise 1 lemon, juiced ¼ cup chopped fresh parsley Vegetable oil for frying
Mix zucchini and bread crumbs together in a bowl.  In another bowl, combine eggs, Old Bay, mustard, mayo, lemon juice and parsley.  Beat well.  Combine both mixtures and form into patties.  Dust with breadcrumbs and pan fry in hot oil until well-browned on both sides.
Chesapeake Seafood Dinner
Follow these steps to create the perfect fresh from the Bay "meal," a whimsical "recipe" from internationally known Annapolis artist Nancy Hammond, whose work is inspired by the Chesapeake Bay region.  She loves boat yards, crab feasts, and black labs.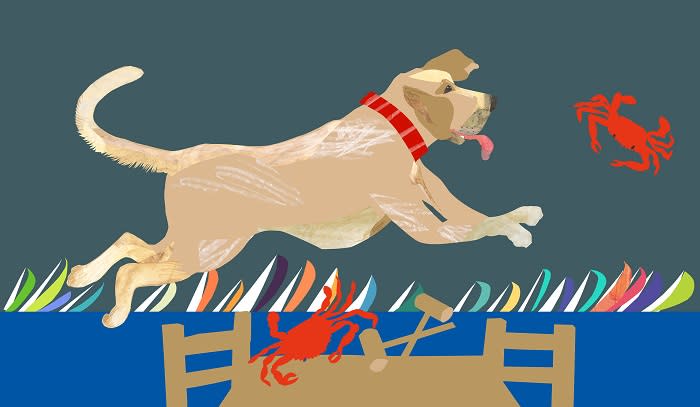 "Dinner On The Bay. "Courtesy of Nancy Hammond.
Take the dog straight from the dock, not directly from beach muck, if possible.
Rinse well.
Run from the bow before "the shake."
Start the engine and cruise on down the creek to open water.
Speed up the motor.
As the bow begins to rise, catch the sliding dog, who is trying to grip the fiberglass bottom with his nails, to no avail.
Hold the wheel and extend your leg to the side to catch the rump end of the dog sliding by and about to hit the gas tank in the stern.
Use fresh bait.
Cast line and use wrist as if flipping an omelet.
When line tightens and dog barks, dinner is almost ready.
Reel in large catch with whisk-like motion.
Remove hook from mouth of fish.
Toss back into the Chesapeake.
Head to nearest crab house for dinner.
Images courtesy of Nancy Hammond Editions and VisitAnnapolis.org