Happy 2019! Our New Year's resolution here at Annapolis Discovered is to bring our community even closer together. To help, we're launching a new feature called Meet Your Neighbors. We all have people we see around town and interact with from time to time—business owners, favorite wait staff or community organizers—but how much do you actually know them personally? We aim to fix that.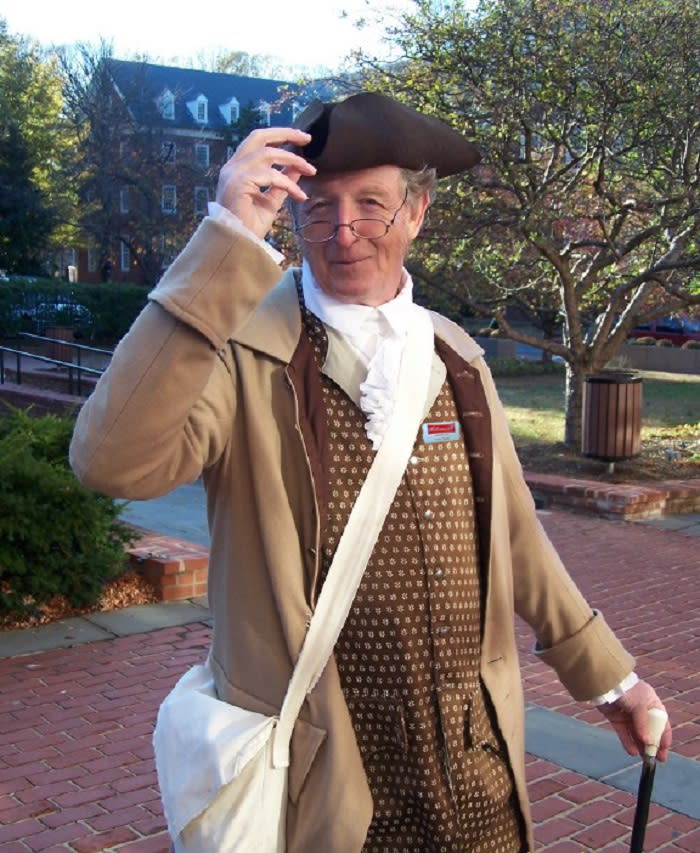 To kick off the column, we have none other than Annapolis' own Town Crier. (Yes, we have one, and he is officially accredited with the American Guild of Town Criers.) If you've been downtown on a busy spring weekend or attended events like the Military Bowl Parade, you've seen Squire Frederick Taylor—he's hard to miss, with his Colonial garb and booming voice. His job is to spread the word of everything wonderful in Annapolis, via walking tours, the reading of official proclamations at events, and even representing Annapolis at Town Crier competitions around the country from time to time. Here is a bit more about him.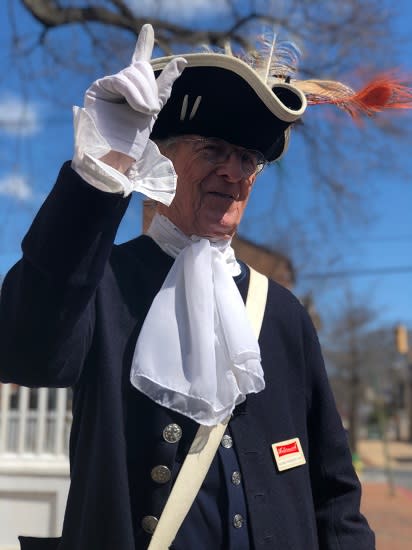 Annapolis Discovered: Where are you originally from, and what brought you to Annapolis?
Squire Frederick:  I was born in Albany, New York, on July 15, 1941.  I left Albany one week after high school graduation to join the U.S. Air Force.  I've called the Baltimore/Annapolis area home since July 1963;  that's the year I was discharged from the Air Force and accepted full-time employment as a civilian with the Department of Defense, headquartered at Ft. George G. Meade.  That job is what brought me to the "Land of Pleasant Living," and I've been here ever since; specifically in Catonsville, where I've resided since December 1970.
AD: How long have you been a tour guide/town crier?
SF: I joined "Three Centuries Tours" (today, known as Watermark) in 1997;  2019 will mark my twenty-second year as a tour guide.  I've been the official Town Crier for thirteen years.  Mayor Ellen Moyer appointed me on May 24, 2006, and she later made it a lifetime appointment "……so long as your interest and health provide" in January 2009.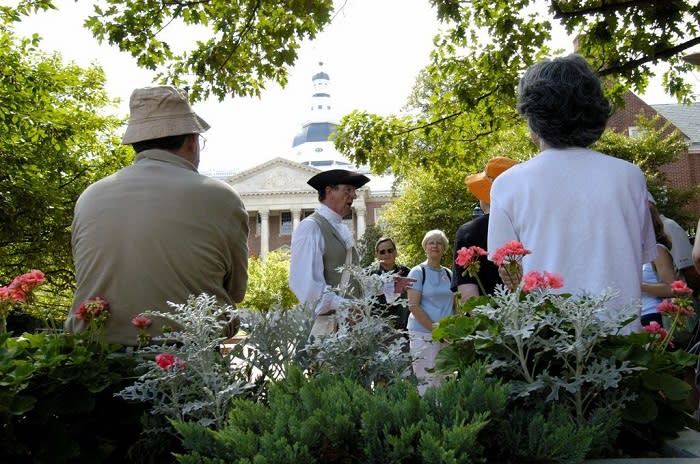 AD: How did you get into your line of work?
SF:  A friend was beginning their tour guide training with Three Centuries Tours in the spring of 1997.  He encouraged me to apply for a position and join him in "new guide" training. That was the beginning of the story which continues for me to this day.
AD: What is your favorite thing about your job?
SF:  I love meeting and greeting the public and telling the story of Annapolis – of the people who've walked the streets since the founding of Maryland in 1632 until today.  I like entertaining and educating out-of-town visitors, students on school field trips, as well as local residents that join me on my walking tours.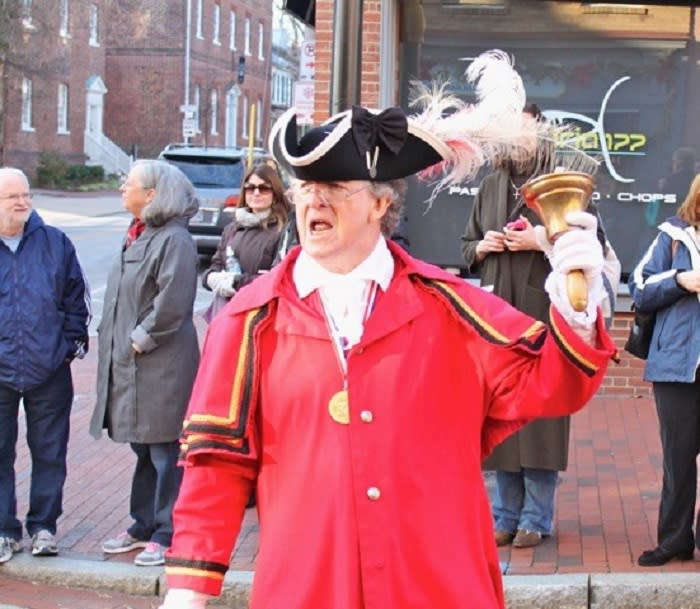 AD: What is your favorite thing about living/working in Annapolis?
SF:  I love being near the water; I find it very calming and therapeutic.  And the scenery here is incredible, the friendliness of the people is infectious.  Annapolis really is "Camelot On The Bay."  And if you can't find good food and entertainment downtown, you are really not looking very hard!
AD: What are some of your favorite things to do in Annapolis, when you're not working?
SF:  I simply enjoy walking around town.  I bring my granddaughters downtown sometimes, just to be with "Pop-Pop"; we'll take a boat ride on the Harbor Queen or walk around the Naval Academy.  We'll always stop for lunch, and chocolate or ice cream usually follows for dessert.
There are so many places to eat, it's difficult to single out just one!  I would be remiss if I didn't mention Galway Bay on my "favorites" list.  The Irish whiskey & tomato soup, portobello sandwich, and shepherd's pie are a few of my favorites.  The Big Cheese is my go-to shop for a sandwich; I love the "Town Crier" with turkey and sprouts.  Osteria (177 Main Street) on Main Street has a divine grilled calamari.
For top experiences, I have a few: The Spring croquet match between St. John's & the Naval Academy, the annual Tug-A-War over Spa Creek between Annapolis and Eastport, the climbing of Herndon Monument at the Naval Academy, and the Fourth of July parade. Also, standing in line to buy tickets for the Colonial Players production of Dickens' "A Christmas Carol" – that's a true Annapolis tradition!
AD: What local experiences do you think every Annapolitan should try at least once?
SF: 1. Take a Four Centuries Walking tour (maybe with the Town Crier!), and one of the many Watermark boat rides. 2. The Halloween concert at the Naval Academy chapel. 3. A performance by the Annapolis Opera at Maryland Hall for the Creative Arts.
Images courtesy of Watermark