There's no better way to enjoy the heritage of our region than experiencing history in November. It's a month packed with tours, events, and activities that lead us right into the holiday season. We've picked our top events to reminisce, learn how history is preserved and, perhaps most excitingly, be a witness to history in the making this November.
"Childhood Classics: 100 Years of Children's Book Illustration"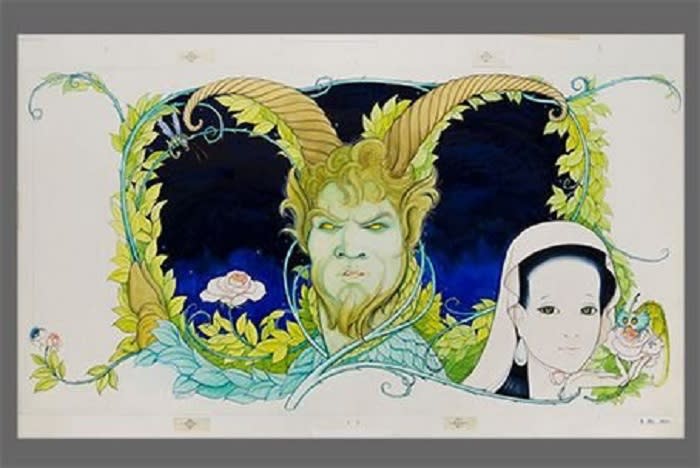 Beauty and the Beast (b. 1926). Photo by Hilary Knight.
Some books are so iconic that to simply hear their titles is to be flooded with memories of the whimsical stories and, more vividly, the lush illustrations within their pages. Revisit the stories that have charmed generations with "Childhood Classics: 100 Years of Children's Book Illustration," a new exhibition at the Mitchell Gallery at St. John's College.
The exhibit features more than 100 original illustrations from Maurice Sendak (Where the Wild Things Are), Dr. Seuss, Garth Williams (Stuart Little, Charlotte's Web), Beatrix Potter (Peter Rabbit), and Richard Scarry, with additional illustrations of "Popeye," "Yogi Bear," "Babar," "Eloise," "Madeline," "Frog and Toad," and many more. Bringing the classics into the future! the exhibition features Augmented Reality (AR) for several selected works. Bring your smartphone and your childhood nostalgia! On view now through December 16, 2018.
Lunch and Learn:  Disaster Response in Puerto Rico by Conservation Professionals of the National Archives
When a natural or manmade disaster strikes, archivists aren't typically thought of as first responders, but in many cases they are there working to save history. During the Maryland State Archives "Lunch and Learn" lecture this month, Ms. Vicki Lee will speak about responding in cultural heritage recovery in Puerto Rico and the Virgin Islands last year. National Archives and Records Administration was given a mission assignment by the Federal Emergency Management Agency and the Department of Interior to assist in the recovery of the General Archive and National Library of Puerto Rico and the Institute of Culture of Puerto Rico (ICP). Vicki and her colleagues from several federal agencies made two trips to Puerto Rico while another group traveled to the Virgin Islands. She will speak about the work that was accomplished there. Offered on Wednesday, November 7 at 12 pm.
USS Sioux City Commissioning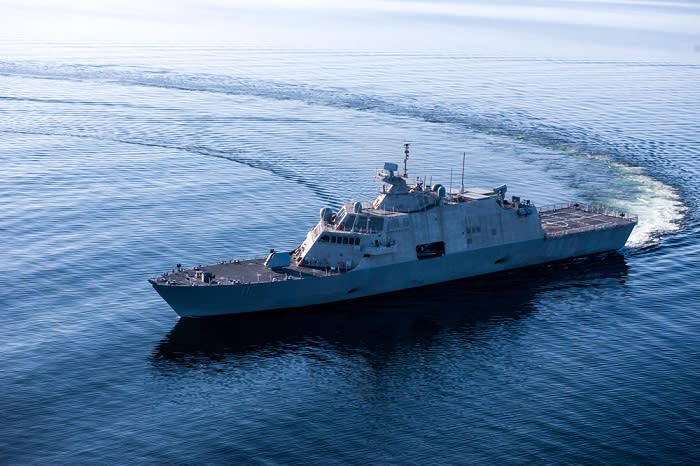 USS Sioux City. Photo by Jon Sham / Courtesy Lockheed Martin.
For the first time in history, a Navy combat ship is being commissioned at the United States Naval Academy. Witness history and take a tour of the USS Sioux City while it is in local waterways. The commissioning on November 17 will be recognized with a number of celebratory events meant to honor the heritage of the Naval Academy, Annapolis, and Sioux City, Iowa (the ship's namesake). Tours and events are ongoing throughout the week of November 12.
American Indian Heritage Day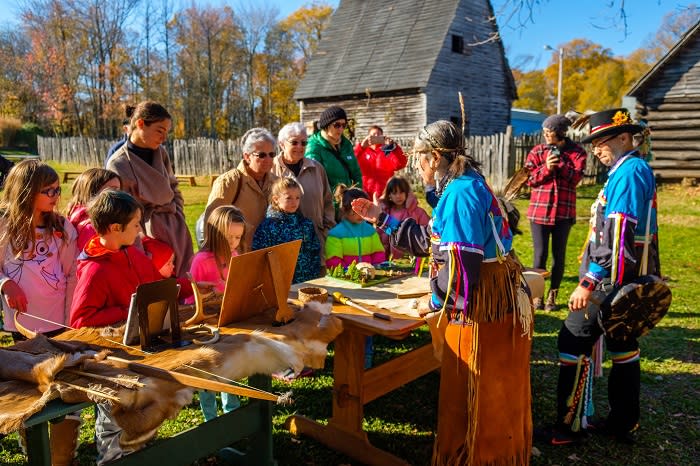 American Indian Heritage Day. Photo by Bob Peterson.
Historic London Town and Gardens will welcome the Cedarville Band of Piscataway Indians for American Indian Heritage Day. The day will include traditional dishes, child-safe archery, dancing and cultural presentations. The Cedarville Band of Piscataway Indians are dedicated to sharing the living history and culture of indigenous communities of the Chesapeake Region. An annual holiday for the state of Maryland, American Indian Heritage Day is a celebration of the living culture of native people in our state. Offered on Friday, November 23 from 10 am – 4:30 pm.
Holiday Greens Show Preview Party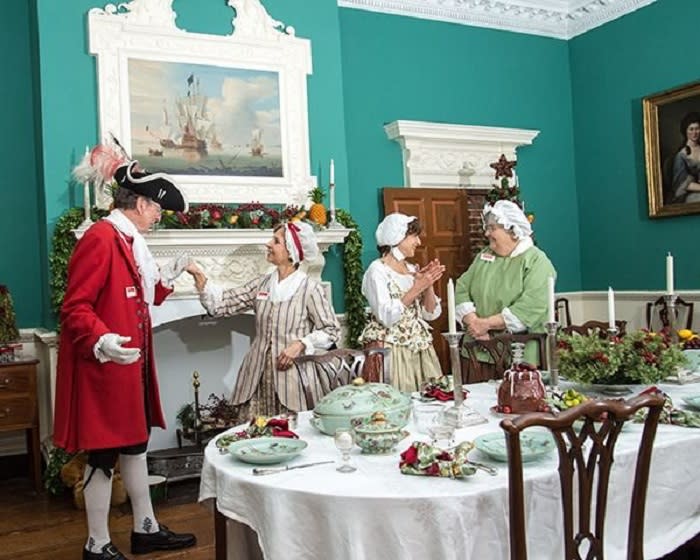 Holiday Greens Show Preview. Photo by Webster Wright
A highlight of the local holiday season is seeing what area garden clubs come up with each year to decorate the historic Hammond-Harwood House. Get a preview of the decor and a chance to shop their Holiday Greens Show early at this festive event. The house will be decorated for the holidays, circa 1825 to the theme "An 1820s Dutch American Christmas with the Loockerman Family." Enjoy hors d'oeuvres, wine, and period drinks as you preview beautiful and authentic holiday greens, available for purchase. Takes place Friday, November 30 from 5:30-7:30 pm.
Images courtesy of Bob Peterson, Web Wright, Jon Sham, and Hillary Knight