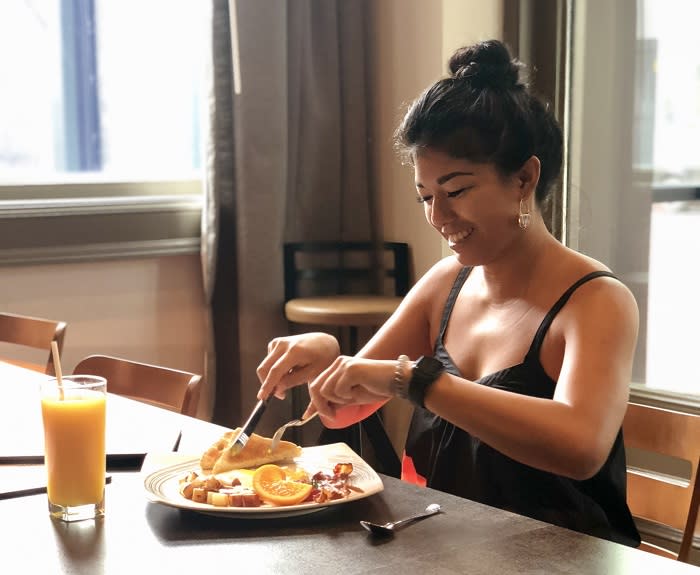 A few weeks ago I had the pleasure of stopping by one of Annapolis' newest additions to the food scene, the Hilton Garden Inn Downtown Annapolis' (174 West Street)  Kitchen on West St. . Upon arriving I was welcomed by Lindsay Kahler, Sales Manager, and a lobby that was the spirit of Annapolis itself. The decor reflects the pride and joy of our sailing community with nautical elements throughout. A little further in Lindsay pointed out a beautiful art wall that features iconic photographs and paintings from around the city. "We're in the Arts District and very proud of our art wall," she explained.
As we approached the bar of the Kitchen, Joy Wemmer, Director of Sales, joined us and provided some background about their restaurant. She explained that this particular Hilton Garden Inn concept was very unique and personalized to Annapolis because everything's made to order as opposed to other Hilton Garden Inns that have more of a cookie cutter American grill experience with a buffet. Their Executive, Chef Dee Dee, had prepared for me two of their best breakfast dishes: The Helm and The French Connection.
The Helm is a hearty start to your day with two eggs, breakfast potatoes, your choice of meat, and toast. The French Connection is perfect for those who wake up with a sweet tooth: cinnamon French toast, berry compote, breakfast potatoes, and your choice of meat. (They have bacon, turkey sausage links, pork sausage links, or veggie sausage). At this point, Brad Brown, the General Manager and hands behind the Kitchen's craft cocktails, joined our soîree just in time to give me the scoop on all their tasty libations.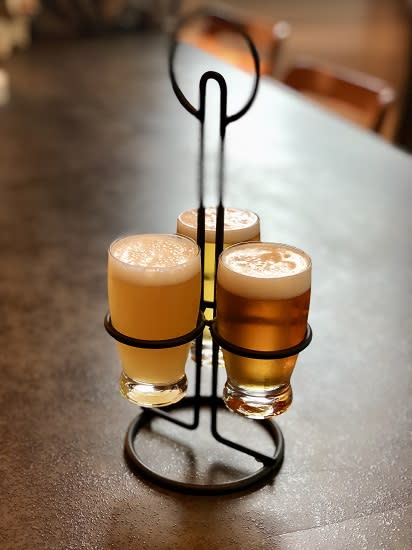 The Kitchen carries such beers as Snake Dog from Flying Dog, Penchant Pils from Monument City, Feed the Monkey from Jailbreak Brewery, and Navy Beat Army Golden Lager from the folks at Chesapeake Brewing Company just down street. They offer beer flights with six pours of local seasonal drafts. The Kitchen's happy hour (Monday through Friday from 4 to 10 / Sunday all day) offers great specials. $3 draft and bottled beer, $5 glasses of wines, $3 off signature cocktails and martinis, and a few discounted food items.
Word to the wise: If you're in for happy hour try the Smoked Maple Old Fashioned. You get a drink and a show. The bartenders torch a cedar plank and then capture the smoke in a glass, as Brad was kind enough to demonstrate. A single ice cube acts like an adhesive as it goes into the glass along with Elijah Craig Bourbon, bitters, and organic maple syrup. Of course, it wouldn't be an Old Fashioned without the finishing touch of an orange slice and a cherry.
Another option would be to try a sample of this cocktail or any of the other fine Kitchen cocktails at sunset. Everyone in the lobby at this time gets to try any cocktail of their choosing at Kitchen's sunset toast when they ring a bell to commemorate the end of the day – or perhaps the start of the night.
From a variety of breakfast and dinner options along with tasty drinks, come in and explore all the local flavor the Hilton Garden Inn Kitchen has to offer!
Images courtesy of Rhea Torreon