In case we've forgotten, the arrival of and ever-changing challenges resulting from COVID-19 in 2020 reminded us of the great diversity, and equally-great resiliency, of restaurants throughout Annapolis and Anne Arundel County. From many well-established restaurants offering takeout and delivery for the first time, to brand new ones defying the odds by opening mid-pandemic, there's no shortage of options when it comes to getting your grub on in 2021.
But for those who might be looking for a few businesses that will help make the always-popular "eat healthier" New Year's Resolution easier or, alternatively, impress family and friends with a decadent treat, here are three under-the-radar options to explore.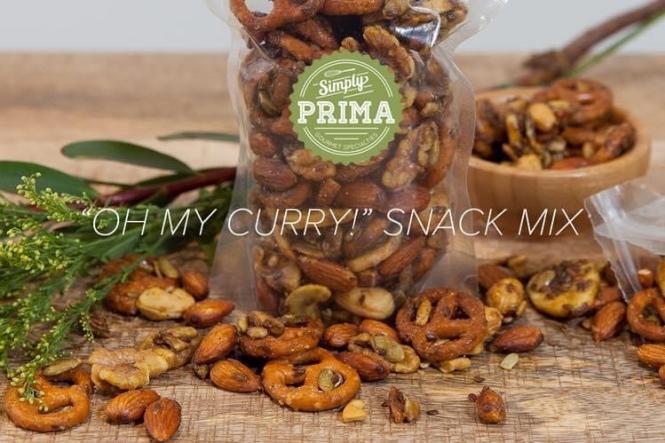 Simply Prima is a gluten-free venture that gets rave reviews! Image courtesy of Simply Prima.
Founded by Sylvia Graf-Jones in 2004, when she discovered that she had a gluten intolerance, Simply Prima began as a way to sell her homemade "Oh My Curry!" snack mix, roasted nuts, jams, and baked goods to those facing the same issue. The snacks were an immediate hit, and many of Graf-Jones's customers began telling her how great it would be to have a local delivery service that specializes in healthier, allergen-friendly meals.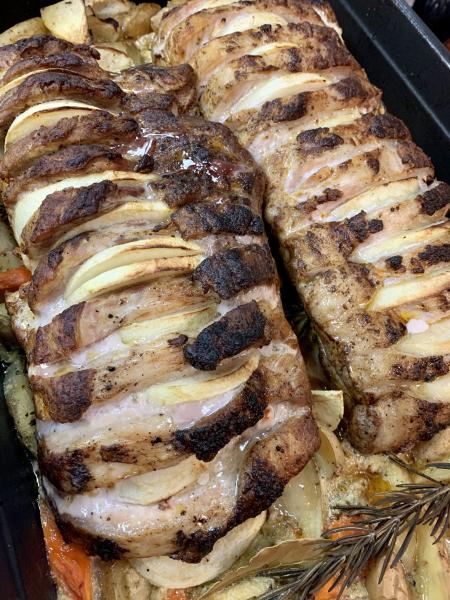 Simply Prima offers weekly delivery of fully-customized gluten-free, vegan, vegetarian, Whole30, Keto, and Paleo meals. Image courtesy of Simply Prima.
Graf-Jones responded to the demand by getting licensed through the Department of Health. By leasing a shared commercial kitchen, training in food safety, and hiring some fellow moms to help operate the kitchen, Simply Prima quickly grew into a full-fledged business.
A true "problem-solving company," Simply Prima offers weekly delivery of fully-customized gluten-free, vegan, vegetarian, Whole30, Keto, and Paleo meals. A few of her favorites include Asian-inspired turkey lettuce wraps, roasted duck breast with red cabbage and gravy, and garlic olive oil jumbo shrimp. Personal in-home chef services, meal planning, and catering are also a part of Simply Prima's offerings. In addition to the snacks that gave the company its start, a wide selection of gluten-free and allergen-friendly cakes, cupcakes, muffins, granolas, breads, and cookies (including what multiple customers have deemed "the best carrot cake in the whole world") are also on the menu.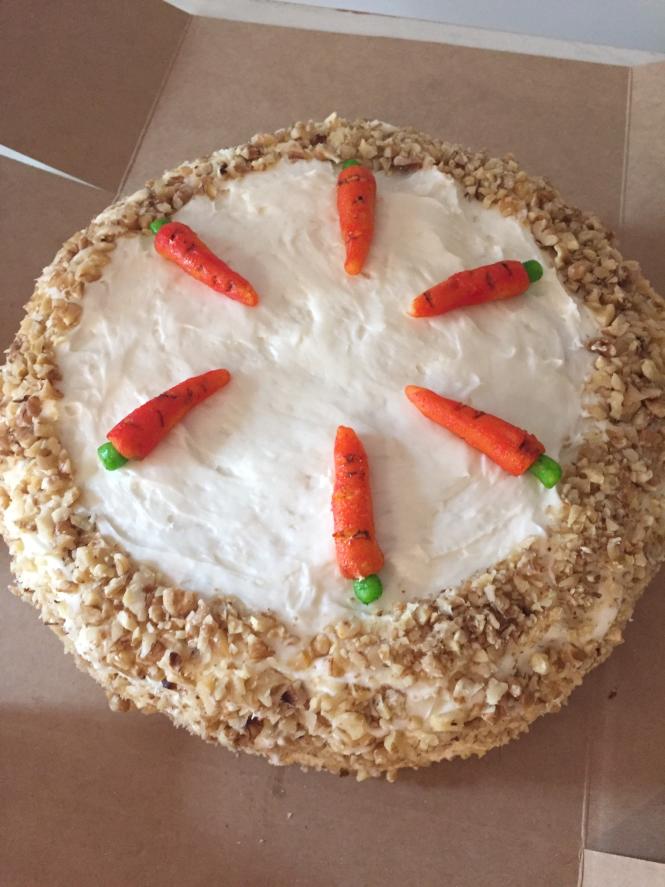 Many customers believe Simply Prima's Carrot Cake is the best they have ever had. Image courtesy of Simply Prima.
As Graf-Jones puts it, "you really can have it all: gourmet food that has been lovingly prepared and tastes like it should be 'bad for you' but is in fact nutritionally dense and convenient."
Visit www.SimplyPrima.com to learn more or subscribe to weekly menu emails, and check out Simply Prima on Facebook or Instagram to see some of their delicious food.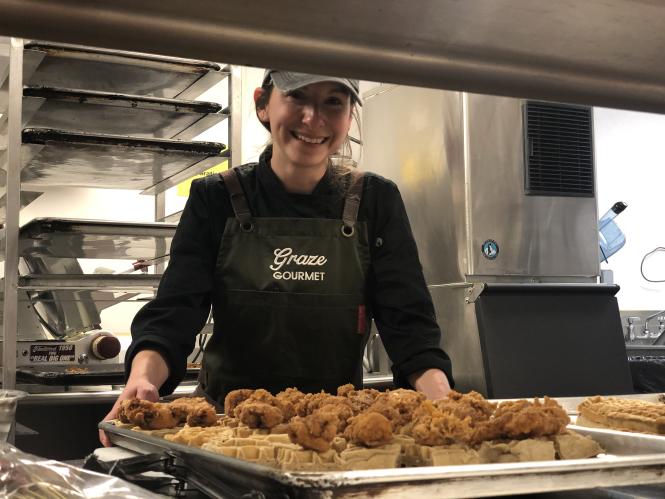 Adrienne Shoots is the owner and Chef of the Graze Gourmet. Image courtesy of Adrienne Shoots.    
After graduating from culinary school, working at multiple restaurants, and catering events for friends and family, Adrienne Shoots decided to become what she calls an "official personal chef" in March 2019. She opened Graze when she realized there was a large demand for meal delivery and private dinner party services in the area and hasn't looked back.
The business has grown quickly, with Shoots now offering weekly meal preparation (cooked in-home or delivered), party and event catering, curated gift boxes, and even cooking classes.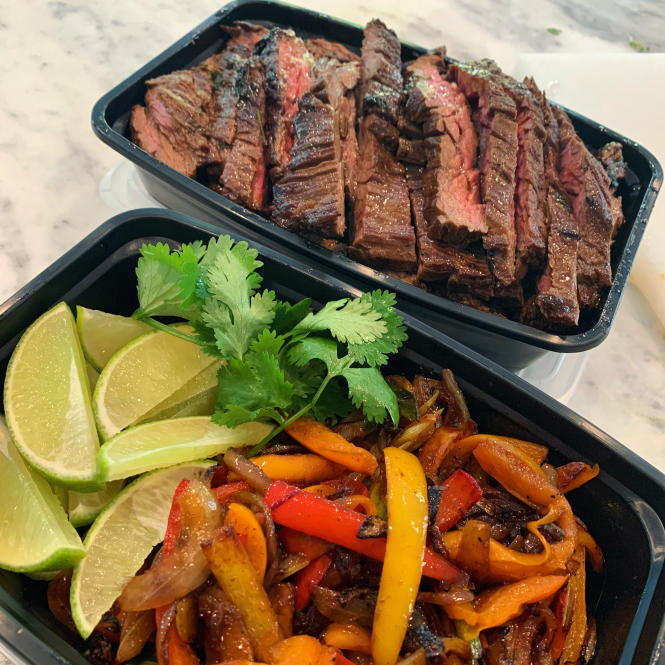 Shoots now offering weekly meal preparation (cooked in-home or delivered), party and event catering, curated gift boxes, and even cooking classes. Image courtesy of Graze Gourmet.  
"The biggest thing that makes me unique is that I offer customization on just about everything," says Shoots. "I understand the importance of eating healthy but also believe it's okay to enjoy the things we love, in moderation but without guilt, so I'm happy to accommodate all taste preferences and dietary restrictions. Even if I haven't tried it before, my goal is delivering thoughtful, delicious, and convenient food to your door."
To learn more and see what Shoots has been cooking lately, visit www.grazegourmet.com or check out Graze on Facebook and Instagram.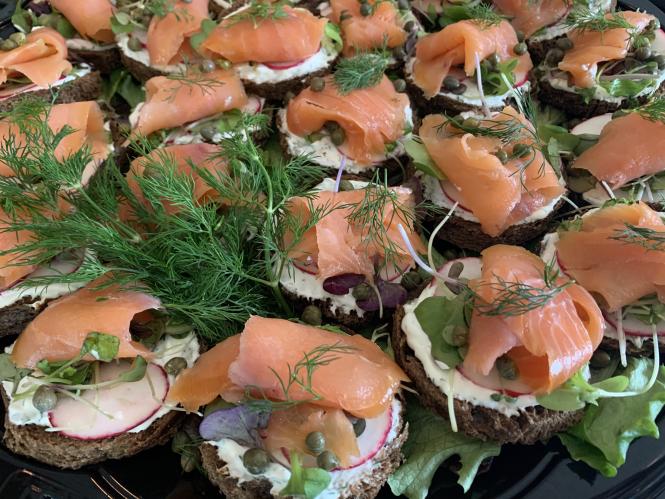 Adrienne caters to any dietary restrictions or concerns, she works with each client to ensure the menu exceeds expectation. Image courtesy of Graze Gourmet.  
In what founder and owner Lori Echols describes as "a complete fluke," Lucky 13 got its start just a year ago, on a rainy Saturday morning in January 2020. Lori's children requested donuts but weren't in the mood for those from a chain and weren't too keen on a drive from Severna Park to Annapolis. Putting her culinary school training to the test, Echols whipped up her own donuts and posted a few pictures on the I Live in Cape St. Claire Facebook page. A number of neighbors asked where they could purchase them and, after agreeing to sell five dozen to a man who gave them to local hospital workers as a thank you for his cancer treatments, her business was born.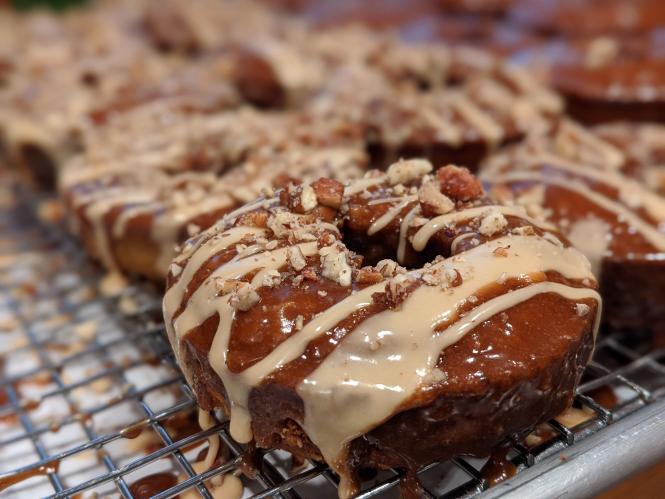 Gluten free Bourbon Praline donuts are a hit for those with gluten intolerance. Image courtesy of Lucky 13.
While Echols initially only offered plain and chocolate-dipped flaky donuts, quick and consistent growth led her to expand her offerings. In addition to regular and seasonal flavors she also offers Cherry, Blueberry, Pecan and Strawberry Pie; Oreo-Stuffed, Samoas, Bourbon Praline, and Lemon Meringue; and a full Gluten-Free lineup that sells out nearly every week – plus apple fritters and giant cinnamon rolls!
"I try to constantly push the boundaries beyond traditional donuts with flavor combinations that keep people guessing and interested, and I feel like being from the deep South helps me introduce a lot of new options to Marylanders," says Echols. "My customers keep coming back for more because my donuts are delicious and addictive, and my goal is to always keep them that way."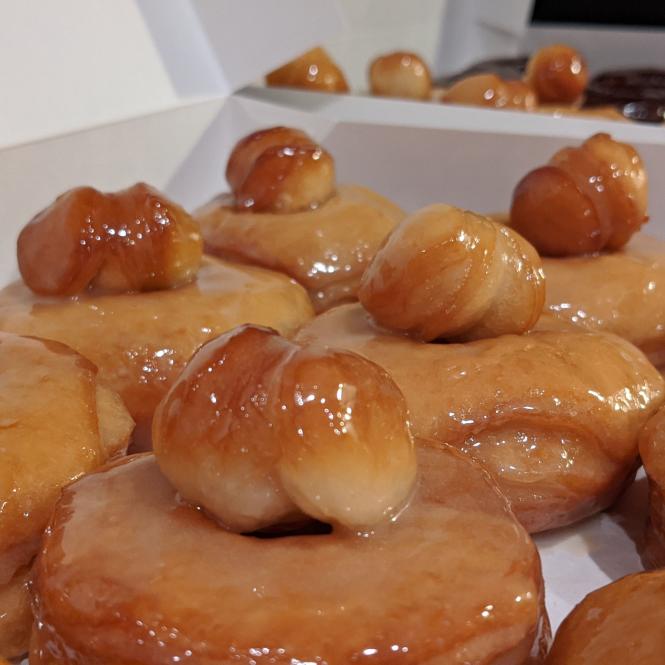 Honey Dipper Donuts from Lucky 13. Image courtesy of Lucky 13.
Echols sells her donuts every other weekend. While customers can buy them at her home on Saturday mornings, she advises using the online ordering system to make sure they get the flavors and quantities they want.
Visit the Lucky 13 Facebook page to see what flavors she'll be offering next, or the online ordering page to see a sample menu.