Copernicus is the mouse who lives inside the front desk. The windows below and to the left of the register give passers-by a small glimpse into his home – his study in particular. He has a leather couch, a lamp, a painting of a sailboat, and of course, being the avid traveler and reader that Copernicus is, a stack of books with new adventures waiting to be read.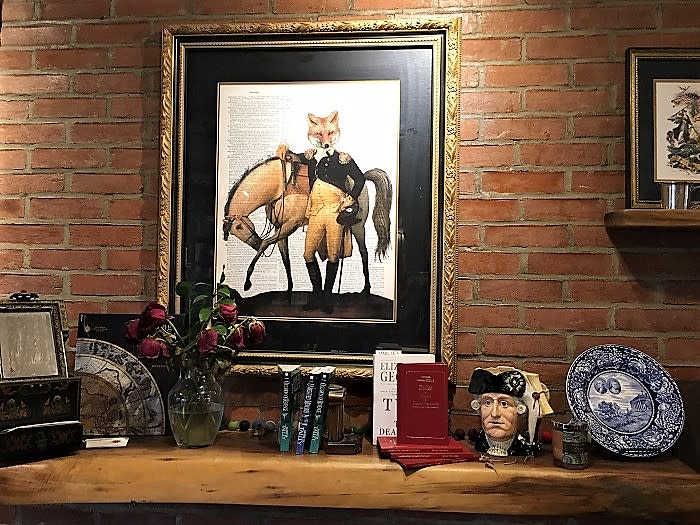 Old Fox Books, a quaint bookstore and coffee shop located at 35 Maryland Avenue in Annapolis, is home to many characters. (Copernicus included of course.) Having previously worked together, friends and business partners Janice Holmes and Jinny Amundson opened the store in November 2016 with the vision of creating a warm space where stories could be written, read, and told. Today, the beautifully-decorated building offers an expanse of colorful walls lined with shelves holding hundreds upon hundreds of books. A nod to the literary world is evident beyond the books themselves in the unique decor as exemplified by Harry Potter's room under the spiral staircase; a quote over the archway from a Parisian bookshop named Shakespeare and Co.; and the crossroad signs to Oz, Godric's Hollow, Treasure Island, and Atlantis (just to name a few). Janice and Jinny also made sure to include several cozy seating options for visitors to enjoy both inside, with a beverage or pastry from Brown Mustache Coffee on the first floor, and outdoors, in the fairy-lit garden.
Whether it be Frolic the Fox singing and telling children's stories, local authors sharing new narratives, or festivals occurring in town, community involvement and events constitute a large part of the heart behind Old Fox Books. Most recently, National Novel Writing Month has begun for which sessions will be held, as well as several book-signings and discussions (a complete list of events can be found on the store website here).
"We're so lucky that people also want to be a part of it," says Jinny as she excitedly described a litany of ideas for more ways to foster conversation and cultivate a comfortable environment for every person that walks in. "You don't know what you're going to find [here]," she went on, "but you'll get a story out of it."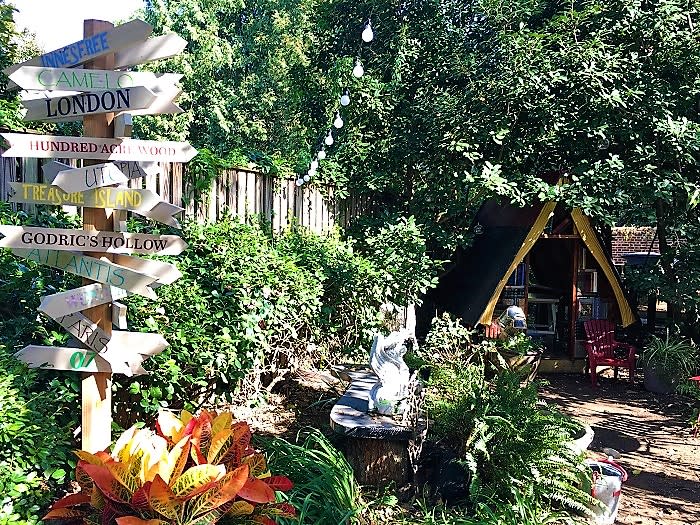 Outdoor garden with the crossroads sign
In a place alive with resources for imagination, knowledge acquisition, and discussion, Janice and Jinny seek to partake in the fun and indulge in their love for books alongside their patrons. For these two, it's all about the books, the witnessing or ownership of a story, and the experiences yet to be had. All this with a cup of coffee by their side.
Final Note: In Janice's own words, "…we love to put the books they [visitors] are looking for in their hands…they'll also find the books they don't know they are looking for."
If you're interested in a book recommendation or two, or perhaps in surveying a variety of selections, make a visit to Old Fox Books where adventures await.
Photos courtesy of Melissa Kuhta