Monday morning and getting back into the work routine is challenging enough. What if your commute only takes 30 seconds and your office mate is now your roommate? Americans have been through worse. (Sorry Mike!)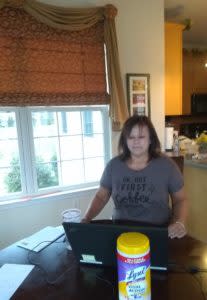 Gemma at work. Photo courtesy of the author.
How are you going to make the most of it? Let us know and send photos here!
My husband and I began working from home and have one rule between us: "Respect Boundaries."
He works upstairs in the office and I am in the kitchen nook. No need to read into that….I have many windows around me and yes, the fridge!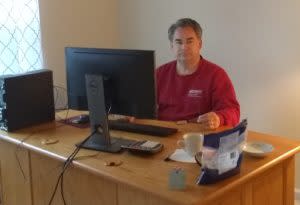 Mike at work. Photo courtesy of the author.
It's 10:03am and I have only called him at work once, so far. Technology can be a wonderful tool.
Entertainment List for when you need to take a break: • YouTube – they have everything to watch like free concerts, how to cook videos and travel – Check out videos relating to our neck of the woods in Annapolis here. • Neil Diamond changed the words to Sweet Caroline and turned it into a Public Service Announcement. Check out on YouTube here. • Broadway stars will be offering free performances, daily, at the usual Broadway show times in NYC– 2pm (EDT) and 8pm (EDT). Check out these links: SecretNYC.co & The Actors Fund • Peloton Spring Training at home for free – no bike or equipment needed. Peloton is offering a free 90-day trial subscription to its home-workout app and Yoga and meditation classes are included. Learn more here.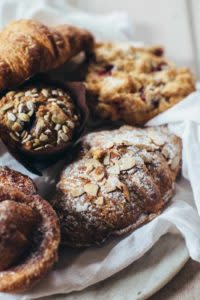 Rolls at Bakers and Co. Photo courtesy of the author.
Day in the Life List • Coffee and a roll from a local bakery • Go for a walk and social distance on 340 acres at Quiet Waters Park 600 Quiet Waters Park Rd, Annapolis and watch Annapolis Discovered's feature on the park here. • Stop off at one of our great restaurants for take away or possibly curb side. Just call ahead and order. Adult Beverages are also available for take away. • Finish the day with my favorite activity – a glass of wine and online shopping at any of our trendy boutiques in Annapolis.
Hair Tip – Call your hair professional and ask them to send you: Root Concealer
Stay Calm and Quarantine On!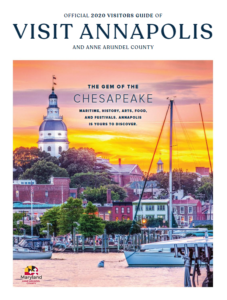 Official 2020 Visit Annapolis & Anne Arundel County Visitor Guide HERE