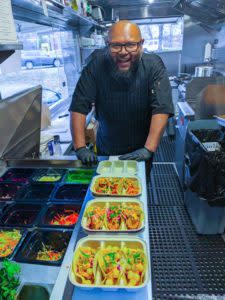 Sergio Reyes of Tacos Friday opened up his Food Truck in the midst of the pandemic. Photo courtesy of Tacos Friday.
A grim reality of this ongoing pandemic is learning about a business we love shutting its doors. I've done, and continue to do my fair share of online shopping to help keep businesses afloat. Just ask my husband. Actually, don't ask him. I hide the boxes when they show up.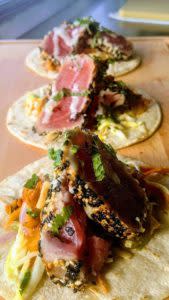 Every day is Taco Tuesday at Tacos Friday. Photo courtesy of Tacos Friday.
This pandemic has been especially hard on restaurants who have had to close their doors for several weeks, and quickly convert to an exclusively take-out and/or delivery operation. And while doing this, plan for the extraordinary circumstances facing them in how to handle operations when they were allowed to reopen. Tables spaced out; servers wearing masks; patrons wearing masks unless seated; limited menu options; harassment from the entitled who think masks violate their rights. (pro tip to this crew: stay home).  What restaurant's contingency plans included a strategy on how to handle the wide-spread, highly contagious virus that 2020 ushered in?
Open for Business
And yet, in the midst of all the gifts 2020 keeps giving, there are those who forged ahead with their plans to open at probably the worst possible, but all together unavoidable time; smack in the middle of COVID-19. While researching this article, I came across dozens of restaurants and food establishments in Anne Arundel County who have opened their doors, during the pandemic. It's truly inspiring to see how many have made lemonade (or tacos, or pies, or BBQ!) out of lemons. And let me tell you, I'll be ordering from ALL of them in the near future!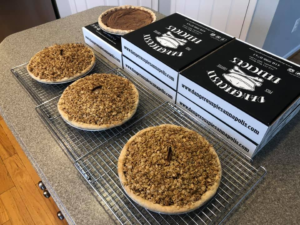 I can't wait to get my hands on ALL the Dangerously Delicious Pies when they open their storefront on West Street. Photo courtesy of Dangerously Delicious Pies.
Plagued by inspection, permitting and construction delays exacerbated by a pandemic are challenges many new businesses are facing, and no business knows this better than Dangerously Delicious Pies. No doubt, one of the most highly anticipated restaurants to open in downtown Annapolis.
Kimberly Miller who co-owns the shop with her husband Christopher told me that early on, "We immediately faced delays at the onset of quarantine as most building inspectors were asked to stay home." However, this plan has been in the works for a long time. "We've been wanting to open in Annapolis for five years.  It's going to take more than a pandemic to keep us from doing that." Sign me up for a chicken pot pie please!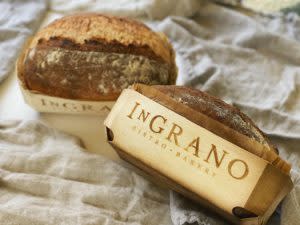 In Grano Bistro & Bakery specializes in bread done right! Photo courtesy on In Grano Bakery.
In Grano Bakery, slated to open this fall, has faced similar circumstances as Dangerously Delicious. But owners Adam Pusateri and Pericles Lewnes have used this time to perfect their menu offerings by baking at home. In a statement, they told me, "As we plan our menu, we are thinking more and more about how to support our local farmers and reflect our local landscape. Especially now, it's more important than ever to support small business. Despite all the setbacks of the pandemic, we're still just as optimistic and excited.  This has been a dream of ours for a long time!"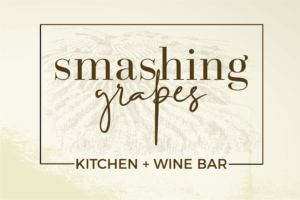 Smashing Grapes is opening in two locations this Fall, Annapolis and Gambrills. Photo courtesy of Smashing Grapes Kitchen & Wine Bar.
Have you wanted to take a trip to California wine country but COVID-19 told you to put your pajamas back on and sit down? It's possible that within two weeks' time, Smashing Grapes Kitchen & Wine Bar will be bringing it to you. Faced with similar delays in permitting, owners James King, Steve Schuh and Larry Ray also have been "challenged with longer than usual shipping times on everything from furniture, silverware, artwork, etc. which has created some delays," James tells me. Nevertheless, "while we have not opened yet, the community is very excited about our opening and we get phone calls and emails daily asking when we will open." With a menu offering Coastal California cuisine and a wine list with over 350 bottles of wine, plus daily wine tastings, who wouldn't be?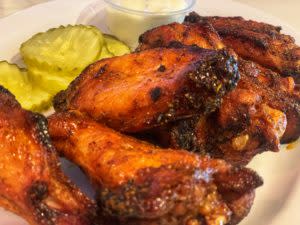 After Blue Dog BBQ Co. had to close their doors, they partnered with URBURGER in Edgewater to continue serving their tasty bbq! Photo courtesy of Blue Dog BBQ Co.
After closing their doors in Baltimore due to city construction, Sean Stoll and Jon Royce, owners of Blue Dog BBQ Co. questioned what next? So, they threw up a Facebook post asking people "who wants BBQ?" Well, everyone did. They found themselves cooking and serving every Friday for two months during the beginning of the pandemic. Then the guys over at URBURGER in Edgewater took note and the four of them hatched a plan to offer Blue Dog BBQ at URBURGER starting Memorial Day weekend, but only for outdoor seating or takeout.
As the (misquoted) Field of Dreams line goes, 'if you build it, they will come.'  And they have. "When we made that first Facebook post we certainly didn't expect to be re-launching our business two and a half months later," Sean told me. "Jon and I couldn't be more thankful for the people that have supported us and given us the chance to do what we love."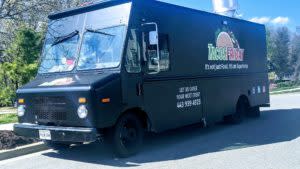 Tacos Friday was able to set up in area neighborhoods and actually gained business during the pandemic! Photo courtesy of Tacos Friday.
Sergio Reyes and Vugar Ismayilov, owners of Tacos Friday were uncertain about their future when the pandemic hit. They are in the more unique position of running a food truck, so there are literally no doors to open or close when it comes to seating. However, when the 'stay at home' order was issued, it actually created opportunities that they might not have had otherwise. They would follow a lead to which neighborhood to park, delighting many. But once word got out, they began juggling requests to move to new neighborhoods and communities. "The customers have been amazing," Sergio said. "We cannot thank them enough for the support."
There are many other restaurants working and learning to be less like an oak and more like a willow, bending and swaying with the unforgiving time. Thankfully the theme I found is that they are surrounded by a wonderfully supportive community more than happy to keep them in their respective kitchens, where they want to be.