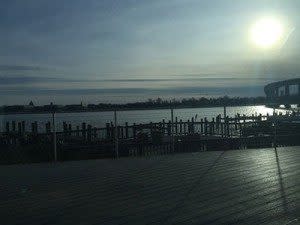 View from Severn Inn
Annapolis sits where the Severn River meets the Chesapeake Bay. When people talk about going over the bridge, they're usually talking about the Chesapeake Bay Bridge (official name: the Governor William Preston Lane, Jr. Memorial Bridge). But in Annapolis, there are many bridges to cross and with the advent of spring, scores of travelers and day-trippers will be crossing them. Here are some good reasons you may want to join them.
The Pearl Harbor Memorial Bridge, on Route 50, also known as the Severn River Bridge, connects Annapolis to roads leading east. The bridge was officially named and dedicated in 2006, on the 65th anniversary of the attack on Pearl Harbor.
The Naval Academy Bridge, on Route 450, is another way to get to Route 50 and points east. If you're looking to go over the river and get some exercise, this bridge is about 900 yards long and you can often see joggers on its sidewalks. The bridge crosses the Severn River. On the west side of the bridge is the Naval Academy; the east is flanked by two neighbors: the Severn Inn, a wonderful restaurant in which to enjoy a stunning view, and Jonas Green State Park.
This is a small park with a vast outlook. Bring a picnic and your fishing rod. You can launch a canoe or kayak, but due to a strong undercurrent, swimming is not allowed. A short distance up Route 450, you'll find the WWII Memorial, dedicated to the people of Maryland who served in the War. There's parking and it's a spectacular sight to see Annapolis from that vantage point and pay your respects.
WWII Memorial
The Weems Creek Drawbridge is on Ridgely Avenue, which is parallel to Rowe Boulevard, a main artery to downtown. It's one of two drawbridges in the area. This bridge is a swing bridge, which lays on a horizontal pivot—not a very common sight to see.
Just a walk or ride down Compromise Street in downtown Annapolis and you hit the Spa Creek Bridge, a picturesque drawbridge worth watching as boats go in and out. Another option for getting to the other side is taking a water taxi across Spa Creek. Over the bridge, you will find Eastport, a community surrounded by water on three sides. The Annapolis Maritime Museum is a good place to learn the history of the area. In Eastport you'll also find great places to eat, many with local charm and flavor you can't find anywhere else: fabulous brick-oven "Eastport style" pizzas at Vin 909, the family friendly Boatyard Bar & Grill, the "neighborhood joint" Davis' Pub, Carrol's Creek Cafe, O'Leary's Seafood, Lewnes Steakhouse—stop me! These are just a handful of the places that should be on your list of places to dine.
On the other side of Annapolis, down Solomons Island Road (Maryland Route 2), over the South River Bridge, is Edgewater. In particular, Edgewater has two places of interest that shouldn't be missed.
Did you know The Smithsonian Institution has a presence in the area? The Smithsonian Environmental Research Center (SERC), which is on the Rhode River, is an environmental research and educational facility whose mission is to preserve life in the coastal zone by looking at coastal ecosystems. There are self-guided walking trails, guided and self-guided canoe and kayak trails, as well as lectures and seminars.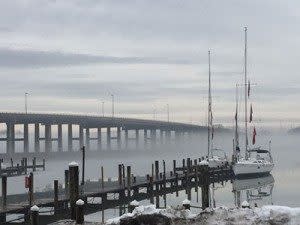 South River Bridge
Historic London Town and Gardens, which overlooks the South River, prides itself on its history, archeology and horticulture. It's a "living history site" and the centerpiece is the William Brown House, which was originally a tavern, built in 1760.
For a little downtime, Lee Airport, which is by the Giant on Solomon's Island Road (on the way back to the South River Bridge) is a great place to watch planes land and take-off. For a bite, Edgewater Restaurant is known for their crab cakes. Coconut Joe's, also in Edgewater, is a great place to unwind on the waterfront and grab a cocktail while the kids play in the sand area.
Over the Riva Bridge, also on the South River, you'll find Mike's Crab House, a must for steamed crabs. When the weather is nice, grab a table outside and enjoy the Annapolis life.
Good thing about these bridges—they always lead you back to the state capital.
Photo credit: Alexandra Bennett Cannady