Annapolis has a number of  Irish bars perfect for oysters and beer, welcoming everyone to enjoy themselves most anytime – but especially on the seventeenth of March.  Our town's celebration of St. Patrick's Day ranks up there with Savannah as the place to be on a day when being happy is contagious and celebration begins with breakfast and gains momentum until the wee hours of the next day.  The high spot, of course is the sixth annual St. Patrick's Day Parade, organized by the charismatic John O'Leary, a Forever Marine and native Annapolitan.  Midshipmen in kilts and a majestic variety of local and international bands and musicians march proudly down Main Street in a show that includes 100 floats and enough energy to shake the brick streets of Maryland's capital city.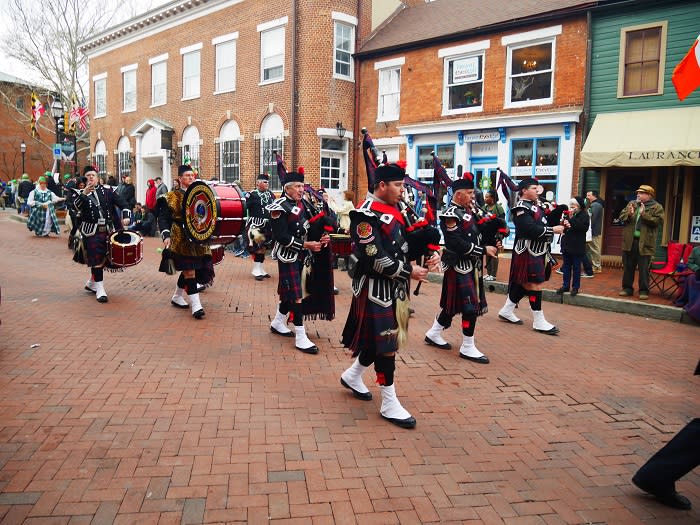 St. Patrick's Day Parade
Annapolis Irish Week, so christened by What's Up Annapolis magazine, kicks off with a party known as a Hooley on March 10 in the ballroom at the Loews Annapolis Hotel (126 West Street).  The event sold out in early March, so latecomers can employ Plan B with a visit to BAROAK, the privately-owned restaurant in the hotel with indoor and outdoor seating as well as fabulous steamed mussels with a variety of sauces and a good selection of craft beers.
Fado Irish Pub & Restaurant, just up West Street next to the Westin Hotel, has an authentic vibe and lots of TVs for sports watching.  Outdoor seating overlooking a magnificent working fountain is a fine place for socializing and parade watching.  Chances are good Fado's will have its own version of a Hooley for the duration of St. Paddy's weekend.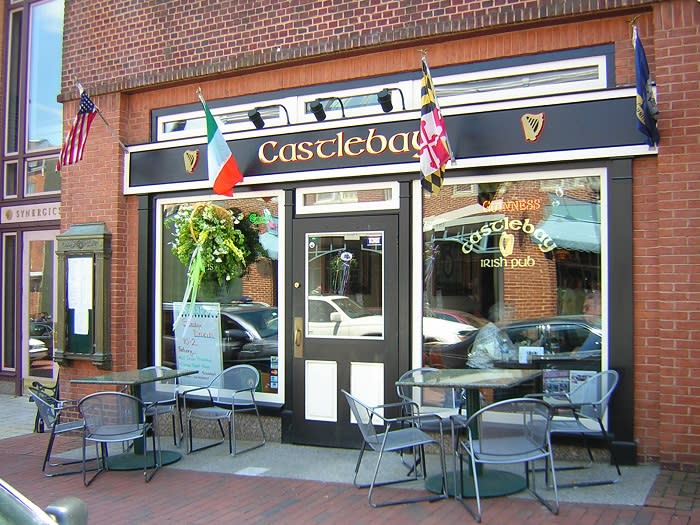 Castlebay
Castlebay Irish Pub (193 Main Street), is convenient for parade-and-people watching.  Our oldest hangout, this simple setting puts on its Irish party hat all year long.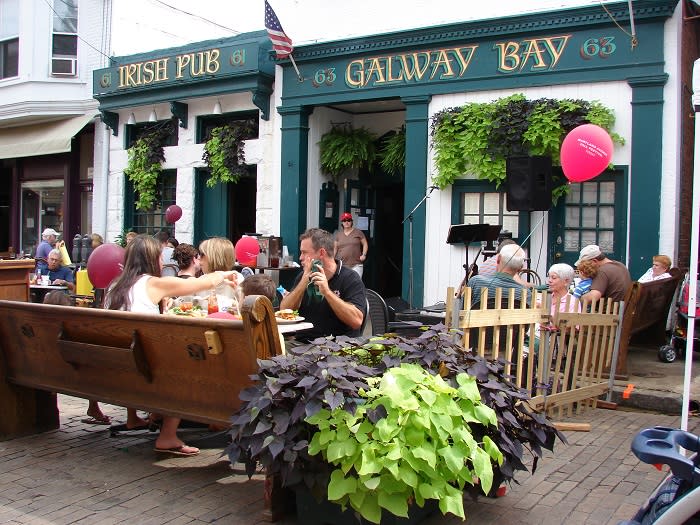 Galway Bay
Galway Bay (63 Maryland Avenue), takes you away from the downtown hubbub for a chance to enjoy authentic Gaelic dishes such as lamb stew, Irish soda bread, and fish and chips.  The small side bar is always crowded but if you call ahead you may score a reservation for lunch, dinner, or Sunday brunch.
Oyster Sources: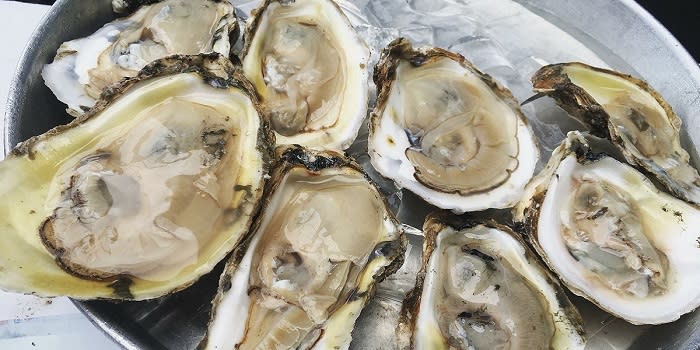 With few exceptions, all of the restaurants in Annapolis are Irish on this day of the year. And if you believe in the power of oysters as the perfect partner for a glass of ice cold beer, we recommend McGarvey's Saloon & Oyster Bar (8 Market Space).  Mike McGarvey, the iconic proprietor of this Annapolis institution, recently passed the baton to a group of USNA grads – and the beat goes on.  Other downtown options for oysters include O'Brien's Oyster Bar & Restaurant next door, home of the famous Oyster Shooters and a protected outdoor patio.
McGarvey's
Just over the Eastport Bridge, on the corner of Sixth Street, is Blackwall Hitch.  Oysters from various waters are listed with their place of origin on a blackboard over the bar in the rear of the restaurant, a space that features a communal table and a friendly bartender or two.  Another Eastport destination for oysters is the convivial Boatyard Bar & Grill (400 Fourth Street).
Welcome to Annapolis, a place known for its love of good food, good beer, and good parties!
Photos courtesy of VisitAnnapolis.org