Paladar is a classy, spacious, Latin-inspired bar and restaurant in Annapolis' Parole Towne Centre. This inspiration is evident in the establishment's unique cocktails and appetizers that have proven to be a hit with the Annapolis happy hour crowd.
The scene:
On a recent Thursday night, I visited early and found the patio tables full with a few families, singles and couples. Inside, the high top tables in the bar were mostly filled with a thirsty, late twenties- through thirties-aged crowd, and the bar had yet to fill. Later, and especially at Friday's happy hour, the bar is bustling with all ages, but mostly the twenties through forties post-work group welcoming the weekend.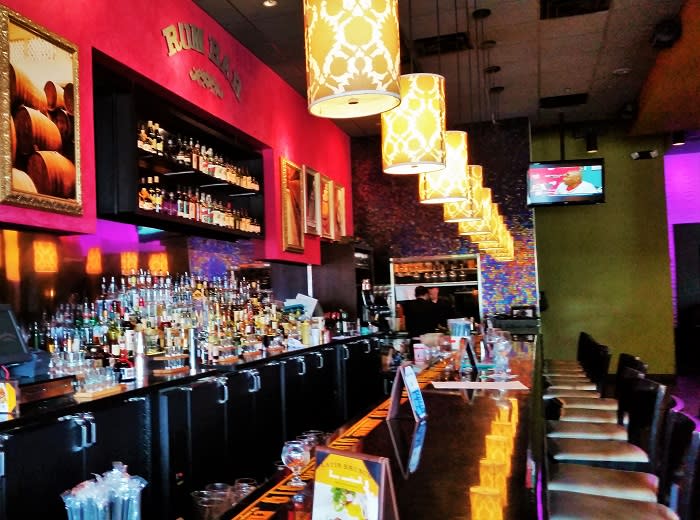 Bartender prepares for happy hour at Paladar
Drink deals:
During happy hour at Paladar, guests enjoy five dollar Margaritas, Sangria's and Mojitos; four dollar wines by the glass; and two dollars off Paladar's Specialty cocktails and beer. Guests choose from traditional or flavored Margaritas and Mojitos and Tropical Mango White or Brazilian Red Sangria.
"Must sample" beverages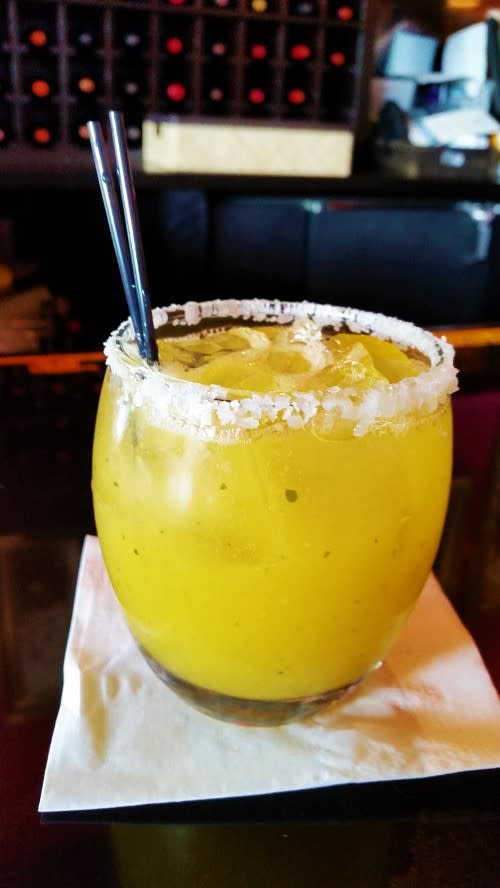 Mango Margaritta, a refreshing and delicious happy hour special
On this visit, my bartender suggested the Mango-Cilantro Margarita. I was offered my choice of a sugar or salt rim. I have found sometimes that fruit-flavored margaritas are too sweet for my taste, but was pleased this was not the case. It was delicious with an initial mild sweetness on the tip of the tongue, followed by a delightful tart and spicy flavor. Until I tried this, my favorite specialty drink at Paladar had been the Jalapeño Palumbo. The latter is a most refreshing summer drink of Tequila, grapefruit juice, simple syrup and slices of fresh jalapeno floating throughout the drink.
During Happy Hour at Paladar, you have the opportunity to give yourself a little rum education, as Rum Flights are five dollars off. You may "Build Your Own Flight" by choosing three of seven rums to "sip and sample." This could be called a "Flight Around the World" as the samples represent many countries including: Jamaica, Barbados, St. Lucia, Guyana, Venezuela and Trinidad.
When ordering flights of any refreshment, I enjoy convincing a friend to try the same flight and then going through the samples together one by one, discussing the tastes and their differences and then announcing our favorites. It's interesting when two people have the same experience, but come away with totally different evaluations. For those already in the know about rum, Paladar has a selection of approximately 75 rums from which to choose.
Happy hour food menu
Paladar's Happy Hour food menu offers items priced at $3.95, $5.95, and $7.95. I decided to go with the mid-priced Rio-Style Chicken Tacos and Roasted Pork Tostones. I found the tacos unique in both taste and texture, and by "unique" I mean wonderful. The chicken was topped with caramelized onion, cilantro adobo, poblano pepper and a peanut and plantain crumble. Although a potential cacophony of flavors, none was overwhelming and the crumble provided a satisfying crunch. Even forgoing the soft flour tortilla shells to leave room for the second app, I found this a filling appetizer, and alone, it would have been a satisfying meal for me.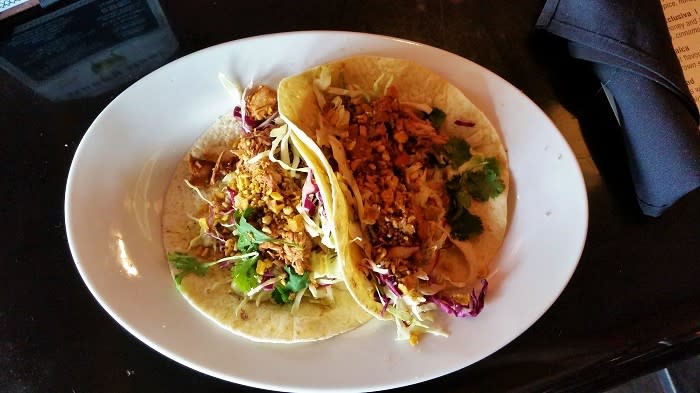 Chicken Tacos at Paladar
According to Wikipedia, tostones are twice fried plantains popular in South America and across the Caribbean. My Roasted Pork Tostones arrived attractively displayed in a row on a rectangular plate. Unless you are extremely hungry and not proceeding to dinner, I suggest this be ordered as an appetizer to share since the four tostones create a generous portion. Roasted pork, corn salsa and aji verde top the plantains. The pork was tender and juicy and I enjoyed the toppings. For me, the plantains were a bit heavy, but this may have been due to my earlier taco consumption. I ended up taking a box to go for half the tostones and found them perfect for breakfast.
Although I didn't have any during this trip, I would be remiss if I didn't mention the made-to-order guacamole at Paladar. With a dozen different add-ins to choose from, large chunks of avocado and a basket filled with a variety of dippers, Paladar's guacamole gets your Latin-inspired Happy Hour off to a fantastic start.
Details:
There are many opportunities at Paladar to get your happy on, with happy hour offered daily from 4-7 p.m. for your after-work reward, and on weekends to precede your night out on the town. If neither of these fits your schedule, Paladar Happy Hour is there for you from 9 – 11 p.m. Sunday through Thursday. If you haven't visited Paladar Rum Kitchen and Wine Bar for happy hour, invite some friends to join you.
If you want to guarantee a seat, arrive early.
Photos courtesy of Natile Spong.