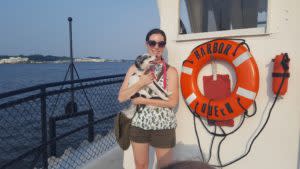 The author, Katie, on the Harbor Queen with one of her pandemic pups. Photo courtesy of the author.
At the beginning of the coronavirus pandemic, those of us who suddenly found ourselves working from home asked the question, what will our dogs do when we go back to the office? Little did we know, working from home would be for the long haul. The separation anxiety we feared our dogs would develop would get pushed out of our minds as we all adjusted to a life inside.
I've learned that my two senior dogs sleep literally all day. For years, I've come home on my lunch break to let them out. Now I realize, I was disturbing their afternoon slumber! But as difficult as pandemic life is, I'm convinced our dogs are living their best lives under quarantine. 
Rise in Adoptions
For some people, the increased time at home and isolation proved to be an ideal opportunity to welcome a new pet. Newly found free time meant time to train a new puppy and social distancing meant finding companionship outside our human pals. Shelters and rescue groups across the country, and in our area, saw increases in adoptions and requests to foster animals.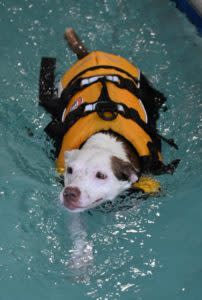 This little pandemic pup dog-paddles his way into everyone's hearts at the SPCA's #TakeThePlungeChallenge. Photo courtesy of the AACSPCA.
The SPCA of Anne Arundel County, initially completely shuttered, quickly adapted to community needs. Soon they found themselves shifting adoptions to an appointment only system and turning their Annual Puppy Plunge event into a virtual challenge. The #TakeThePlungeChallenge. I encourage scrolling their hashtag on social media for an instant mood lifter.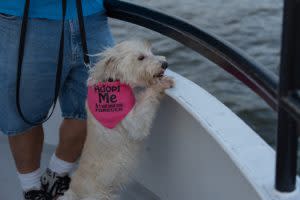 An adoptable dog on Watermark's 'Harbor Queen'. Photo courtesy of Watermark.
Salty Paws
Dogs are welcome just about anywhere in Annapolis and now they even have their own ice cream store. Although maybe not a favorite for their owner, peanut butter ice cream topped with dehydrated chicken is a favorite on the menu at Salty Paws Annapolis.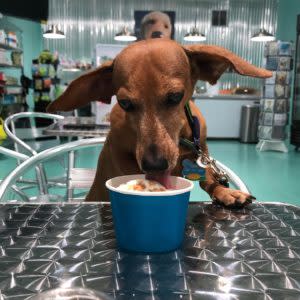 This little pup enjoys a frosty treat at Salty Paws Annapolis. Photo courtesy of Salty Paws Annapolis.
This new doggy ice cream bar and bakery specializes in natural pet products and treats! Located just off Main Street on Francis Street, your pandemic pup can now indulge in one of Annapolis' favorite summer pastimes — a walk downtown with an ice cream cone in hand, or paw. 
Quiet Waters Dog Beach
Does your pup need to work off some pent-up quarantined energy? Anne Arundel County's Quiet Waters Park is a dog sanctuary. Miles of trails are available for leashed four legged friends to walk their humans, or some off the leash fun can be found in the fenced-in dog parks. One for small dogs and one for large, it's a pandemic pup favorite! And of course the highlight of Annapolis dog life: the dog beach.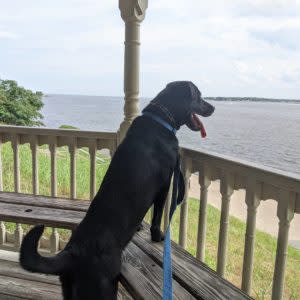 Parker the pup takes in the view of the South River at Quiet Waters Park. Photo courtesy of Ryan Jakubowski.
Closed for several years due to erosion, the dog beach is now reopened for pups to romp, play and swim in the South River. Even if you find yourself at the park pup-free, a walk down to the beach is still worth a visit. There's nothing quite like witnessing the joy of a dog at the beach!
Water Taxi & Boat Rides
Our water privileged county means you don't have to go far to find a friend with a boat. In Annapolis, dogs can find that friend in Watermark. The Water Taxi and all of Watermark's vessels, including the iconic Harbor Queen, are pet friendly!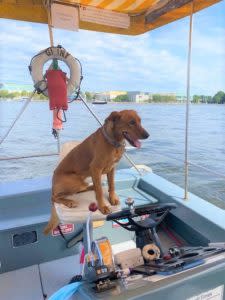 'Captain' Rusty rides the Watermark Water Taxi in Annapolis. Pets are welcome on Watermark Charters, Tours and Cruises. Photo courtesy of Watermark.
My dogs have enjoyed a cruise or two on the Queen and I can honestly say they love the open air experience as much as I do. Want an insider tip? Ask your Water Taxi Captain for a "gilligan." If the space is available, they'll let you ride with them on a round-trip cruise for a longer journey than the usual one-way service.
Whatever activities you and your pup enjoy, you are sure to find it in Annapolis and Anne Arundel County.