The word osteria translates to "an Italian restaurant, typically a simple or inexpensive one" (oxforddictionary.com).  However, it would be a mistake to take this translation too literally when it comes to Osteria 177 on Main Street.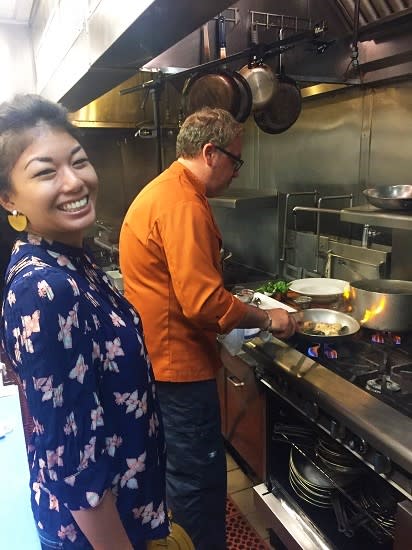 Osteria 177 offers all the enchantments of a gourmet Italian dinner you could wish for, but it would be an injustice to label it as "simple" or "inexpensive". Rather, Chef Arturo Ottaviano has been bringing the richness of the Italian culinary world to Annapolis for almost ten years using quality ingredients combined with world-class flavors at an astonishingly affordable price.
Sampling Arturo's dish—Pescatrice alla Puttanesca Monkfish Medley—prepared right before my eyes was an experience in every sense of the word. In this dish monkfish, mussels, clams, and shrimp are sautéed Puttanesca style with olive oil, tomatoes, olives, capers, cherry tomatoes, basil, garlic, and a touch of wine.
Monkfish, Arturo explains, is known as "the poor man's lobster" because the texture is so similar to this more 'esteemed' seafood. At Osteria 177, the Monkfish Medley clearly is the star of the show and it's easy to see why—every morsel practically melts in your mouth it's so tender, while the flavor parallels that of lobster in its sweet richness. Arturo adds that almost all of his fish is wild-caught, which helps give his food that fresh quality you can taste in every bite.
It's easy to get swept away by the seafood component of this dish, but then there's the bed of pasta underneath it all. Oh, the pasta. Pacchete, one of Arturo's favorite types, can be described as a large penne and is given special attention all on its own. It's sautéed in the pan, right in the same sauce as the seafood after it comes out of the oven.
"Pasta can sometimes be treated as an accessory", Arturo says, "but the trick is to add flavor to it". As I watched him put the sauce together, sauté the seafood, place it in the oven (for about 10 minutes), then place the seafood off to the side while he sautéd the noodles, I couldn't help but feel like I was gleaning invaluable knowledge for use in my own kitchen. More than anything, though, I couldn't wait to get my first bite of the dish.
Once seated at the bar with my treasure trove of Puttanesca goodness, I was able to experience all the elements Arturo talked about. I assumed the capers (one of my favorite ingredients in any recipe) would be the easy favorite of the accompaniments, but the kalamata olives outshone even them, mild yet packed with just the right amount of that trademark tanginess. The wine (Cà Maiol Molin), recommended by Brian, bartender of almost five years at Osteria, was absolutely perfect—light and crisp, complimenting each bite. As mentioned, the seafood was impeccable, but the noodles proved to be just as splendid. They added to the dish, reinforcing the flavor profile rather than just providing filler.
As I continued on in Mediterranean heaven, Brian pointed out that although Osteria is known for its seafood and pasta, he finds the steaks are just as good, if not better. Indeed, there are many things about Osteria that might not be so obvious at first glance. For instance, I was surprised to learn that there are only about 20 employees between the kitchen and front of house, resulting in a close-knit and fantastically friendly staff. I hadn't been to Osteria in years (much to my chagrin) and felt like it was home away from home by the end of my meal. As for other noteworthy features: Arturo uses gluten-free flour for the majority of his cooking; three of Osteria's pastas are made in-house (the ones that aren't are bought fresh-made) and the majority are eggless; and, last but not least, there is a $17 two-course meal during lunch service that is an absolute steal.
This is what it means to dine at Osteria 177: to eat, and to eat well; to enjoy an up-scale meal without the all frills; to come as you are and delight in Italian culture. It only makes sense that the man behind the scenes is someone who is endlessly creative, someone who saw no sense in a dress code, someone who embodies the spirit of Annapolis: casually sophisticated.
Photos and videography courtesy of Darren Heater.