With Easter arriving practically on the heels of St. Patrick's Day this year, March is turning out to be a child-friendly, fun-filled month. As much as my two munchkins enjoy green shamrock crafts, cookies, and all things Irish, their favorite March holiday is certainly Easter. And this Easter season, I decided to expose my little ones to an old-fashioned rite of passage perfect for spring, right here in Annapolis: Easter tea and tea parties.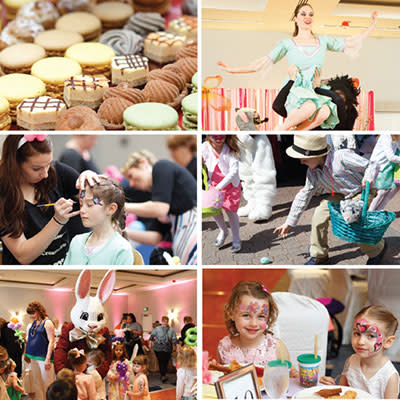 Easter Tea at the Loews Annapolis Hotel
Again this year, What's Up? Media is hosting their Easter Tea at the Loews Annapolis Hotel at 126 West Street. The family-friendly event is on Saturday, March 26 at 10:00 am. You and your family can celebrate the holiday with a light brunch, a performance by the Ballet Theater of Maryland, professional photos with the Easter Bunny, an egg hunt and face painting. Parking is conveniently located in a garage adjacent to the property. Tickets can be purchased by calling 410.266.6287, ext. 132.
A tea party with ballerinas is exactly what my five-year-old daughter considers a good time, and it inspired me to seek other kid-friendly tea times in Annapolis.
Reynold's Tavern, located on historic Church Circle, hosts afternoon tea daily from 11:00 am until 5:00 pm. Reynold's Tavern is the oldest tavern in Annapolis—and the nation. Reservations are recommended and can be made by calling 410.295.9555. Their afternoon tea menu features a variety of tea (of course!) along with an assortment of savory finger sandwiches, tarts, and homemade tea cakes and pastries.
Just outside of downtown in West Annapolis at 10 Annapolis Street, you'll find Tara's Gifts & Parties of Distinction, an adorable small shop that hosts children's tea parties. Walk in any time during their hours of operation (Tuesday and Thursday, 10:00 am until 6:00 pm; Wednesday, Friday and Saturday, 10:00 am until 5:30 pm; Sunday, 12:00 pm until 4:00 pm) and you'll be greeted by an assortment of unique gifts. With a little advanced planning and a phone call to the shop at 410.295.5157, you can book a tea party for yourself or your favorite little person and up to nine additional friends. The party includes a fun craft, customized menu featuring tea and sandwiches, personalized party favors and dress-up!
If you'd like to bring the tea party home to your little one, consider purchasing gourmet loose tea from Capital Teas located at 77 Main Street, also in historic Annapolis. Capital Teas is open from 10:00 am until 7:00 pm daily, with extended hours until 9:00 pm on Friday and Saturday. Their extensive assortment of teas will leave your head spinning.
If you have little ones who love to dress up in fancy clothes and pretend to be all grown up, there's no better place to take them this spring than to tea. And if you live or visit Annapolis, you've got your pick of places from which to raise your cup.
Happy Spring!
Photo credit: What's Up! Media and Tara's Gifts & Parties of Distinction