Main & Market – formerly known as Main Ingredient – is a cozy off-the-beaten-path cafe that's been dishing up gourmet comfort food for over twenty-five years. They've become one of the area's go-to spots for brunch and dessert, but be sure to check out their eclectic and extensive dinner offerings, which have something delectable for just about everyone. (That means you too, vegetarians and gluten-free eaters)!
Chief among their mouthwatering dinner options are the pastas; from the classic basil scampi to the ever fabulous pad thai to the downright homey meat loaf. On my particular visit to the cafe I had the pleasure of trying one of Main & Market's newest pasta dishes: The Pistachio Farfalle prepared by Head Line Chef Andrew Myers.
The pasta on its own is vegetarian, as denoted with a "V" on the menu, but various protein additions (beef, chicken, salmon, etc.) are also available. As luck would have it I received shrimp with my pasta –  joyful happenstance for a seafood lover like myself. Andrew began with the base of an in-house made pesto sauce, throwing mounds of freshly chopped green onions and mint as well as pistachios and grated Parmesan into a food processor.
A zesting of lemon and the gradual emulsifying of olive oil later and the star player in this pasta story was born. After heating a little oil in a pan Andrew then sautéed the remaining ingredients in quick succession; shrimp, peas, and the farfalle pasta, but not before adding a little white wine to the mix halfway through.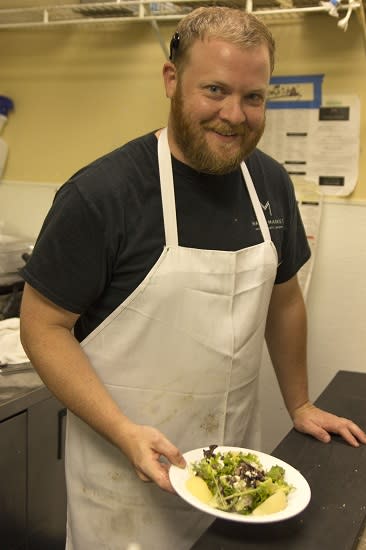 Head Line Chef Andrew Myers
After allowing this gloriously green combination to heat through whilst all the flavors melded together in the pan, Andrew plated the pasta and finished it off with shredded parmesan and fresh basil. Before digging into my pesto feast I was given the perfect light start to my meal.
As with all the entree options the pasta came with the choice of a starter Caesar or garden salad, or as in my case, an upgrade to a cafe salad. (One of Main & Market's most popular items). It's easy to see why this salad is so sought-after. Candied pecans, spiced pears, and gorgonzola cheese crown a bed of mixed greens along with Main & Market's maple champagne vinaigrette (made in-house as are all of their vinaigrettes). It's an addictive sweet and salty combo.
As I sat down with my pasta and a glass of Satellite Sauvignon Blanc (soon to be replaced with Ponga on the new beer & wine menu) I admired the interior of the cafe, which was recently remodeled throughout 2016 in preparation for Main & Market's rebranding.
Along with the modern, yet casual bistro feel of the physical location, the cafe wanted a "sophisticated approach that reflected where we were going", explains General Manager of almost ten years Christy Rossetti. "Main was keeping in touch with the familiarity of Main Ingredient while Market reflects the local markets in the area that we utilize for fresh food."
The Pistachio Farfalle Pasta reflected this ideology. Each bite was bursting with flavor from the abundance of fresh herbs and produce used. I loved the tender peas that studded each bite and, of course, the meaty, jumbo-sized shrimp. The pesto gave the dish a light yet decadent feel while the farfalle pasta made the meal very substantial.
The cake display was as tempting as ever but I opted to skip dessert, especially after such a hearty meal. A word to the wise: getting through a full meal at Main & Market and making it to dessert requires a little strategizing from the outset. With a rotation of over 100 cakes made by the cafe's very own bakery department, you'll want to save room early on for the sweet treats that have won Best Desserts by What's Up? Annapolis nearly every year since 2008.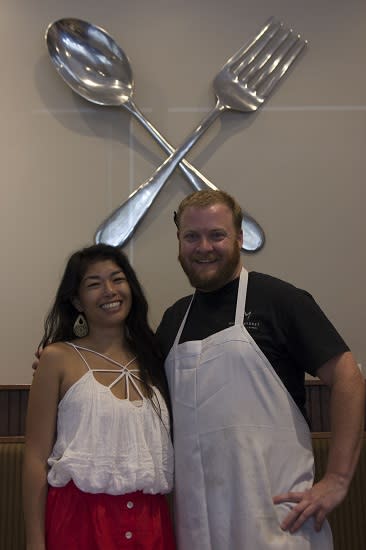 Main & Market offers specials on their beloved meatloaf every Monday, a 2 for $30 special on Tuesday's and Wednesday's (two starter salads, two entrees, and a slice of cake per couple), and a prime rib night on Thursday. Brunch is available until two on Sundays along with $5 mimosas and Bloody Mary's all day. They offer breakfast, lunch, and dinner daily with a few exceptions on Holidays.
As if all that wasn't enough, dinner service includes a toasted loaf of bread with an in-house whipped honey butter. Be sure to try the cafe's "infamous" Hungarian mushroom soup for liquid comfort in a bowl, along with a French onion and a third rotating soup available daily.
In keeping with the seasons, Main & Market changes their menu a few times a year and I can't wait to see what's in store for the future. Whether you want something tried and true, like the Fish and Chips or the Herb Crusted Salmon, or something new, like the Fried Green Tomatoes appetizer, Main & Market always has something delicious in store.
Photography and videography courtesy of  Christian Smooth