Maryland State House
I grew up in New York and was fortunate that my parents liked to play tourist year-round. Throughout the year we would visit places like the Empire State Building and the Statue of Liberty. Memories of our holiday visits to the Radio City Music Hall Christmas Spectacular still make me smile. When I moved to Annapolis about five years ago, I realized this is one of those great American towns to which people flock every year. But in the hustle and bustle of every day, those of us who live here can lose sight of the great adventures to be had here in our own backyard.
The town oozes history. It was temporarily the capital of the United States after the signing of the Treaty of Paris. It was the first peacetime capital in United States history. General George Washington resigned as commander-in-chief of the Continental Army here, in the Maryland State House. When was the last time you visited the Maryland State House in downtown Annapolis?
C'mon, take the kids. You don't have to make it a "staycation"—a Saturday or a day off from work every once in awhile to enjoy some of Annapolis' amenities will make smiles.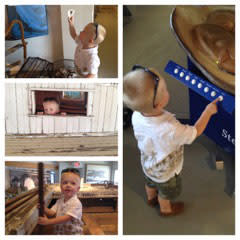 Having fun at the Annapolis Maritime Museum courtesy of Alexandra Cannady
Maybe you're feeling the kids are too young and it would be a bit too much for them. Take them to The Annapolis Maritime Museum (723 Second Street, Annapolis, MD). It's a great place to introduce your little ones to the concept of a museum. There are things to touch, room to freely walk around, and a number of great photo ops. And the kids will love the oyster workboat.
And when was the last time you went on a tour of the Naval Academy? The energy where some of our nation's future leaders walk around on campus is palpable. See the crypt of war hero John Paul Jones and a monument of the great warrior, Tecumseh. Maybe bring a penny or two. Word has it that at exam time, Midshipmen toss pennies towards the statue for good luck.
This April, after the City Dock bulkhead has been replaced, grab a sandwich at The Big Cheese on Randall Street and have a picnic overlooking the (soon to be) improved Ego Alley. Take the water taxi and see breathtaking views of Annapolis. If you're there around 5p.m., take the water taxi across the river to the family-friendly happy hour at The Chart House. Stay for sunset.
All you need to do is pick out two to three things and you're on your way to making a memory you and your family will treasure. Go ahead, see Annapolis through the eyes of a tourist, whether or not you live here.
[gallery columns="2" size="medium" ids="2620,2623"]
Photos courtesy of Visitannapolis.org and Alexandra Cannady.