I know—you've heard of it, but what is it really? Historic London Town and Gardens is a 23-acre waterfront park and museum situated on a bluff overlooking the South River near Annapolis, Maryland. The site includes a historic brick mansion, a recreated early colonial village, an archaeology lab, a visitor's center, a lovely event venue, a children's sound and sensory play area, and a beautiful horticultural garden with a mile-long walking trail. A visit to London Town should definitely be on your To Do list.
A Very Long History
London Town was established way back in 1683 as a 100-acre town. The town became an important tobacco port and trade hub because of its strategic location on the Chesapeake Bay. The transatlantic shipping port and ferry landings carrying traffic from Annapolis made London Town a bustling commercial center for a time. When shipping routes changed after the American Revolution, only the William Brown House, a few wooden structures, and the ferry remained as a testament to what had once been a thriving seaport.
Today the only survivor of the once vibrant community is the c.1760 William Brown House, an imposing brick structure named for its builder, who was a 1700s London Town carpenter, cabinet-maker, undertaker, tavern keeper, and ferry operator. Once used as the County Almshouse for the poor, the house is now on the National Register of Historic Landmarks.
London Town today offers an array of events for visitors, thanks to dedicated preservationists and gardeners who convinced the local government to save the property and the William Brown House. The park is owned by Anne Arundel County and managed by the nonprofit London Town Foundation.
The Gardens
The London Town parkland includes an elaborate garden showcase for unusual plants and one of the finest botanical collections in the area. England's Windsor Great Park served as the inspiration for the Woodland Garden, which features native trees, magnolias, camellias, dogwoods, rhododendrons, viburnums, spring bulbs, wildflowers, and perennials. The Ornamental Gardens near the public buildings include flowering plants and trees that bloom from springtime through autumn. The children's Sound and Sensory garden provides hands-on activities in a woodland setting where children explore nature with musical instruments, discovery tables, and a playground made of natural materials. The Living Roof Garden at the Visitor Center represents London Town's commitment to environmental stewardship.
Visitors may take a self-guided tour or a guided tour of the gardens, the historic village, and the William Brown House. The site offers a wide variety of historical and horticultural programs for children and adults. Wedding parties, families, and businesses use the waterfront Ornamental Gardens and pavilion as a special event setting.
Lots of Events this Fall
Check out these fun October, November, and December 2016 activities at London Town:
William Brown House and Historic London Town: Guided tours of the c. 1760 William Brown House and adjoining village reconstruction take place on weekdays. On weekends, tours are self-guided with costumed interpreters available. The house is restored to its 18th-century appearance as a period inn and residence. In the adjoining historic village area, three reconstruction projects based on archaeological finds are the Lord Mayor's Tenement and Kitchen Garden, the Carpenter Shop, and the Rumney-West Tavern. Each has been carefully reconstructed with historical accuracy on its archaeological footprint. There is also an 18th-century tobacco barn.
Visitor Center, Archaeology Lab, and Horticultural Complex: The modern Visitor Center, Lost Towns Project Archaeology Lab, and Horticultural Complex are open to the public. The Visitor Center has a large exhibition space, and the Horticultural Complex includes a green house, cold frame, and lathe house for plant sales, propagation, and research. The Archaeology Lab houses and processes artifacts found by the County's Lost Towns Project and conducts archaeological research at London Town and elsewhere in the tidewater Chesapeake.
Guided Garden Tours: Guided and self-guided tours of the Woodland and Ornamental Gardens are available.
Musket Fire Demonstrations: Costumed Revolutionary War interpreters fire their muskets and cannons on Saturdays and Sundays, weather permitting. Watch a fun video blog about this event right here on HistorianAnnapolis.com.
Colonial Trades Month Events: Three weekends in October feature living history interpreters skilled in colonial trades who will demonstrate the crafts Maryland colonists used.
Colonial Textiles, October 22 and 23. Mara Riley, an expert in colonial textile production, will demonstrate spinning and weaving.
Yoga in the Gardens: October 9, 16, and 23. Enjoy yoga with instructors in the peaceful London Town gardens.
Militia Muster, November 10. Homeschoolers step into the shoes of Maryland's colonists and experience life in the militia through drills, campfires, and more.
Holiday Dance and Tea, December 8. Homeschoolers dress in costume and learn colonial holiday dance and customs.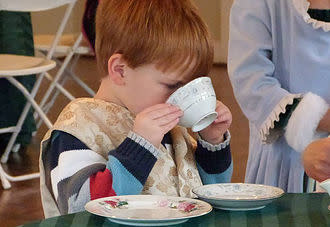 Holiday Dance and Tea
Sins and Secrets: October 14 and 28. Pirates, murder, and scandal aplenty await you on this adults-only, after-hours tour of the dark underbelly of London's history. Walk the streets of the long dead seaport, discovering its more salacious stories.
Living History Weekend Militia Muster: November 5. Oldton's Baltimore Rangers visit London Town as costumed interpreters representing the early Maryland Militia. The Rangers live at London Town for the weekend to drill with their muskets, cook over hearth fires, and converse with visitors.
Wedding Open House: November 13. Those planning a wedding can visit the gardens, sample food from caterers, and visit with other wedding service providers.
American Indian Heritage Day: November 25. Historic London Town welcomes the Cedarville Band of Piscataway Indians for a celebration of the living culture of Maryland's native people.
Camellia Celebration for the Gardens' Restoration: Sunday, November 6.  Participate in this fundraiser to support the garden's restoration while exploring many unique camellia plants.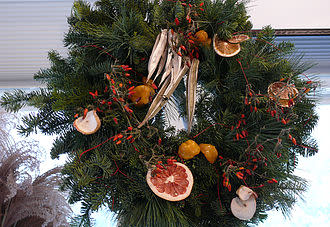 Wreath Workshop
Wreath Workshop: December 3. Expert wreath makers will guide you in creating your own holiday wreath and centerpiece using London Town live greenery, ornaments, and festive decorations.
Illuminated London Town: December 2, 9, and 16. Experience the magic of a winter evening as you explore the gardens illuminated with festive holiday lights. See candlelit holiday decorations at the William Brown House and enjoy special performances in the gardens. Then head to the historic village area to sip hot cider and roast s'mores beside a roaring fire.
More Info on the London Town Website
Historic London Town and Gardens offers us the rare chance to see a historic site in a beautiful riverfront setting embellished with great opportunities to experience and enjoy living history. Put this one on your To Do list and stop by this fall to experience the many fun events. For details about times, dates, and tours, please visit the website.
Photos Courtesy of Historic London Town and Gardens