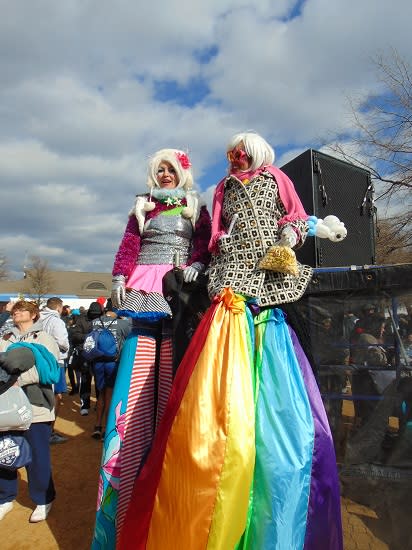 The last thing I expected to witness on a freezing cold Saturday in January was thousands of half-naked people plunging themselves into the Chesapeake Bay; but I did, and it was all in the name of charity at the 21st Annual Maryland State Police Polar Plunge. Every January at Sandy Point State Park, over 10,000 brave plungers dip themselves into the 30 degree Chesapeake all in the name the Maryland Special Olympics, which is a great reason to bear the cold. This year, they attempted to set the Guinness Book of Records for the largest "Polar Bear Dip" in 24 hours beginning Friday Jan 27th from 3pm to the following Saturday. This was not for the fainthearted, with teams and individuals venturing into the freezing waters and submerging themselves into the icy bay. I was impressed – they looked like they were absolutely freezing!
It actually reminded me of a ritual that some of us partake in back in Ireland every Christmas morning, when we Dubliners decide to venture down to the "Forty Foot" at Sandycove in Dublin and dive off the rocks in our undies (or preferably bathing suits) into the Irish Sea from the rocky Sandycove pier. It's a quintessential Dublin experience, so if you are in Ireland for Christmas, you must do it if you are brave enough (just mind the rocks that line the seabed). It is not a charity event – just Dubliners being Dubliners at Christmas – but it is great fun altogether.
The plunge in question did not require participants to fully submerge their entire bodies into the icy waters, just getting your ankles wet counted as a plunge, yet absolutely everyone went right for it diving right in. The screams could be heard for miles. I have to hand it to the participants; they all gave it 100% and the atmosphere was amazing. After plunging, there were lots to see and do after you dried off and bundled into your warm clothes, with plenty to eat at the many food trucks on site. Entertainment was second to none with two stages providing music with rock bands keeping the spirits up and the cold bodies moving, which really helped heat the post-plungers up. If the music wasn't enough, Rams Head provided adult beverages to help boost the crowd's body heat and get their toes tapping. This year, the organizers were hoping to raise $2.5 million for the Special Olympics. Last I checked, I believe they have almost reached their goal.  This is an absolutely amazing charity event that really brings locals together in the name of a great charity.
Click here to check out all that happened during the Polar Bear Plunge, and to learn how to participate in next year's plunge!
Photos courtesy of Sinead Harold