Let's all agree—there's no denying the power of flowers. They can calm us, energize us, and inspire us. Flowers are heaven to pollinators and essential to plant reproduction. For us humans, they're known to reduce stress, elevate mood, make us smile, and help us heal. And mostly they're just… well, pretty. Here in Annapolis the weather is warming up, and local residents and businesses are lavishing our historic streets with flowers. A summer stroll through Annapolis is like a walk in a beautiful garden. Flowers are everywhere this spring and summer. They cascade from hanging baskets on light poles, they overflow from sidewalk planters, they spill out of May Baskets on painted doors, and they tumble from window boxes along every street.
May Baskets are the Finest Adornment
The traditional May Basket is among the prettiest sights around, a welcome harbinger of spring and the greening of the earth. In a time honored tradition, our local gardeners, florists, businesses, and residents band together to create hundreds of May Baskets. Flowering baskets are on display everywhere-- on doors, porches, pedestals, park benches, even bicycles.
Why this abundance? Our neighborhood basket designers are seeking blue ribbons in a friendly competition that has been conducted by the Garden Club of Old Annapolis Towne every year for more than six decades.
From Main Street to Maryland Avenue to the West Street Arts District, fresh floral displays bring visitors downtown to admire the creativity. On May Day, the Garden Club's dedicated volunteers steadfastly trek the streets to select the May Basket blue ribbon winners. Even the children participate with little baskets eligible for pink ribbons and a lollipops.
Flower Mart is Another Annapolis Tradition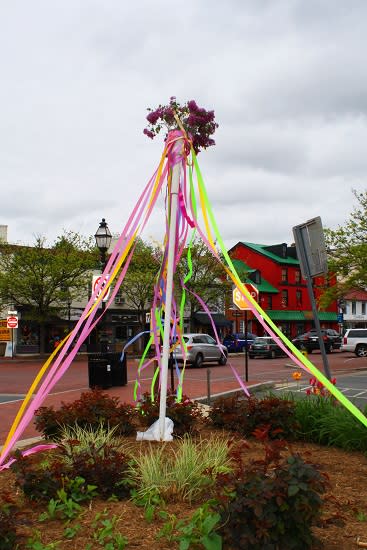 May Pole at the Flower Mart
You, too, can gather flowers for your May Basket at the annual Flower Mart, a tradition of the Four Rivers Garden Club for more than seventy years. Look for the tall May pole with its colorful fluttering ribbons downtown next to the Market House.
Flower Mart will take place from 10:00am to 2:00pm on Sunday, April 30, 2017, the day before May Day. Here you'll see the Four Rivers gardeners in their colorful hats and aprons offering buckets of freshly cut flowers for your May Basket. If you're early, you might also find a beautiful ready-made May Basket for your door. There is even a bake sale table without price tags—select your sweet treat and donate to this Garden Club's community planting projects. The Club's flower-arranging experts also offer unique pre-ordered May Baskets for the community to help beautify Annapolis and to raise funds for Club service projects.
Flower Mart proceeds are all returned to the community to encourage environmental responsibility, conduct community planting projects, and stimulate the knowledge and love of gardening. Questions? Contact Four Rivers Garden Club President Charlotte Pennington at cpenningtonsc@gmail.com.
Annapolis in Bloom
Summer will bring still more flowers to downtown streets through the Annapolis in Bloom project.  This effort is organized annually by the Downtown Annapolis Partnership, a collaboration of businesses and local contributors. The project provides at least fifty flowering sidewalk planters and 130 hanging baskets for the downtown area. Businesses and residents throughout the City respond by planting their own window boxes and storefront planters with more cascading plants. Watch for this incredible profusion of flowers to arrive in mid-May.
See the Flowers Firsthand
Come downtown this spring to experience and enjoy Annapolis Flower Power firsthand. Join us near the Market House for Flower Mart on the day before May Day, then return on May 1st to take in the gorgeous May Basket display. Come back to visit often this summer to stroll in the garden we're planting along our streets.
Spring has sprung, and Annapolis is bursting with Flower Power. Join us downtown, and you're bound to feel the energy and inspiration!
Photos courtesy of Ann Powell