When Preserve's crispy kale salad arrives at the table, it looks beautiful and smells fantastic, a savory but bright mishmash of colors and scents, from cumin to sharp red onion. The aroma is just a teaser, though. The salad's flavor is even better than its scent.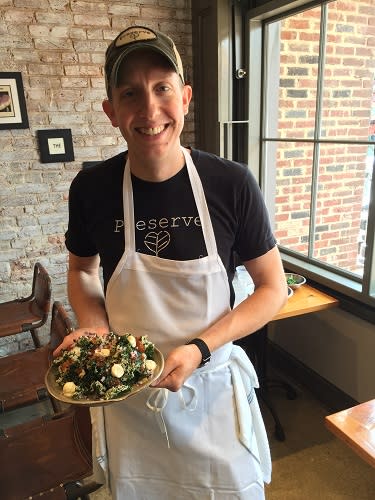 Chef Jeremy Hoffman
Ruffled tufts of fried kale provide the base for the salad and give each bite satisfying crunch. The leafy green is tossed with minced red onion and red pepper jelly, then topped with dollops of cumin-spiked yogurt. The cumin and onion drive the scent; but on the tongue, it's the pepper jelly that shines. The jelly's sweetness adds a surprising counterpoint to the savory tang of the cumin yogurt and sharp onion.
The jelly is made in-house at Preserve, one of downtown Annapolis Main Street's newest restaurants. The restaurant's name is a nod to its focus on all things pickled and jarred. Jars of goodies, from pepper jelly to pickles, line shelves on one long wall of the narrow space.
Tucked away from the natural light shining through big windows at the front of the space, the jars—stuffed with bright reds and greens—serve as a reminder that the food on the plate didn't come from a store. It started at a farm. Then, after making its way to the restaurant, it was lovingly preserved by Chef Jeremy Hoffman, who co-owns the Main Street restaurant with his wife, Michelle.
The salad is Preserve's most talked about dish, says Hoffman. "People say they really enjoyed it and that it's different – something they haven't had before."
And it is. The combination of flavors – tangy, savory, a little bit sweet – and the impressive mix of textures, from creamy to crunchy, create something special that is wholly unique. The ingredients might be simple foods, picked and preserved in a way humans have been storing food for generations. But thanks to Hoffman's creative mind, they're proof that there are still new things under the sun – and in the kitchen.
Photography and videography courtesy of Darren Heater