As is the case in much of the country, there are plenty of places to get a tattoo in Anne Arundel County.
Indeed, a simple Google search of "Anne Arundel County tattoo shops" will provide you with dozens of options, from the super-sleek Black Lotus Tattoo in the BWI Business District to the uber-artsy Bully Ink in Edgewater. And there are two shops in greater Annapolis, Lucky Bird Tattoo and Orange Tattoo Company, that both receive high marks from my multiple coworkers who've visited them for both new ink and touch-ups.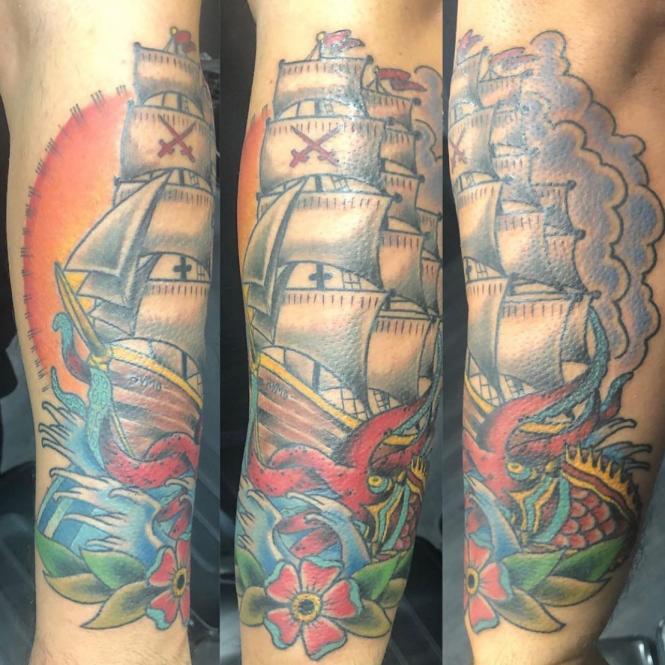 For the first time in the city's history, there is a tattoo parlor in the middle of downtown Annapolis. Image courtesy of Red Octopus Tattoo.

 

But now, for the first time, there's a tattoo shop right in historic downtown Annapolis: Red Octopus.

 

Located in a brick-faced colonial building at the corner of West Street and Cathedral Street, the business opened on January 3rd after its owner's son and son in-law completed a many, many months-long renovation that merges a sleek look with historic architecture.

 

After paying Red Octopus a visit and meeting its owner and staff, however, I learned that the physical location and appearance of its fifth shop are just the start of what makes it unique.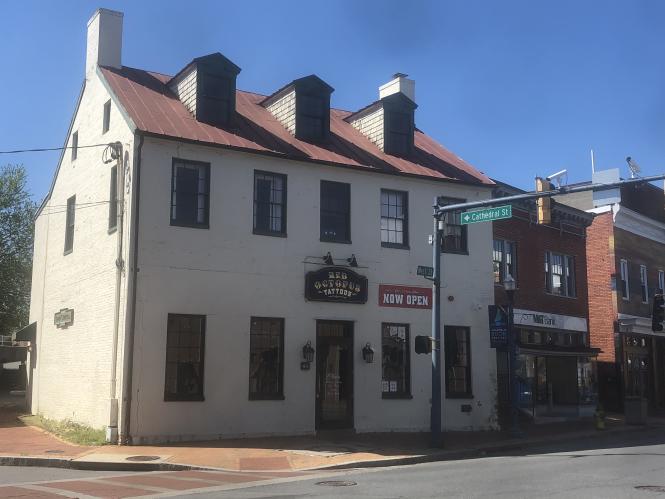 Located at the corner of Cathedral and West Street is family run tattoo parlor, Red Octopus Tattoo. Image courtesy of the author.

 

Founded in 1992 by Dottie Fortner, Red Octopus is first and foremost a family-run business with people who are passionate about and inspired by their work.

 

"My mother was an artist and my father was an architect, bricklayer, and builder, so I grew up in a very artistic household and loved drawing from an early age," says Fortner. "I went to college for an art degree, yet there was still something missing until, one day, I saw my husband getting a tattoo and found myself very intrigued by the process but even more so by the idea of putting my artwork on someone's body. I had found my new canvas, and that's where Red Octopus began!"

 

Nearly thirty years and multiple locations later, Fortner reports that her five children, son-in-law, nephew, three nieces, and even some grandkids have worked at the business, but that every employee feels like family.

 
Jason, lead tattoo artist at Red Octopus Tattoo's Annapolis location. Image courtesy of the author.

 

"I feel a closeness and love for all of the artists, piercers, and staff," says Fortner. "I'll never forget how all of my kids, artists, piercers, and staff stepped in to help the business keep going in 2002, when my husband got sick with cancer and I had to step away to take care of him. I was incredibly proud of each and every one of them then, and I'm now proud of how they show that same professional, family-like friendly atmosphere to customers."

 

Kira, a piercer who's been with Red Octopus for three years and happens to have received her very first piercing from Fortner, says the feeling is mutual.

 

"Dottie is honestly my hero," says Kira. "She's actually known as the 'mother' of all the shops because she treats all of us like family, and she takes tons of pride in finding great artists who do amazing work."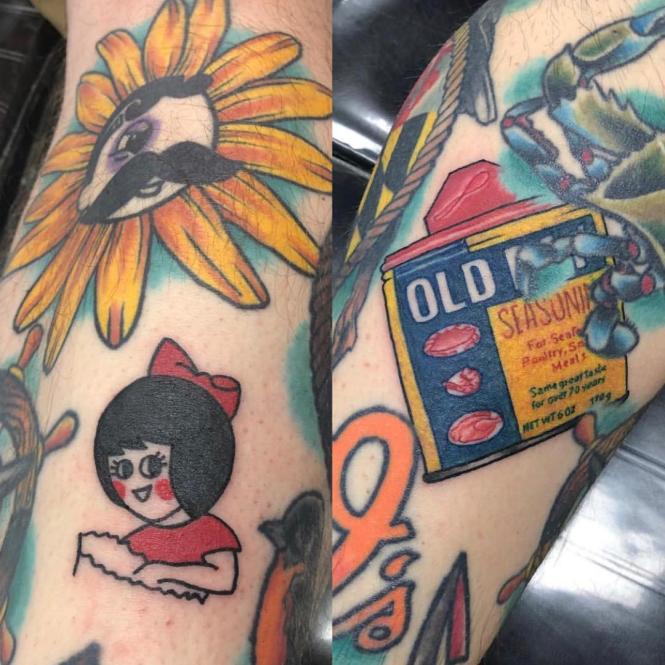 It's all about the O's in this Maryland inspired tattoo. Image courtesy of Red Octopus Tattoo.  

In Kira's realm, this work includes giving any and every type of piercing a customer could want. The lengthy list of 37 total piercings includes 14 areas of the ear, 10 areas around the mouth, and a wide array of other areas, with jewelry options including surgical steel, titanium, gold, and neo-metal with prices starting at $40. But Fortner says her piercers' experience means they can and will give any piercing as long as a customer brings in a picture to work from, and Fortner reports that Tooth Kandy, which involves applying Swarovski crystals to the tooth, is becoming increasingly popular in an ever-changing industry.

 

Giving customers absolutely anything they want also applies to the always-imaginative area of tattoos, which are priced individually but start as low as $80. As Kira puts it, when describing the abilities of Jason, the lead tattoo artist at Red Octopus, "He can flat-out do anything" – including, most recently, the entire back side of one customer's thighs while another artist did the other (aka "tag-teaming").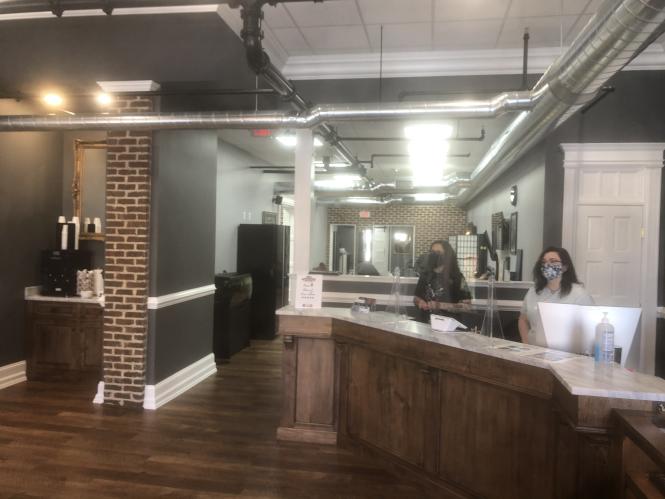 Founded in 1992 by Dottie Fortner, Red Octopus is first and foremost a family-run business with people who are passionate about and inspired by their work. Image courtesy of the author.

 

"Every day is like an adventure," says Jason. "I love doing different stuff and meeting different people every day, and it's an added bonus to get to do it in what's definitely our most unique, most historic location." He says that although he can't name a favorite tattoo that he's ever given, since there have been so many, some of the most meaningful are in memorial tattoos.

 

And Fortner echoes the sentiment.

 

"We do a lot of in memory tattoos, and it always breaks my heart when a customer comes in who has lost a child or another loved one," says Fortner. "But it feels good that we can do something special to help people deal with and memorialize a loss, and in a way it's a reminder that every tattoo is personal and meaningful to the person who's getting it."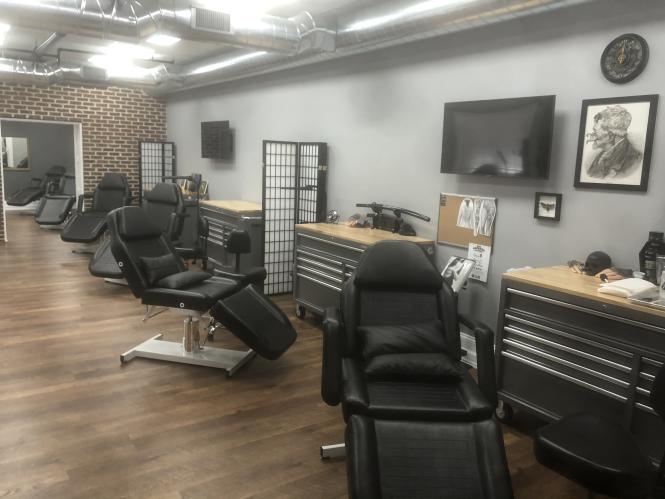 It's with this mindset that Fortner looks forward to serving new customers in Annapolis, where she'd long hoped to open a shop but was waiting for the right time and space.
"The building definitely caught my eye because of its great historical personality, and even though the pandemic paused our renovations, it was well worth the wait," says Fortner. "It's great to be open, and we look forward to eventually hosting a grand opening for our Annapolis customers and neighbors, as well as becoming involved with the First Sunday Arts Festivals that will be happening right outside our door."
Red Octopus Annapolis is located at 63 West Street and is open Monday – Saturday, from 1:00pm – 9:00pm, and on Sunday from 12:00pm to 6:00pm.
Learn more at RedOctopusTattoos.com.