Extraordinary? Yes, but not quite right. Classy? Yes, but not broad enough. When I was trying to find the precise word to summarize my overall experience at Annapolis' Main Street-based Red Red Wine Bar for happy hour, I finally was able to settle on an accurate adjective: "superior." Yes, that feels right. While I rarely have "met" a Happy Hour in Annapolis that I didn't like, Red Red Wine just seems to have the whole package covered a cut above most.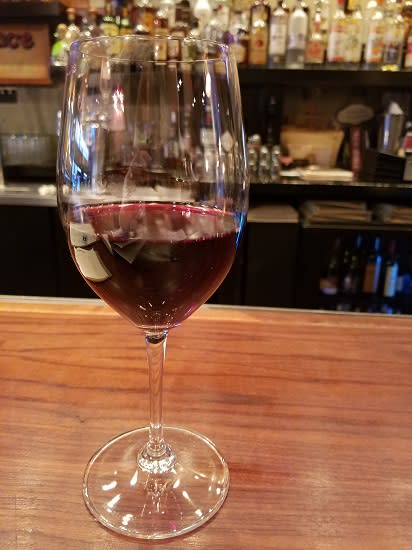 With "Wine" in the name, you should expect to find some great wine. Your expectations will be rewarded at Red Red Wine's happy hour with five dollar glasses of house wines. I ordered a glass of the red and, upon inquiry, was told by my knowledgeable and pleasant server that it was a "Tempranillo."
After she patiently pronounced this several times for me so that I could "Google" it since it was a wine with which I was unfamiliar, I found that it's derived from a Spanish black grape described as deep in color, with low acidity and usually aged in oak barrels. Additionally, it was generally described as having aromas and tastes of strawberry, plum, herbal, vanilla and even tobacco on one site.  I'll go with the first four since I found it rich, moderately fruity and medium bodied, but I don't know where the "tobacco" reference comes into play. I would definitely order this again and will look for it the next time I am shopping for wine for home.  What a wonderful discovery and, for a generous pour, the price was unbeatable.
The Happy Hour food menu option, such as crab dip and brie toast, are mostly five and six dollars. But once I read the description of the "Sample This" item, there was no other option for me. That night this rotating sampler featured both of the above mentioned crab dip and brie toast, plus a wild mushroom bruchetta and a shrimp skewer. It arrived with a generous toasted French baguette. Every item on this board was simply wonderful. The crab dip had plenty of crab and was not too heavy, and the brie toast, described as being "drizzled in chardonnay-soaked California golden raisins," was as heavenly as it sounded. The tartness of the bruchetta provided a pleasant contrast to those creamier tastes. This was due to the Blood Orange Balsamic glaze which covered the mushroom, Swiss cheese and Prosciutto composition. Finally, the shrimp were tender and flavorful. Although I would love to try many other items here at Red Red Wine, I can't imagine how they could top this. I am willing to say this was my favorite happy hour—or any hour—appetizer that I have had anywhere.  t could be a meal for one or a lovely appetizer shared with another.
Red Red wine is known for its cheese selection and suggests a wine pairing to accompany each. A visit here would be incomplete without giving this part of the menu a look. Although I had sampled the brie in the "Sample This", I wanted to try other selections available here. Cow, sheep and goat cheeses are represented in varieties from smooth and spreadable to super-firm. Each is served on a cheese board with wonderful accompaniments. I selected the Balsamic Bellavitano which is described on the menu as "nutty fruit flavors enveloped in a light rub of Modena Balsamic Vinegar which adds a touch of tang." The accompaniments were large walnut halves, honey, dried cranberries and a wonderful fig spread along with toasted baguette slices. Let the flavor party begin! Rather than going with the suggested pairing for this cheese, I decided to try the house white since I was still in the Happy Hour five dollar house wine time. This was a decent wine and worked fine with this cheese board, although my heart was still with the Temporanillo!
Although not a part of the Happy Hour menu, a popular happy hour choice is Red Red Wine's personal pizza served on wheat or garlic flat bread. While they offer a traditional Margherita flatbread, there are some originals I'd like to try such as the City Dock, which is Mozzarella and Parmesan white pizza with shrimp, crab, garlic and olive oil.  The Pear Prosciutto pizza also got my attention as one to try on a follow up visit.
Happy Hour at Red Red Wine runs from 3-6 p.m. weekdays. As mentioned, house red and white wines are only five dollars and this price extends to Sangria and well drinks as well. The draft beer of the day is only three dollars during this time.
A stylish bar and restaurant with an upscale look, Red Red Wine is still Annapolis casual. Located at 189 B Main Street in the center of downtown, it draws both tourists and locals together in a friendly, easy mix.
For those looking for some Halloween Happenings later at night, join Red Red Wine for their Halloween Party at 10:30 pm on the October 29, 2016.
Photos courtesy of Natalie Spong.